Indian retail market stares at an interesting, but controversial future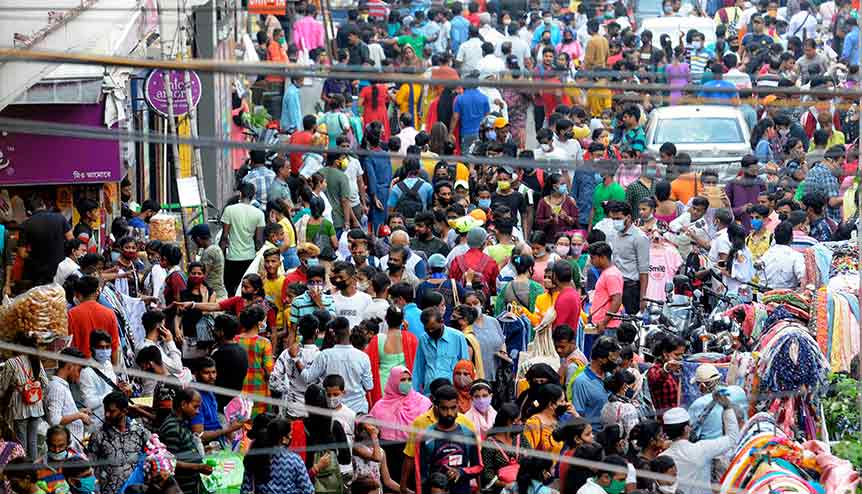 Amazon has obtained a stay on Future's sale to Reliance from an Emergency Arbitrator in Singapore. Legal experts say this order has no legal force in India. The matter is now before the Delhi High Court. The final decision in this matter could have a bearing on foreign investment sentiment.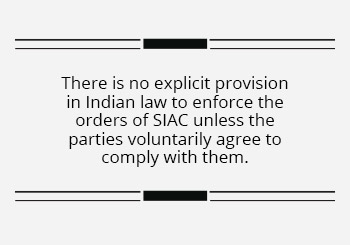 The fight for control of the Indian retail market, the only billion-plus country in the world that is open to foreign and multinational retailers, has taken a messy turn. The Jeff Bezos-led Amazon has obtained an emergency order from the Singapore International Arbitration Center (SIAC) directing the Kishore Biyani-led Future Retail not to go ahead with its proposed sale to the Mukesh Ambani-led Reliance Retail.
Read more:
India is entering the retail LNG space
Reliance Retail writes parallel script in India's growth story
Silver Lake co-investors to invest further in Reliance Retail ventures
Abu Dhabi's Mubadala in advanced talks to invest up to $1 billion in Reliance Retail – sources
Retail and e-commerce must present level playing field for all
This makes for a mouth-watering clash between Bezos, who is the world's richest man, and Ambani, Asia's wealthiest man and the world's fourth richest.
Reliance drew first blood by sealing Future deal
Reliance Retail, India's largest retailer, seemed to have consolidated its position and extended its lead over in the country over Amazon, the world's largest e-tailer, when it sealed a $3.4-billion deal to buy the retail, wholesale and logistics & warehousing business of Future Group, a leading Indian retail group, subject to receiving regulatory approvals from the relevant authorities.
More to read:
Govt, pvt. sector, individuals, will set India on a path to self-reliance
Sitharaman's Stimulus 2.0 will boost consumption, investments
UK real estate set to pitch for high net worth Indian investments
India needs to speed up judicial reforms to attract larger volumes of foreign investments
Have start-up investments in India hit the great FDI wall?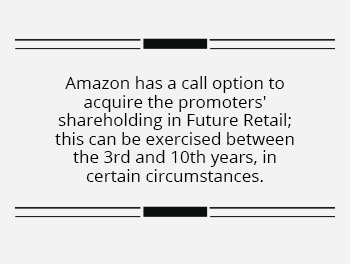 The transaction would have given Ambani an iron grip over India's organised retail market. "A combined entity (Reliance Retail and Future Group) with larger market share will also increase potential strategic investor interest, in our view," said global brokerage firm Nomura Securities. CLSA, another major global brokerage firm, added that Reliance Retail's acquisition of Future Group would expand its retail outlets by 15 per cent, retail footprint and warehousing area by more than 80 per cent and increase Reliance's share in India's organised retail market to 17.8 per cent, up from 13.7 per cent now.
Amazon claims right of first refusal
There was, however, a rather substantial fly in the ointment, or so it seemed at first sight. Amazon has a 49 per cent stake in Future Coupons, which, in turn, owns a 9.83 per cent stake in Future Retail. Now, it has emerged that Future Coupons has an agreement with Future Retail under which its consent is necessary of the latter wishes to sell any or all of its assets.
It is this agreement that Amazon is involving to claim a right of first refusal over Future Retail assets and it is on this basis that it has obtained a stay order from SIAC on Future Retails asset sale to Reliance on October 25.
SIAC orders not legally binding in India
This is where things get complicated. The Indian Express quoted Ashish Kabra, Head of International Disputes Resolutions and Investigations for leading law firm Nishith Desai & Associates in Singapore as saying that there is no explicit provision in Indian law to enforce the orders of SIAC unless the parties voluntarily agree to comply with them.
Still more to read:
E-Gram can help facilitate data-driven investments at local levels
Łódź pitches itself as a post-Brexit EU hub for Indian investments
Serbia makes a play for Indian investments
Ongoing reforms will get Indian bureaucracy ready for 21st century challenges
Modi's radical tech reforms are a gamechanger for India's BPM industry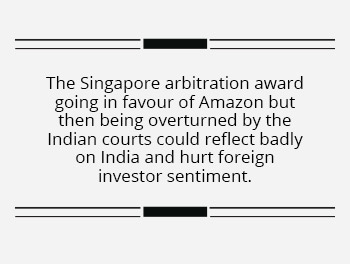 If they don't, then the party that has won an emergency order – Amazon – can move the High Court having jurisdiction in India under Section 9 of the Arbitration and Conciliation Act, 1996, to get the reliefs granted by the Emergency Arbitrator at SIAC.
That's exactly what Future Retail told the Delhi High Court, which is now hearing the matter. Appearing for the company, Senior Advocate Harish Salve told the court that the SIAC order had not been valid under Indian law.
"I am entitled to ignore it. I am subject to Indian Courts. If a gentleman sitting in Singapore says something, I can bin that order. It is not to show any disrespect. I'm saying as a matter of law…," Salve told the court.
The outcome of a legal dispute which has embroiled the billionaires' Amazon and Reliance Industries empires – where a court ruling is imminent – may shape India's retail landscape for years to come https://t.co/1EJ84qZlHc by @adityakalra

— Reuters (@Reuters) November 27, 2020
Amazon not even a minority shareholder in Future Retail
"Amazon is not even a minority shareholder in Future Retail. How can there be rights conferred upon it? Amazon is asserting minority rights without holding even a single share in Future Retail," he added, according to media reports.
Salve further pointed out that Future Retail was not even a party to the arbitration proceedings in Singapore. The implication: Natural justice, which mandates that a party must be heard before any order is passed against it, had not been done in this case.
Bezos has a call option
On the other hand, Amazon is expected to argue that it has a call option to acquire Future promoter Kishore Biyani's stake in Future Retail at a future date. The company had said in a regulatory filing earlier: "This call option allows Amazon to acquire all or part of the promoters' shareholding in Future Retail Ltd, and is exercisable between the 3rd and 10th years, in certain circumstances, subject to applicable laws."
Both sides will press their legal and factual positions before the judiciary and the SIAC as the case proceeds towards a final judgment. But apart from the financial and legal implications for the Reliance, Amazon and the Future group and the future of thousands of employees and vendors, there's another important issue involved, which makes this case an important one.
Spotlight on foreign investor sentiment
Amazon is among the leading global investors in India. It has invested billions of dollars in its Indian operations already and is getting ready to invest billions more.
The Singapore arbitration award going in favour of Amazon but then being overturned by the Indian courts could reflect badly on India and hurt foreign investor sentiment, which has still not recovered fully from the blow of 2012 retrospective income tax amendment and the Supreme Court's cancellation of 122 telecom licenses.
At the same time, it is also a fact that SIAC rulings do not have the force of law in India and prima facie, at least, Amazon seems to be on a weaker wicket. In fact, many analysts see its legal challenge as a tactic to delay Reliance's acquisition of Future Retail.
Either way, the Indian government will have to tread very carefully to ensure that not only is justice done to all the stakeholders in this dispute but also that justice is visibly seen to be done.