Indian professionals wait and watch Trump's executive pen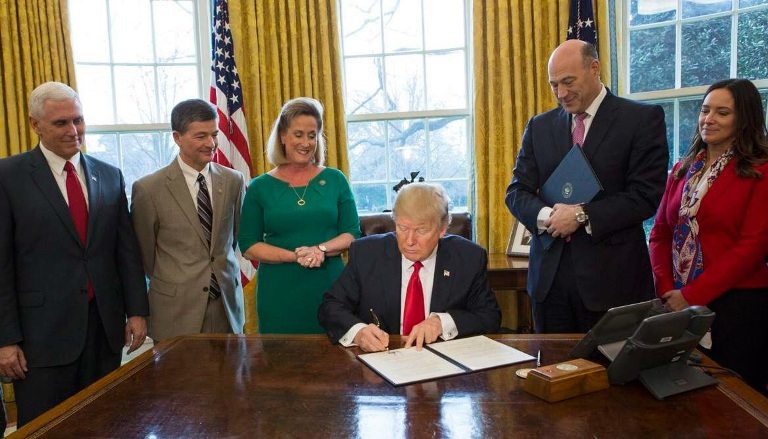 Just days after Donald Trump was sworn in as the 45th US President, there is much upheaval around his series of unilateral executive orders. There is yet another draft reportedly awaiting his signature, which could hit Indian professionals hard.
American billionaire Donald J. Trump marked his first days in the Oval Office in characteristic style by signing some of the most controversial executive orders in history.
The suspension of the US refugee programme for 120 days and a cap on 2017 numbers came alongside a ban on anyone arriving from seven Muslim-majority countries – Iran, Iraq, Libya, Somalia, Sudan, Syria and Yemen. The instant effect was felt at airports in the US and around the world, as people were stopped from boarding US-bound flights or held when they landed in the US.
A crackdown on the Affordable Care Act, dubbed Obamacare, an order to create "a contiguous, physical wall" between the US-Mexico border and an order aimed at agencies that provide abortion services were just some of his actions that triggered worldwide uproar. Thousands of demonstrators packed streets around the world to protest against these orders.
An online petition aimed at preventing US President Donald Trump making an official State Visit to the UK later this year crossed 1.5 million signatures. The petition titled 'Prevent Donald Trump from making State Visit to the United Kingdom' is now set for debate in the UK Parliament later in February.
British Prime Minister Theresa May had communicated the invitation to Trump on behalf of the Queen during her US visit last month.
"The invite has been made and it stands. The US is a vital ally for the UK. People have a right to peacefully protest and express their views. The invitation has been made on behalf of Queen," a Downing Street spokesperson said.
Even as the worldwide furore continues to play out, it emerged that there may be yet another executive order in the making that would directly impact Indian software companies who rely on H1B visas to be able to move professionals from India for key jobs in the US.
"I think with respect to H1Bs and other visas is part of a larger immigration reform effort that the President will continue to talk about through executive order and through working with Congress," White House press secretary Sean Spicer told reporters soon after a copy of the draft was leaked.
"You've already seen a lot of action on immigration and I think whether it's that or the spousal visas or other type of visas, I think there's an overall need to look at all of these programmes. You'll see both through executive action and through comprehensive measures a way to address immigration as a whole and the visa programme," he said.
The draft order calls on the US administration to "consider ways to make the process of allocating visas more efficient and ensure that beneficiaries of the programmes are the best and the brightest".
While the full impact of such an order is yet to be determined, there is understandable unease within the Indian tech industry which relies heavily on these non-immigrant visas to employ foreign workers in speciality occupations.
R. Chandrasekhar, president of the National Association of Software and Services Companies (NASSCOM), told India Inc. in a recent interview that any kind of protectionism would harm the US itself.
"India's IT sector has contributed $22.5 billion in taxes to the US government and generated 411,000 US jobs, including 300,000 for American citizens. NASSCOM has always reiterated the damage the protectionist attitude can cause to the IT collaborations between the East and West," he said.
As per NASSCOM's initial estimates, the financial implication of the H1-B visa on the Indian technology sector will be of the magnitude of around $400 million annually, which could adversely impact competitiveness in India's tech sector.
"The two-way flow of investments and intellectual talent is central to the growing commercial and strategic relationships between India and the US," Chandrasekhar stresses.
Meanwhile, India is clearly adopting a wait and watch approach to see where Trump's executive pen strikes next.
Ministry of External Affairs (MEA) spokesperson Vikas Swarup told reporters: "No executive order has been signed so far… Three private bills have been introduced in the US House of Representatives. Such bills have been introduced in the past also and such bills have to go through the full Congressional process.
"Let's not prejudge the outcome because we have seen what has happened to similar bills in the past also. If and when the executive order is passed, we will certainly give a reaction."