Indian aerospace and defence can be at ease in Quebec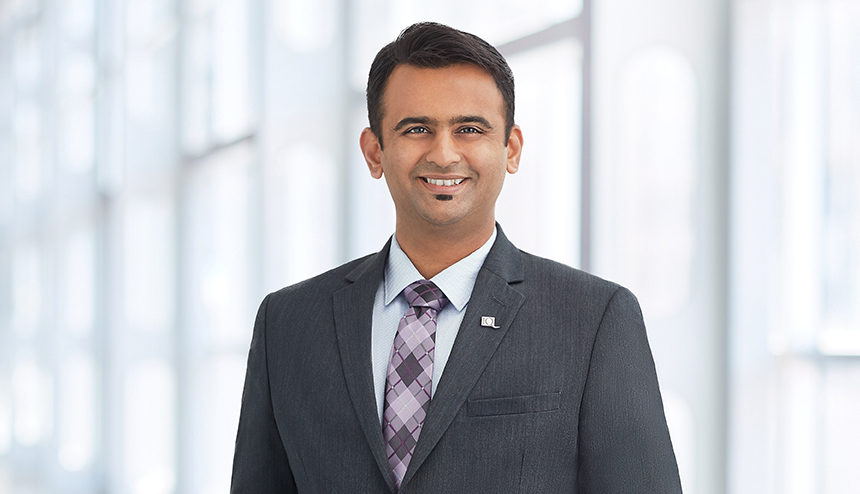 Aasheesh Chudasama is the Mumbai-based Director of the India office of Investissement Quebec. In this interview with 'India Global Business', he lays out the investment appeal of Canada and Quebec for Indian businesses.
What is role played by Invest Quebec in India?
Investissement Québec is the go-to partner for international businesses thinking of locating to Québec. Our team of experts provides the full range of services you need to set up in Québec and make your venture a long-term success. And once your subsidiary is up and running, we help ensure your business stays competitive over the long haul. We have over 450 employees across 12 international offices spread across the globe and managing over C$8 billion in assets. Our role at the India office is to help companies from the Indian sub-continent identify market opportunities in Quebec and help them set a subsidiary in the province and provide them with support in the entire decision making and commissioning cycle.
Invest Quebec and all its partners have in-depth knowledge of Québec and we help companies with scouting business locations/ manufacturing sites, organising visits and meetings with strategic partners in order to understand more about the on-ground actuality and the eco-system of the province.
Also, as a financing corporation, we can provide the financial resources that a foreign company may need to get its expansion plans off the ground. Our dedicated team will continue to help our investors compete in the global arena and expand their business. To give you an idea of our scale of operations, in 2017–18, our prospecting helped 70 projects from international companies see the light of day, representing a total value of $2.2 billion. Once they are operational, these ventures are expected to create or maintain more than 4,162 jobs, according to company estimates.
Furthermore, since we are an economic development body, all our consultation and facilitation is free and pro-bono in nature.
What are some of the steps/measures taken by Invest Quebec and the wider administration to attract investment from India?
Investissement Québec has stepped up its presence in India over the past few years by maintaining a permanent base in the country to cater to the South Asian market and also by organizing several exploratory missions for Indian companies in different sectors.
Investissement Quebec is much more than a trusted Economic Development Body that can help international business grow in Canada. Invest Quebec also has a rare distinction of being a financing corporation that helps get projects off the ground. We provide a wide array of financial solutions, including loans, equity financing, tax credits and more.
What is the scale of Indian presence in the region and what are some of the success stories?
A little-known fact is that several Indian companies have operations in Québec. Three of them are large conglomerates: Tata, Mahindra and Jubilant Pharmaceutical. Indeed, despite the obvious distance, the two business communities share a common business culture.
Jubilant Pharma is present in Kirkland, Quebec, via its subsidiary Jubilant DraxImage Inc. The subsidiary focuses on manufacturing and commercialization of radiopharmaceuticals used for the diagnosis, treatment and monitoring of various disease. The company has 160 highly skilled employees that provide quality radiopharmaceutical products in 21 different countries around the globe.
Another significant investment from India comes from Tata Steel, Tata Steel Minerals Canada Limited is a fully-owned subsidiary to Tata Steel Limited and has a Direct Shipping Ore (DSO) project which involves mining, crushing, washing, screening and shipping the sinter fines and pellet fines to Tata Steel's European steel making facilities. TSMC was awarded a Financial Contribution of C$175 million by the Government of Québec to support the development of its DSO Project. The Financial Contribution includes equity stake of C$125 million through the Capital Mining Hydrocarbons Fund which supports mining activities in the Northern Region of Québec and a loan of C$ 50 Mn through Invest Québec.
Other large significant Indian companies in Quebec include Tata Communications, Tech Mahindra and Mahindra's Tractor division.
What are the sectors you would highlight as central to the India-Quebec connect?
Quebec and India share a lot of commonalities in various sectors. For example, the booming Indian aerospace and defence sector can be at ease in Quebec, knowing that Montreal has the third-largest aerospace cluster in the world and has an eco-system of OEMs, sub-contractors and service providers all located in a single place.
Because of easier visa regulations and proximity to major North American and European markets, Quebec excels in sectors like IT services, where a lot of traction is being gained from India for setting up development centers along with centers of excellence for advanced technologies such as AI, Blockchain and Industry 4.0, Big Data Analytics, etc.
The other sector that has shown a lot of potential for investment in Quebec is that of the digital and multi-media industry. Because of easy availability of highly skilled manpower, lower cost of operations and tax credits to the tune of as much as 42 per cent, Quebec is home to many industry leaders like Ubisoft, RodeoFX, Cinesite, Double Negative et al and other significant local players as well.
Quebec also boasts of a territory rich in Natural resources, the spodumene rich Lithium reserves has attracted a lot of interests from major mining players from across the world.
Apart from these sectors Indian companies in Food Processing, Ground Transportation and Pharmaceuticals (Manufacturing, R&D, Clinical trials and CRAMS) also see a lot of opportunity in establishing their operations in Quebec.
We are sure that as Indian companies are getting ready to make a mark on the global business map, Quebec with its strong manufacturing/ services ecosystem and favourable business policies is bound to take the lead in North America.
What distinguishes Quebec from other provinces in terms of ease of doing business and general business environment?
For any company with global ambition, government support, policies and stability is an extremely crucial factor these days given the high levels of volatility in the current business environment. The commercial environment in Quebec is extremely pro-business this can be presumed on the fact that the fiscal policy for FDI in the province has been more or less stable over the past several years thereby gaining  trust and confidence from large global investors.
To give you an idea, the cost of establishing a Quebec corporation is relatively modest. The government fee is approximately C$300. The incorporation of a Quebec corporation can be accomplished very quickly and routine incorporation could easily be completed within a week.
Also, the Quebec Business Corporations Act does not impose a residency requirement for directors and officers unlike other provinces in Canada which require a minimum of 25 per cent of directors to be local Canadians.
Under the QBCA, shares may be issued without being fully paid, providing for greater flexibility.
What are some recent Trade Agreements that Canada has administered and are we likely to see a free trade agreement between India and Canada?
The Canada-European Union (EU) Comprehensive Economic and Trade Agreement (CETA) is a progressive trade agreement that upholds and promotes the values that Canada shares with the EU. This landmark agreement was signed on October 30, 2016, and came into force on September 21, 2017.
On September 30 this year, the United States, Mexico and Canada announced the completion of negotiations toward a new United States-Mexico-Canada Agreement (USMCA). The outcomes preserve key elements of this trading relationship and incorporate new and updated provisions that seek to address 21st-century trade issues and promote opportunities for the nearly half a billion people who call North America home.
As far as India is concerned, the 10th round of negotiations towards a Canada-India Comprehensive Economic Partnership Agreement (CEPA) was held on August 21-23, 2017, in New Delhi. Constructive discussions were held on various issues, including cross-border trade in goods and services, e-commerce, telecommunications, sanitary and phytosanitary measures, as well as technical barriers to trade. Canadian and Indian officials agreed to continue their engagement in the coming months to advance the CEPA negotiations.
Canada would like to see a CEPA that is inclusive, progressive and mutually-beneficial to both countries.
Please highlight any upcoming plans in relation to investment promotion.
We have just concluded with two important back-to-back visits to India. Mr David Brulotte (Director – APAC and ME) was in New Delhi and Mumbai on a commercial mission. We also recently welcomed Mr Iya Toure (Vice President-Resources Quebec) and Mr Denis Williams (Director General – Resources Quebec). Resources Quebec is a subsidiary of Invest Quebec that supports mining companies at every stage of their projects, from exploration and development through to processing. It offers a full range of financial products, including investments in share capital, debentures and various types of loans. Some of the most notable investments of RQ include financing for Quebec operations of Tata Steel Canada, Nemaska Lithium, VanadiumCorp Resource Inc, and others.
City based economic development bodies from Montreal (Montreal International) and Quebec City (Quebec International) visited Bengaluru and Mumbai in November for a series of events organised by Consider Canada City Alliance.
Invest Quebec and its representatives will have presence at India Joy & India Game Developers Conference in Hyderabad (December 2018), for Pharma at CPhI exhibition in Delhi (December 2018) and Aero India in Bangalore (February 2019).
Please give some background to the region.
With a population of around 37 million and a robust GDP per capita of almost $50,000, Canada features very strongly amongst all the developed nations in terms of growth potential and new market opportunities. The Canadian economy is dominated by the service industry, which employs about three quarters of Canadians. Canada has the fourth highest total estimated value of natural resources, valued at US$33.2 trillion in 2016. Major export partners of Canada include the US, EU, China and Japan with US accounting for almost 75 per cent of total exports.
Quebec is Canada's largest province in terms of sheer size and is the second most populous province in Canada with a population of over 8.2 million. Quebec is the second-biggest contributor to the Canadian GDP. Its economy grew faster than the overall Canadian economy during the first three months of 2017, which bought the province's GDP to over $400 billion, on a seasonally-adjusted and annualised basis, for the first time. The top four major economic centers of the province of Quebec include Montreal, Quebec City, Gatineau & Sherbrooke.