India is poised to become an engine of growth for the world economy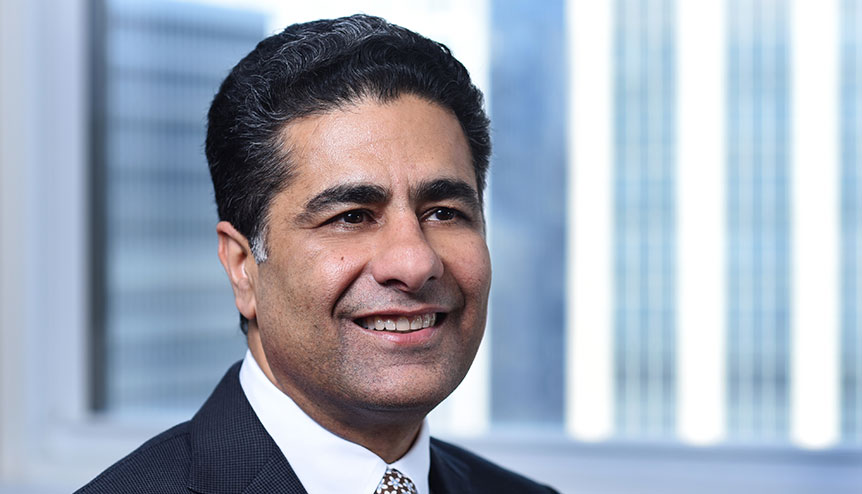 Interview
In an exclusive interview with 'India Global Business', Punit Renjen, CEO, Deloitte, discusses why he's so optimistic about India's future.
To quote you, what are some of the reasons behind being "optimistic about India's future" and economy?
Personally, I am very bullish on India's future and economic potential and believe it is on the cusp of an economic transformation – it is poised to become an engine of growth for the world's economy.
And, it's my opinion that the country has the potential to realise its aspiration of achieving a $5-trillion economy in the near future. Deloitte is pleased to be a part of achieving this aspiration by helping to provide the processes and systems that build and sustain a maturing economy.
I believe that foreign direct investment, for which India is the last large untapped prospective economy, is critical to success. The professional services industry plays a crucial role in this area as foreign companies typically depend on our industry for the trade facilitation and due diligence that contribute to decisions on FDI. In return, foreign investors and their advisors play a key role in selling the India story abroad, providing confidence and reassurance to other investors.
I'm confident that as India continues to address necessary reforms to improve its business climate, those measures will only further bolster its economic growth potential over the long term.
What is the expected nature and sweep of the 75,000 Indian jobs planned over three years?
As I mentioned when I was with Prime Minister Modi recently, the potential of India's economic growth coupled with the Fourth Industrial Revolution (Industry 4.0) and our commitment towards sustainability, calls for a lot more professionals on the job. We are committed to providing advisory services, creating jobs, and training the workforce to support the country's economic base. In fact, we have been part of India's growth journey for many decades now.
While we plan to bring on around 75,000 new hires over the next number of years, our efforts are also directed towards investing in new service offerings, technology, innovation, and quality enhancements.
How have professional services transformed in India over time; what are some of the growth areas?
As the professional services industry in India has grown, it has become a major contributor to the economy. I believe our profession will continue to play a big role in helping India achieve its growth ambitions by supporting the foreign direct investment process; assisting governments and regulators in policy framing and economic development activities; advising businesses and identifying growth opportunities; and contributing to community development. Among them are firms with a global reach that create large-scale employment opportunities and are also some of the biggest exporters of services from India.
I believe, as India contemplates structural changes such as widespread privatisation, global suitors will look to our industry for guidance on these and other factors reshaping the economy.
What are the key takeaways from Deloitte's latest FDI in Retail report for India?
Our report lays out a positive outlook as India's strength in the consumer and retail sector continues to show dominance and sustainability. The report found that India's growth is driven by increased disposable income, growing internet access and smartphone usage throughout the country, and a rising number of online shoppers. Furthermore, the number of online shoppers is expected to increase from 15 to 50 per cent by 2026.
As explored in the report, it's a positive development to see the government continuing to provide support by putting in place regulations that act as a platform for companies to tap the consumption potential of India. Recent changes made by the government with respect to the FDI policy in retail, e-commerce, and contract manufacturing provide stimuli to the economy and attract further investments in India.
What are some the other sectors to watch out for from an investment perspective?
India's plan to drive growth back to aspirational levels must have a balanced approach – short-term stimulus measures with structural long-term reforms will build investor confidence and sustain growth momentum.
Among the immediate efforts, I believe the key focus should be to revive the manufacturing and construction sectors, which host several million jobs for skilled and semi-skilled workers residing, primarily, in rural and semi-urban areas. One of the biggest reasons for consumption slowdown in recent years is poor rural income growth, and job creation in these sectors will create income opportunities and drive consumption. The government already has the ball rolling in this direction by announcing investments in infrastructure. It now has to ensure that the drive gains momentum in the months ahead through quick implementation and regulatory and environmental clearances.
Is doing business in India getting easier; how?
Yes, because India has successively worked toward improving the business environment in the country through regulatory reforms and assistance. As per the World Bank's Doing Business Report 2020, India moved to the 63rd position from 130th in 2016. This is impressive as the country has improved its ranking by more than 10 spots consecutively for three years.
Yet, there are still actions India can take to continue its progress, including simplifying and integrating legislative approval processes and setting up an independent Ombudsman mechanism at the State level for grievance redress.
As I've mentioned before, I'm confident that as India continues to make necessary reforms to improve its business environment, its economic growth will continue, and its future will know no bounds.