India is getting back into action – Piyush Goyal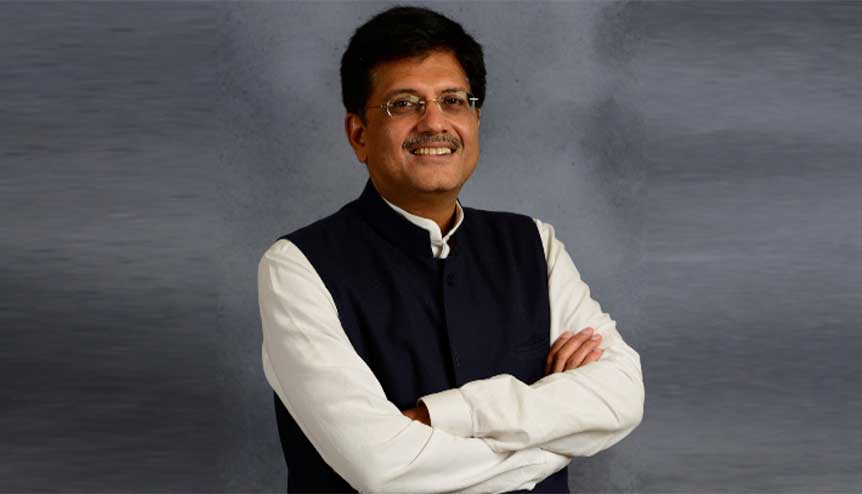 Commitment to iconic projects; 100 percent electrification of Indian Railways and a stronger focus on green energy are just a few of the many opportunities that the government will vigorously address.
The 15th India-EU summit concluded late Wednesday evening. The most important takeaways from this meeting between the two entities came with both parties agreeing to set up a high-level dialogue on trade and investment relations.
While the European Union outlined its vision for a "ambitious" free trade deal with India, the European Commission President Ursula von de Leyen admitted that there was a still a long way to go. "But, with this high level trade and investment dialogue, we hope to advance things and to promote our common interest in moving forward towards a free trade agreement," von der Leyen told reporters from Brussels via video conference. "It needs to include our usual requirements in terms of market access, public procurement and, of course, sustainable development. So there is still a way to go," she said.
Also read: From job creation to climate change: Piyush Goyal tackles the tough questions
Why big tech is betting big on India
Prime Minister Narendra Modi's new 'One Sun One World One Grid' vision
Make in India moves a step closer to greener railways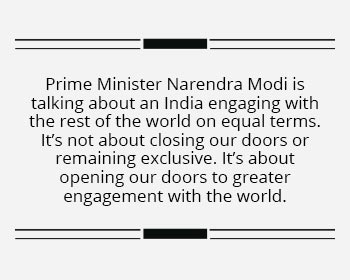 The Indian Ministry of External Affairs Secretary (West) Vikas Swarup outlined India's position saying, "During the 15th summit discussion the most important outcome was the setting up of high level dialogue on trade and investment relations which will discuss all trade and market issues as well as supply chain linkages."
Negotiations on a comprehensive free trade agreement between the EU and India were suspended in 2013 after six years. Despite this logjam and the takeaways from Wednesday, Piyush Goyal , Minister of Commerce, underlined his country's commitment to doing the right thing in terms of vigorously engaging both the European Union and the United Kingdom.
India engaging with the world
Speaking as a guest in a session titled 'Partners In Revival Building A Better Future For All', during the India Global Week #BeTheRevival (July 9-11), Goyal stated, "Prime Minister Narendra Modi is talking about an India engaging with the rest of the world on equal terms. It's not about closing our doors or remaining exclusive. It's about opening our doors to greater engagement with the world. But we want to develop our scale of operations in industry."
Goyal, who is keen to engage with the UK for a preferential trade agreement (PTA) with the ultimate goal of a free trade agreement (FTA), put the ball in the UK's court saying "I had offered a trade deal to the UK before they finalised on Brexit. I had good meetings with my counterparts in India. There were good conversation with new ministers. I can assure you that India stands committed to greater engagement with the UK. We are natural trading and business partners. There is a huge potential to expand trading. The choice is with the UK."
The same approach has been applied in negotiations with the EU. Ahead of the meeting with EU representatives on Wednesday, Goyal had made a statement of intent saying that while he was aware of a stalemate in earlier discussions "I am looking for an early harvest deal and I am open to discussions on a variety of subjects. It is up to the UK and EU, whoever picks up the gauntlet first.
"I have an open mind with the UK as well," said Goyal. "I am coming into negotiations with no preconceived notions. No red lines. I am offering to the UK an early harvest preferential agreement. If the UK comes forward with that openness, I am ready to start talking on Monday morning 9am."
Economic activity picks up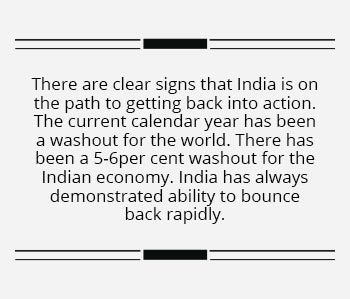 Goyal is buoyed by the signs of economic activity, which seems to be buzzing at the moment in India, despite the country's battles with the pandemic. "There are clear signs that India is on the path to getting back into action. The current calendar year has been a washout for the world. There has been a 5-6per cent washout for the Indian economy. The good news is that India has always demonstrated ability to bounce back rapidly."
Goyal contends that Covid-19 has pushed India into attempting an economic revival. With prime minister Narendra Modi announcing a huge economic package and sectoral reforms in many segments India has turned a crisis into an opportunity.
Focus on green
One of the key areas that India is beginning to focus on, following Modi's attempts to drive attention to it, has been the platform of green energy. The Indian prime minister has displayed a strong focus on green energy and to bringing down pollution levels. The prime minister inaugurated a solar power plant (750MW) with the intention of upping the level to 20GW. Not satisfied with such a volume he then instructed it to be increased to five times that number.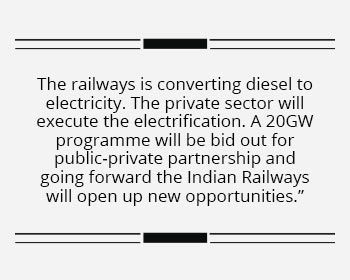 A direct beneficiary of that would be a 100 percent electrification of the Indian Railways by 2020 with approximately 120,000km of tracks in India running on power. "The railways is already converting diesel to electricity. Now the private sector will execute the electrification. A 20GW programme will be bid out for public-private partnership and going forward the Indian Railways will open up new opportunities," asserted Goyal.
The minister of commerce exuded a cautious optimism, albeit wrapped in eagerness, for the Indian economy turning a corner in a post-Covid (PC) and after-Covid (AC) world. "We are all committed to iconic projects. We are re-looking all projects in terms of a post Covid world. There will be a tightening of the belt and cost cutting and aligning ourselves."