India, EU share common cause against terror, expansionism, unilateralism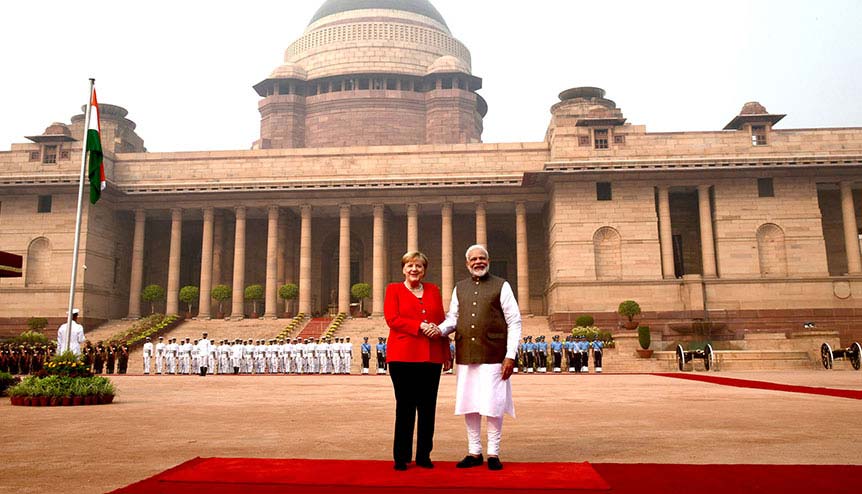 India and Europe are working on the blueprint of a new foreign policy structure. The Modi government seems to have decided to invest further in the relationship with the continent, and more specifically, particular countries within it.
India is reaching out to the EU and is deepening trade and strategic partnerships with individual EU members in preparation for a post-Covid world. The recent visit of Indian Foreign Secretary Harsh Vardhan Shringla to Paris, Berlin (and London) should be seen in this context.
Many foreign policy analysts have taken note of the fact that Shringla chose to visit Western Europe, and not Russia, the US or Japan, for his first visit abroad after the outbreak of the Covid-19 pandemic.
Read more:
India-EU ties may be coming of age at last
A healthy approach to India-UK ties
India seeks post-Brexit clarity from UK and EU
Window of opportunity for India as UAE and Israel embrace peace
New India-UK pacts to boost defence partnership
With the US in the throes of what is increasingly looking like a political and constitutional crisis and with India's relationship with China looking more fraught by the day, the Modi government seems to have decided to invest further in the relationship with Europe, and more specifically, particular countries within it.
Following the recent religion-inspired terror attacks in France, India's principled stand on isolating countries that use terror proxies as a foreign policy tool is now finding greater salience in western capitals.
Mutual wariness about China
There is a growing realisation in Europe that the rise of China is not only about trade, tourism and investment. With ugly facts like strategic coercion, debt trap diplomacy, territorial expansionism, domestic political repression and military aggression abroad by Beijing now out in the open, there is greater acceptance in both New Delhi and Europe that stronger bilateral ties can be a force for international good.
In his talks with German officials, Mr Shringla said: "As you know, India has faced multiple challenges in the recent months due to the pandemic, tensions on our northern border (with China) and the ever-present menace of terrorism on our western border (with Pakistan)."
Highlighted importance of India and EU to work together in healthcare, digital, climate action, counter-terrorism and towards a reformed multilateralism.https://t.co/gGqvIFn8R7

— Dr. S. Jaishankar (@DrSJaishankar) November 18, 2020
Terror knows no boundaries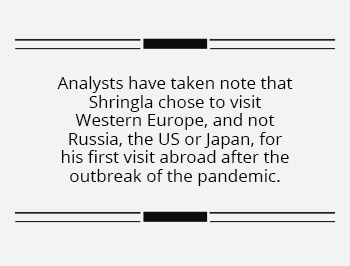 Referring to the recent knife attacks and shooting incidents in France, he added that Europe is seeing a "manifestation of extremism" linked to Islamic radicalism to drive home India's oft repeated point that terror "knows no boundaries".
"Unfortunately, the terrorists are united in purpose and action while we, the victims, are yet to be so. Ironically, some countries that are the fountainhead of terror are practising dissimulation and claiming to be victims of terror to gain international sympathy," he told his German hosts.
Shringla did not mention either country by name but left no one in any doubt about who they were. And unlike in the past, when such references would be met with polite smiles, this time, there was an acceptance that India as raising issues that concerned both sides.
More to read:
Belgium offers more than just beer and chocolates
The land of the midnight sun offers vast opportunities for Indian businesses
India-France strategic ties built across multiple platforms
India and Italy revisit and re-energise their strategic ties
India and Central Europe could be poised to rediscover their old business partnership
There is, thus, a realisation on both sides that the rising tide of terrorism and the not-so-peaceful rise of China pose a challenge to the global order. In this context, India and the EU – particularly, countries like France and Germany within it – as well as the UK, are realising that they are natural partners because of their shared vision of a rules-based global order, sustainable development and trade and investment.
France, Germany make India their Asian fulcrum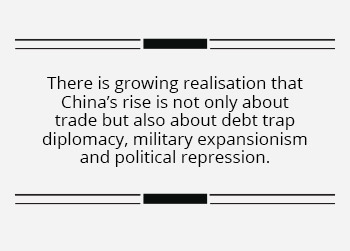 In fact, France and Germany have already announced a new pivot to the Indo-Pacific that, in many ways, complements the Quad, comprising India, the US, Japan and Australia. France has gone so far as to describe India as its foremost strategic partner in Asia.
Germany, too, signalled a subtle shift in in Asian goalposts when it became the second EU member after France to formally announce a new policy on the Indo-Pacific that calls for Berlin to make "an active contribution to shaping the international order in the Indo-Pacific".
Good conversation with Foreign Minister of Germany, Heiko Maas. Discussed the #COVID19 situation and vaccine cooperation. Reviewed the developments in Europe and Asia. Reaffirmed our multilateral partnership, including in the UN: External Affairs Minister S Jaishankar (file pic) pic.twitter.com/207F4CCdYg

— ANI (@ANI) August 13, 2020
On an earlier occasion, German Foreign Minister Heiko Maas had said this region "is where the shape of the international rules-based order of tomorrow will be decided. We want to help shape that order – so that it is based on rules and international cooperation, not on the law of the strong."
It is pertinent that Germany has included the word "Indo" in its strategic doctrine for the region. This marks a diplomatically significant turning point in the traditional German policy of treating China as the central point of the Indo-Pacific.
Brussels warming up to New Delhi
Meanwhile, even as India is strengthening its bilateral relationship with the two EU powerhouses (as well as the UK), making them central to its Europe strategy, there are indications that Brussels, which has traditionally been cool to the idea of closer ties with New Delhi, now wants to bring the relationship out of the cold storage.
This became evident at the virtual summit between the two sides on July 15 this year – the first such meeting after a gap of two years – although it has been in the works for a few years now.
India an important pillar of multi-polar Asia
Signs of thaw began to show up in official documents in 2018 when the EU hailed India as an important pillar in a multi-polar Asia and released a new strategy for mutual cooperation that was crucial for promoting peace in the region, creating jobs both in India and in the EU, boosting economic growth and achieving the sustainable development goals committed by each side in the Paris climate pact.
The joint statement issued by Indian Prime Minister Narendra Modi and European Council President Charles Michel and European Commission President Ursula von der Leyen following the July summit said it all.
Both sides decided to strengthen the India-EU Strategic Partnership, based on shared principles and values of democracy, freedom, rule of law and respect for human rights that aim at delivering concrete benefits for the people in India and the EU.
Still more to read:
India is the new go-to entity in the Indo-Pacific
India strides across Asia with its influence and inspiration
India holds the key to the success of Quad 2.0
India staying away from RCEP is a good move
Australia and India, converging perceptions, aligning interests
Respect for multilateralism and a rules-based order
India and the EU, which are home to the largest concentration of free people in the world, affirmed their determination to promote multilateralism and a rules-based global order with the United Nations and the World Trade Organisation at its core.
I would like to thank India for the cooperation your country has shown with the EU. I would like to pay tribute to your role nationally and internationally, multilaterally in combating COVID19 pandemic: European Council President Charles Michel during India-EU Summit pic.twitter.com/qqZuGjh3C8

— ANI (@ANI) July 15, 2020
In this context, the two sides also agreed to increase their cooperation on international security, strengthen their response to global health emergencies such as the Covid-19 pandemic, enhance global economic stability and inclusive growth, implement the Sustainable Development Goals and protect the climate and the environment.
The statement also affirmed EU's enthusiasm for India's G-20 Presidency in 2022 and its non-permanent membership in the UN Security Council in 2021-2022.
Stiff challenges ahead
Despite such good intentions, there are several trials that have to be overcome before the full potential of closer Indo-EU ties can be unleashed.
The foremost among them is the India-EU trade pact, which has been pending since 2007. The talks are stalled because of Brussels' insistence on easier market access for goods, a stronger intellectual property regime that will hit the Indian generic pharmaceuticals sector and environmental and social clauses that India considers extraneous to trade without any reciprocal concessions on granting easier access to Indian professionals.
The 3 R approach that EU & India are using:

🔹 Re-energise
🔹 Re-invent
🔹 Re-orient

Is removing barriers to trade between Europe & India and is the way forward: @PiyushGoyal

— Piyush Goyal Office (@PiyushGoyalOffc) October 7, 2020
It is imperative that the EU realises that services constitute about 60 per cent of the Indian economy and that India's main competitive advantage lies in the skills of its professionals. Unless the EU concedes ground on this issue, it could be well-nigh impossible for India to make concessions in other areas.
China's growing unpopularity not just with a majority of EU member governments, but also their populations, is indicative of widening cracks in the EU-Beijing relationship, says Mahika Sri Krishna: https://t.co/acaNhK5q2x

— ORF (@orfonline) November 21, 2020
Closing ranks against the rising hegemon
But with the world's leading democracies taking note of the rising new hegemon in Asia and with India getting into a closer strategic clinch with the two engines of EU's global reach (as well as recently departed powerhouse UK), diplomatic circles in India expect Brussels to be more flexible in its future negotiations with New Delhi.
As mentioned above, some signs of that are already visible. And that's good for the EU, India and the world at large.