India can get a lion's share of digital transformation opportunities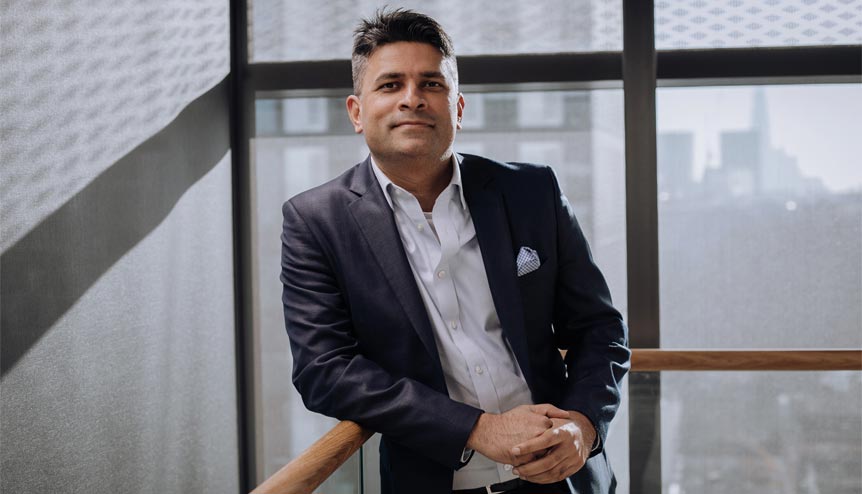 Anand Verma is the Founder and CEO of Brilliant Basics, Infosys' customer-centric digital transformation studio in the UK. In this exclusive interview with 'India Global Business,' he discusses the latest developments in the UK-India tech partnership, the role of technology in conducting business during the Covid-19 pandemic and India's potential for innovation.
In the last two to three years, we are seeing an increase in activities around the India-UK Tech Partnership. In 2019 it was the Go Global programme and now the UK's £4m Innovation Challenge Fund for Indian tech start-ups. How can the two countries take their tech partnership to the next level?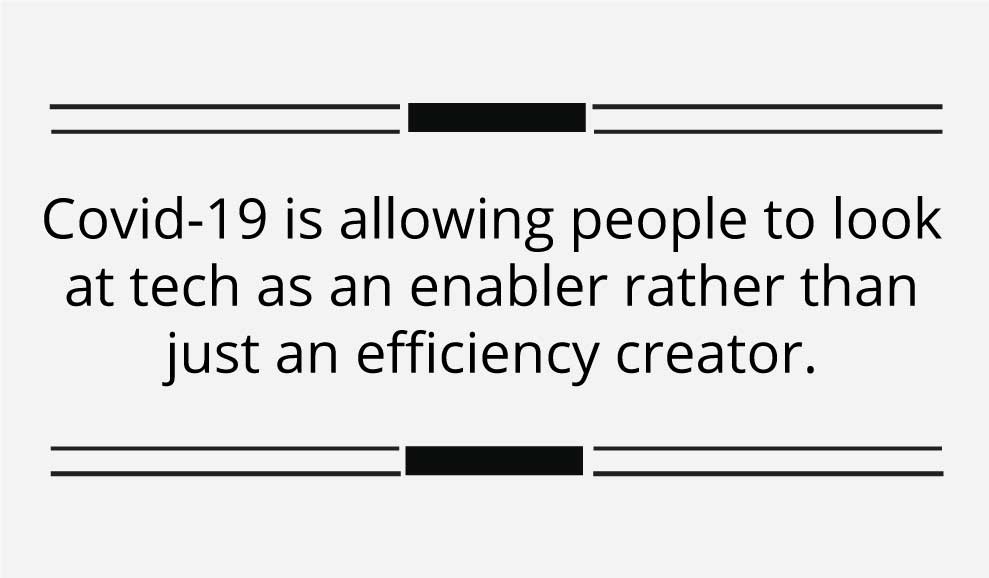 The tech industry has developed dramatically. Covid-19 is allowing people to look at tech as an enabler rather than just an efficiency creator. The way I think about the tech industry is an amalgamation of business, i.e. what will my business will look like in the new world. The second area is the overall design re-imagination, i.e. how do you bring the customer at the centre of everything that you do. And third is leveraging tech to create value quickly. That's where the start-up mindset comes in. I believe that with the UK-India partnership, not only does India bring that mindset of a technology efficiency player, but also it can be a re-imagination player.
The UK is quite well known for design or arts and humanities. India is quite well known for technology. A collaboration between these two countries will allow us to take this to the next level, sort of a 1+1= 11. It's about re-imagining these two countries bringing their best to create something that was not possible before. A serious amount of work has already been done to this effect and I'm sure a lot of great work will get done in the next ten to twenty years.
Are there any sub sectors within the tech industry that India and the UK should be focusing on to bolster their digital partnership post-Covid?
If you look at the sub-sectors horizontally, i.e. large enterprises and start-ups, I see opportunities in all these categories. Large enterprises can tap into India for support, efficiency and transformation. India is already using its large organisations to create a base here in the UK to create the future. I see a lot of new Indian brands now that weren't seen five-six years ago in the UK. So that's a big development. There is a natural partnership emerging in the horizontal sectors, be it large or mid-sized. Every sector is a hyper-growth sector right now but I'm incredibly excited about the start-up sector. Start-ups that have come out of India, for example, and growing in the UK. British start-ups leveraging India, not just from a tech support perspective but also from a new market perspective. Then comes the vertical sector – your financial services, retail, CPG, manufacturing and so on. I see a tremendous opportunity for India from a manufacturing point of view. Especially in this current pandemic situation, India is becoming a leading example of manufacturing. From a financial services or a regulatory and banking perspective, the India -UK partnership is going very strong. I also see a partnership emerging with the open banking standards. There are opportunities in every sub-sector but I'm particularly interested in how these are bringing out the best of the UK and India.
Related stories: Integrated cloud technology and services are the future
A UK-India collaboration in health-tech will mean health and wealth for both countries

How can businesses cope with the need for 24/7 digitalisation that has emerged due to Covid-19? And how far can tech help businesses to adapt to this scenario?
In this current scenario, we've all been working from home across various locations and technology is at the core of this. Without it we wouldn't be able to have this conversation right now. From the organisation perspective, I see two or three trends emerging. One is rapid digitalisation, which some companies are calling overnight digitalisation. Companies that are not digital or who used digital in a limited capacity, such as websites, are now thinking about how to leverage tech to transform their businesses. So necessity is the mother of invention and necessity is what is now bringing digital into the scheme of things.
Secondly, there is a radical movement in terms of new innovation and creativity. Companies are now going on to create new ideas rapidly and think in terms of, what do I put my money on that allows me to take this concept and release it to the market so that I start to operate a new business model that was not there before. This could be customer service or selling a product online or 3D printing a visor – we've seen some amazing examples of that.
Third one, and this is something I'm very passionate about, is called employee experience, i.e. what your employees experience working in the current situation. The area that we're looking at is employee wellness. What is their morale when they are working from home? How do we bring them back to work? How do you manage their productivity? Gone are the days where you can clock in and clock out. The whole mindset of trust is now starting to get questioned and digital tech plays a big role in connecting people.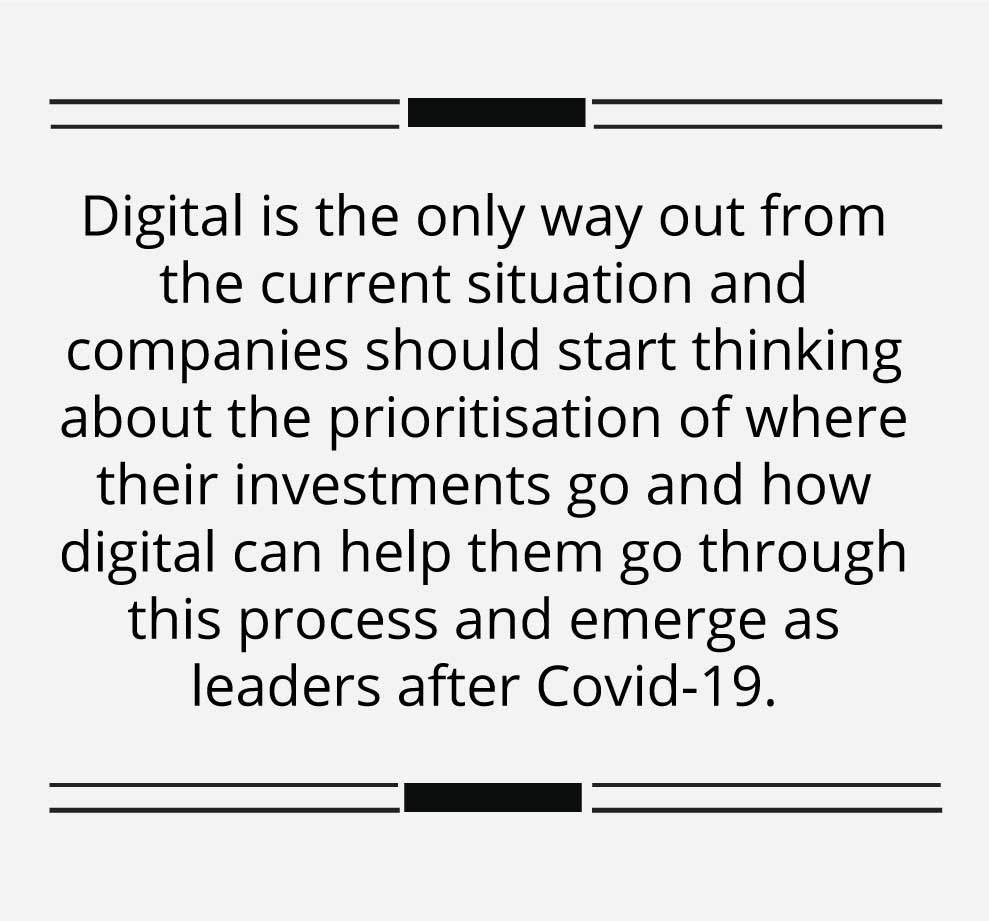 The last one is all about cost containment by using AI (artificial intelligence), automation and data to contain cost rather than just finding cheaper labour.
Digital is the only way out from the current situation and if companies are not investing in that then they should start thinking about the prioritisation of where their investments go and how digital can help them go through this process and emerge as leaders after Covid-19.
Work from home is the new normal for businesses. What are some of the challenges that businesses are facing because of this? And how can they be converted to opportunities?
Every company is different and operates differently. People have a lot on their plates right now, with juggling home life and work. A lot of people are facing isolation issues, particularly young people who are flat-sharing and working from their bedroom for the past hundred days. We're looking at basic challenges such as wifi speed or computer issues. A lot of companies have taken those problems on board and are trying to figure out solutions. The one thing that is coming out of all this though is that human beings are extremely adaptable, and we're seeing that. So, if provided with the right kind of support, people can adapt.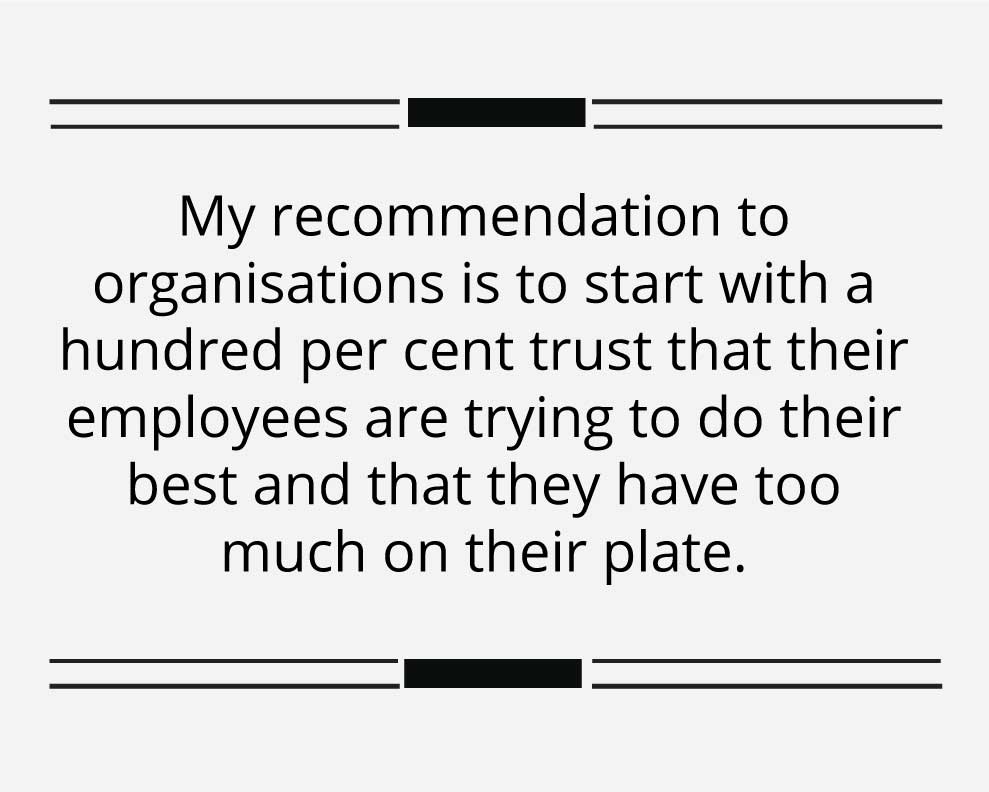 The next important thing is trust. My recommendation to organisations is to start with a hundred per cent trust that their employees are trying to do their best and that they have too much on their plate. The third thing is flexibility. At least in our business, we've moved away from 9 to 5 to activity-based working to more output-based and outcome-based working. This means that people can work in their own time as long as the outputs and outcomes are managed well. But you've got to give leeway to people.
Then there's employee wellness – I'm a big proponent of that. Wellness comes in many forms, whether it's taking a break from working or just picking up the phone and checking in on people. In our organisation we've created this buddy system where an hour or half an hour is set for just a phone call and you don't talk about work. You talk about how you are, your family and how you can help each other.
In terms of the practical day to day, we've created a playbook on remote employee experience. It offers guidance on how to set up your desk well, how to ensure you're taking proper breaks, how to do a zoom meeting well or how to manage video conference fatigue, which wasn't a terminology before but it's a reality now. We also have yoga sessions and quiz nights to help people cope with the barrage of news that is coming at them everyday.
We have pivoted our own business and created this sense of virtual studio to mimic the feel of our physical studios. We have got all the tools amalgamated into one place and are working with our clients to create a digital version of how we collaborate with them, such as doing whiteboard ideas. And I have to say this has gone down really well. We've got clients in Switzerland, a team in France, a team in London and all of us are working on solving some of the toughest challenges the clients are focusing on. So from isolation, wellness, how to engage and keep our culture going and ensuring there are productivity and value creation for our clients – we're doing all these things and learning from it too. We are learning to evolve and adapt to the situation.
What are some of the shifts that have or need to take place within the Indian tech industry in order for the sector to adapt to the post-Covid world?
This will really push Indian infrastructure to its limits. What used to be a work-home balance will start to break in a big way. Within our own organisation and parent company, we had to shift over 75,000 computers to people's homes and that too within a few weeks. That is a mammoth, military-style kind of undertaking. A lot of our clients have been supportive of people working from home. So, I really believe India has faced the challenges well. However, this has also shown some of the gaps in the infrastructure, such as broadband speed or wifi speed, that I hope India will invest in and focus on.
The other thing I would say is the role of technology, especially when it comes to what technology to choose and getting people trained to work in both a work environment as well as a home environment. So organisations should look into giving some sort of training that will help employees to operate from both home as well as work. Additionally, businesses should also explore some of the best practices that they can learn from each other. And this is not just important for India but also for everyone facing this challenge.
This shift in work culture will also provide India with an amazing opportunity in digital transformation. I was reading a research paper yesterday that said 75 per cent of the Fortune 500 CEOs are confirming that digital transformation has accelerated because of Covid-19. I really feel India is going to be a leader in digital transformation, not just from a cost-containment perspective but also in terms of a radical shift in ideas and innovation. The more the government and organisations can do to support those employees, regardless of where they are working from, the more India will get a lion's share of digital transformation opportunities. It will also give small time entrepreneurs an opportunity to launch their business on a global stage. Physical location is no longer as imperative to make a business a success given that digital has become the prime way to engage with customers and clients. All in all, I see opportunities for large scale companies and start-ups, but infrastructure will have to come at the forefront of the agenda to ensure that everybody has equal access to technology.
Will the post-pandemic world see an uptake in deep tech like AR? And what role can deep tech play to further bolster healthcare services, online education in the aftermath of the pandemic?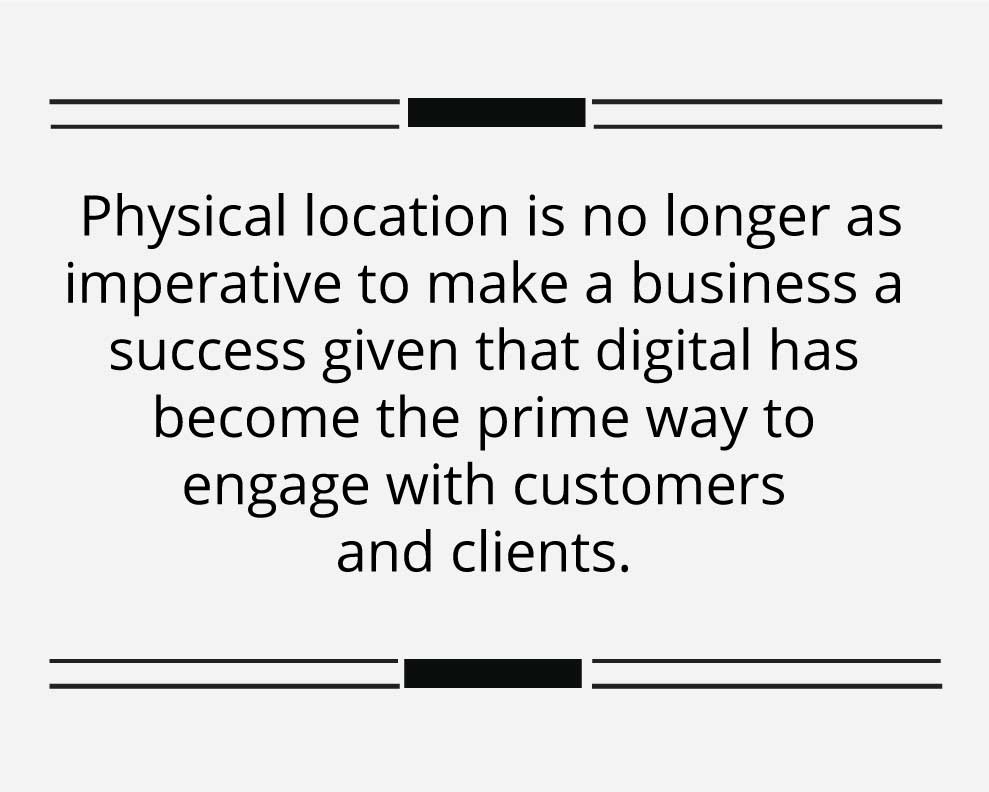 In my opinion, three to four things will happen in this regard. The first one is the speed of digital transformation from an agile delivery perspective will increase three or four times faster than what it was before. India is four and half hours ahead of the UK right now. I think the time zone advantage of doing more within a day is going to play a major role in agile delivery and agile digital transformation.
The other thing I see is the role of data, artificial intelligence (AI) and Machine Learning (ML) will become very important. Even if you look at the search for finding a vaccination that is ongoing at the moment for Covid-19, what's really driving that forward is the power of data. Of course, India has to play a role in that, in terms of deep tech, data AI and machine learning.
A lot of companies are looking at analytics to see where they can invest. Now that cash is king, people want to know where to invest the cash and you can't do that without data and analytics. That's where the UK and India's firepower lies.
I believe that augmented reality (AR) will play a major role in identifying risks, safety and other issues. Just by pointing your phone to certain areas can measure two metres for social distancing. You have the power in your hand, with the mobile phone and with AR you can overlay sense of information or criteria that allow you to be more productive in an office environment but also safe. I think Augmented Reality will definitely be at the forefront in really creative and innovative ways that wasn't possible before.
What are your thoughts on India's potential for innovation and how can it bolster this further post-Covid?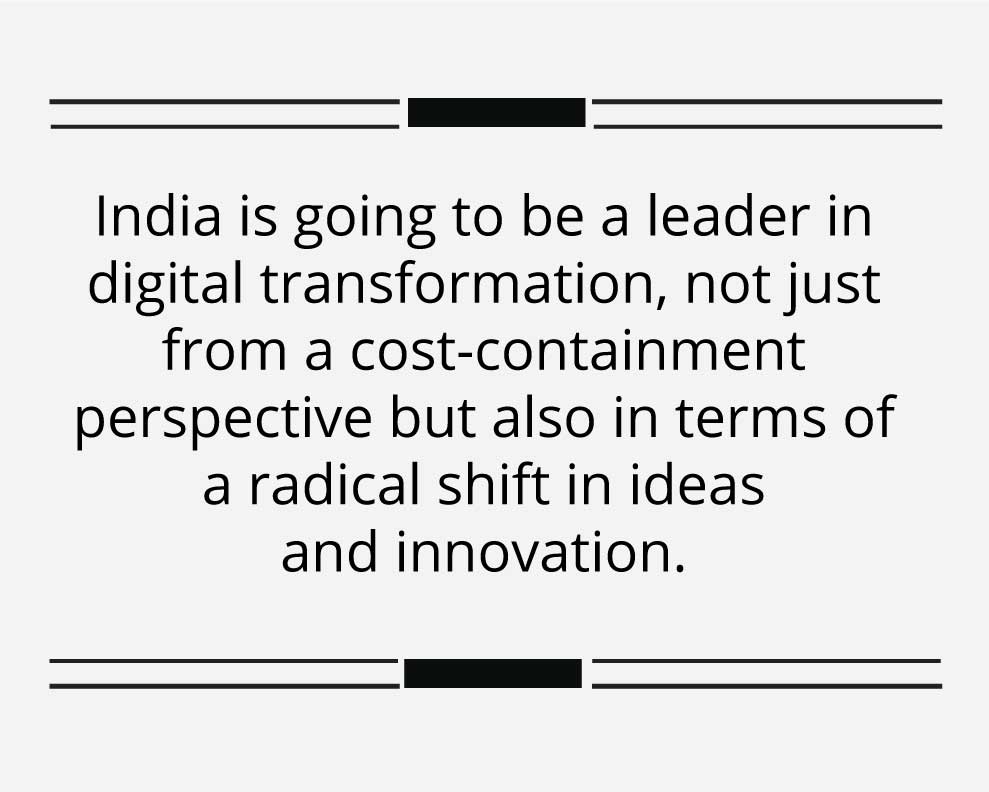 Innovation is a by-product of culture in an organisation, for example, if you look at the Silicon Valley there are so many new things that come out because they embrace failure. In the UK for example, failure is not sometimes accepted. It comes from the way the education system works, the way we are rewarded for success and not failure. I think it was Nelson Mandela who said, "Don't judge me on the basis of my success but on my failures and the things I have learnt from those failures." I think that at its core is part of being an innovator or an inventor. I hope that organisations in the future will embrace failure. If there are entrepreneurial minds in large organisations then organisations must create conditions for those minds to be successful.
Covid-19 has pushed almost everything that could be reimagined to the forefront – manufacturing, healthcare, education – just add the word re-imagination and everything is getting reimagined. So as I said before, necessity is the mother of invention. I really believe that the necessity right now is that the only way for businesses to survive is to invent or innovate and I hope organisations realise this. A lot of our clients are looking at us to innovate on behalf of them. A lot of our clients' customers are looking for ways they can interact with end-users. So anybody who has got inertia in innovation right now, in my view, will suffer.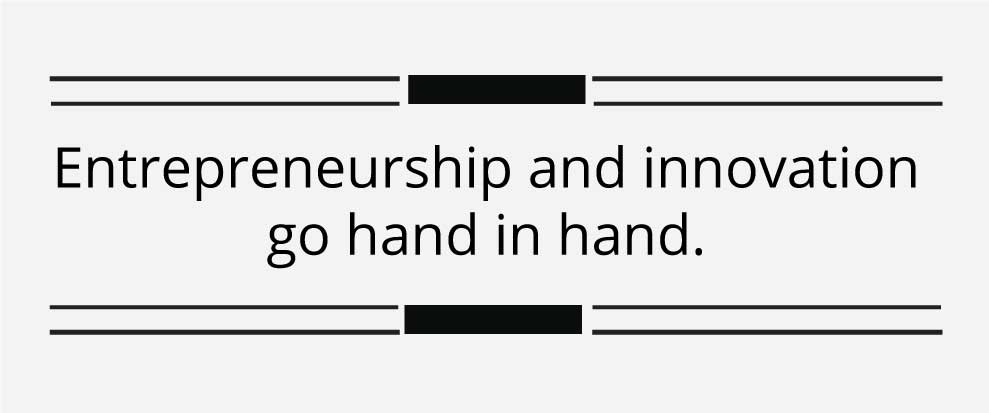 Entrepreneurship and innovation go hand in hand. Essentially, it comes down to those who are employed and those who create employment, and I think innovation can create employment for countries. So how can innovation flourish in India? The first thing is culture. Organisations should create a culture where failure is embraced. It should be controlled failure but it should be embraced.
The second would be this mindset of creating conducive conditions for innovators. I think this will also create a lot of new start-ups that will mushroom because of this need or demand in the market. Large organisations can't move fast enough but start-ups can and will move fast to create things that are needed. I hope large organisations realise this and create a nice ecosystem of start-ups and enterprise working together. I am excited about this possibility of a whole new breed of companies, start-ups and enterprises emerging, that wasn't possible before the pandemic and how they will be able to help people going forward.
**This interview is part of an ongoing series and collaboration between 'India Global Business' and Grant Thornton's 'India Meets Britain Tracker' 2020, exploring Indian businesses that are active and contributing to the UK.