India and Israel 'renew' their vow to achieve a low carbon future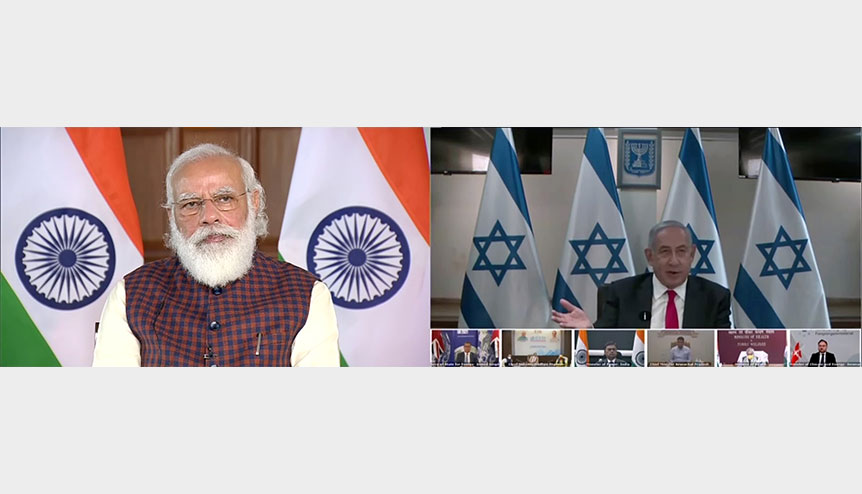 By combining their respective prowess in innovation, India and Israel can lead the way to developing a more sustainable future in the post pandemic world.
There's no better way for the world to sit up and pay attention to climate change and lowering emissions than having two of the most influential and powerful world leaders in attendance. And that's just what happened at the 3rd Global RE-INVEST Renewable Energy Investors Meet & Expo, hosted by the Ministry of New and Renewable Energy (MNRE), Government of India.
Have you read?
India's solar energy achievements a shining example to the world
We are striving to unleash a rooftop solar power revolution in the country
India's solar goals are the most ambitious in the world
Solar assets should be sustainable, replicable, bankable
The International Solar Alliance: From promise to action
Themed 'Innovations for Sustainable Energy Transition' the conference aimed to accelerate worldwide effort to scale up development and deployment of renewable energy and connect the global investment community with Indian energy stakeholders. Perhaps most notable though was the presence of Prime Minister Modi, who gave the inaugural address, and Prime Minister Benjamin Netanyahu.
A shining opportunity
India has taken several concrete steps in its pursuit of green energy in the past couple of years. From honouring its pledge to increase the share of power-generation capacity that doesn't use fossil fuels to 40 percent by 2030 to being the only country to keep its emissions within the 2°C mark according to the Climate Transparency Report that released earlier last month. But for a country with a burgeoning population of 1.4 billion people, India has its work cut out for itself when it comes to lowering carbon emissions. This where its long standing friendship with Israel comes into play.
The fact that Prime Minister Netanyahu attended the digital conference on the personal invitation of Prime Minister Narendra Modi signifies the strong friendship between the two leaders and the importance and value both countries assign to each other. Addressing the virtual conference, Prime Minister Netanyahu said, "I believe that the most important renewable energy is ingenuity and innovation. And all the countries represented here, beginning with India and Israel, and all of you, are committed to seizing innovation in order to seize the future. And on that I think we can all be very, very hopeful."
Read more:
India's ties with Israel will acquire a new definition
India-UAE recognise there is wealth in health
The UAE-Israel peace deal presents huge business opportunities for India
From India's farms to the UAE's tables
India and the UAE seek to enhance commercial ties
The Abraham Accord between Israel and the UAE is a boon for India
Why are lower carbon emissions important?
Courtesy: World Bank
A renewed vision
Over the years the India has fostered the growth of its solar energy sector. Solar generation has already seen an increase of 23 per cent from March to June 2020 since 2019 levels, boosting solar share of total electric generation from 3 per cent to 5 per cent. Solar tariffs in India fell to a record low of 2 Indian rupees ($0.0271) per kilowatt hour recently. On the other hand, nearly 10 per cent of Israel's energy consumption comes from solar energy. In June 2020, Israeli Energy Minister Yuval Steinitz announced $22 billion plan to officially raise Israel's target for renewable energy from 17 per cent to 30 per cent for 2030.
PM Netanyahu also pointed out that hundreds of Israeli start-ups are active in the solar sector today following an investment of billions of dollars and would play an important role in helping to find solutions to storage and conservation of solar energy.
Match made in heaven
India and Israel already share strong bilateral ties which have been only been getting better and sustainable with time. Though defence may form the backbone of the relationship, several Israeli companies and businesses have been investing and collaborating with their counterparts across sectors such as agritech, water management, healthcare and even energy. In addition, both countries boast strong and vibrant start-up ecosystems known for its innovations. This greater confluence towards sustainable development and renewable energy will go a long way in not just meeting climate goals but also generating new opportunities for investment and employment.