How neighbours can become good friends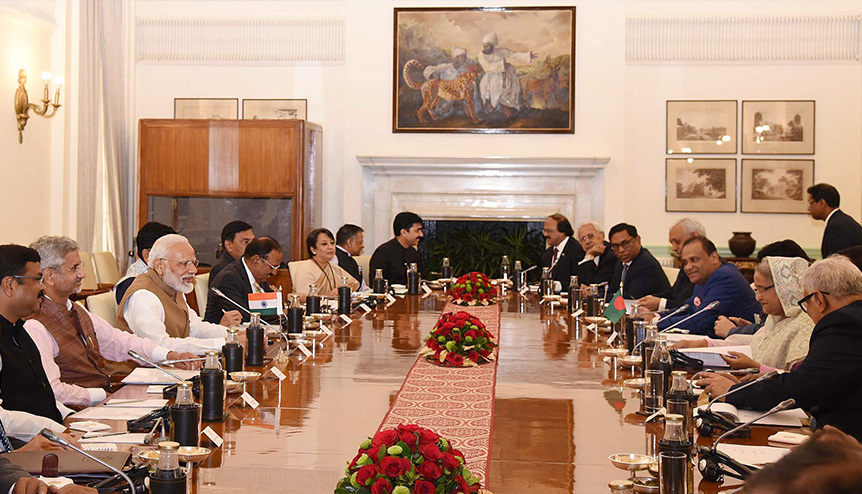 Indian Prime Minister Narendra Modi and his Bangladeshi counterpart Sheikh Hasina have laid the foundation for closer trade and economic ties between the two countries. Now, it is up to the business houses in India and Bangladesh take this forward.
Among its South Asian neighbours, Bangladesh is, arguably, India's closest ally. However, New Delhi has been facing stiff competition from Beijing. In 2015, China replaced India as Bangladesh's top trading partner. The following year, China agreed to invest $24 billion in India's eastern neighbour under its ambitious Belt and Road Initiative (BRI), bringing total Chinese investment commitments to $38 billion, the largest by any country.
In response, India announced concessional loans worth $5 billion to Bangladesh in 2017. This is in addition to three lines of credit worth $8 billion to help improve infrastructure like ports, power, railways, roads and airports. This will provide opportunities for Indian companies in those sectors to scout for business in these sectors.
Bilateral trade growing at a fast clip
The potential for India-Bangladesh cooperation in trade, investments and security cooperation are massive. Bilateral trade between the two countries grew 28 per cent to $10.46 billion in 2018-19, with Bangladeshi exports to India topping $1 billion for the first time. But FDI flows from India have been minuscule. To facilitate Indian investments in that country, the Narendra Modi government has decided to establish economic zones in Mirshari and Mongla.
India's Reliance Power recently signed an agreement with Japanese power major JERA to set up a 750 MW gas-based combined cycle power project at Meghna Ghat in Bangladesh in which the Indian company will hold 51 per cent and the Japanese partner 49 per cent. The total investment in this project, which will be set up within 36 months from the date of the agreement, will be about $750 million.
But, according to experts, this agreement is just scratching the surface of the potential that exists for expansion of bilateral economic ties.
Huge opportunities in Bangladesh
Sheikh Fazle Fahim, President of the Federation of Bangladesh Chambers of Commerce and Industries (FBCCI), told the Economic Times, India's leading financial daily, that Bangladesh offers huge opportunities for Indian FDI flows into its shipbuilding, leather goods, ceramics, jute products, pharmaceuticals, ICT, FMCG, home appliance, agro-processing, frozen seafoods and fisheries sectors both in the form of greenfield investments as well as through the M&A route.
For Indian companies, this may be the right time to enter Bangladesh. In 2019, the country's GDP clocked a growth rate of 8.1 per cent, replacing India as the fastest growing South Asian economy. It recorded an industrial growth of 13 per cent and its exports grew at a very healthy 10.1 per cent. The Asian Development Bank (ADB) projects this robust growth trend to sustain in the current year, making Bangladesh an ideal investment destination for Indian companies.
In keeping with the Modi government's policy of reaching out to its immediate neighbourhood, India signed seven agreements with Bangladesh to improve trade relations between the two countries, resolve connectivity issues and address India's concern over terrorism and maritime security in the region during Prime Minister Sheikh Hasina's visit to New Delhi in the second week of October.
Comprehensive economic partnership
As mentioned above, India-Bangladesh trade has been growing at a healthy clip, but, according to experts, still falling short of its full potential. To provide an impetus to this aspect of bilateral ties, Modi and Hasina agreed to commission a joint study on the prospects of a bilateral Comprehensive Economic Partnership Agreement (CEPA) between India and Bangladesh.
To facilitate easier movement of people legally across the border, India agreed to gradually remove restrictions on Bangladeshis travelling to India with valid documents at two designated entry points in West Bengal and Tripura. The two governments will also expedite the setting up of 12 Border Haats (markets), where people from the border areas can trade in goods.
India also agreed to source bulk LPG from Bangladesh. This will be used for power projects in the eastern Indian state of Tripura.
Boosting defence ties
China is Bangladesh's largest arms supplier and has provided it two submarines, 16 war planes and several tanks besides other defence equipment. To balance this "tilt" and help India keep watch on its maritime neighbourhood, Bangladesh has agreed to let India install a network of 24 radars along its long coastline that extends from its border with the Indian state of West Bengal all the way down to Myanmar. Indian security experts said this network of radars will enable India to keep better track of Chinese naval activity that has increased several folds in the Indian Ocean Region.
The two countries also agreed to increase anti-terrorism cooperation to eliminate this scourge in all forms.
Focus on connectivity
In pre-Independence India, the rivers and the road network in then East Bengal (subsequently East Pakistan and now Bangladesh) formed an important link to the country's remote North East region. Since coming to power in 2014, the Modi government has been keen on restoring these historical links to that region, which is currently linked to India's mainland by a 40 km broad "chicken's neck" that is vulnerable to possible Chinese military attacks in the event of hostilities.
During Sheikh Hasina's visit, India and Bangladesh signed an MoU to use the Chattogram and Mongla ports in Bangladesh for movement of goods to and from India's North East. With the commencement of river-borne trade between Assam in India and Bangladesh via the Brahmaputra and the Padma rivers, the connectivity potential between the two countries is being realised.
The two countries have also agreed to operationalise the Bangladesh-Bhutan-India-Nepal (BBIN) Motor Vehicles Agreement to facilitate the movement goods and passenger vehicles along the highways of the member states. There is also an agreement to increase rail links between India and Bangladesh.
Framework ready, but…
The two governments have laid the framework for greater cooperation and closer trade and economic ties between the two countries. Now, it is up to the business communities in India and Bangladesh to realise the full potential of this important regional partnership.