Himachal Pradesh: Favoured by Gods and industry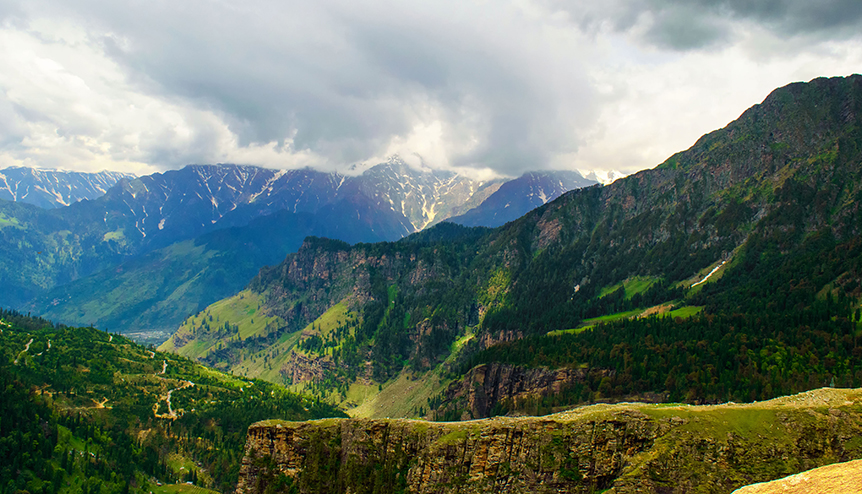 The northern Indian state of Himachal Pradesh, which is often called the Land of the Gods, has, in recent times attracted several big names in Indian and global industry such as Nestle, Statkraft, Adani, Ranbaxy and Dabur. A proactive government, single-window clearances and easy procedures are driving this rush of investments in this hitherto agrarian state.
Amid reports that a mega investment summit in Himachal Pradesh may have to be postponed because it is clashing with the winter session of the state assembly and the upcoming parliamentary elections in May next year, the state is, nevertheless pulling out all stops to attract investors not only from India but also from across Asia.
Solid economic base
The state, which is primarily known in India for its scenic beauty, attracts millions of tourists from India and abroad. It is also known as the Fruit Bowl of India.
Less well known is the giant strides Himachal Pradesh has made in terms of economic growth and industrial development.
The state's gross state domestic product (GSDP, the state equivalent of the better known GDP) has grown at a compounded annual growth rate (CAGR) of 11.48 per cent between 2011-12 and 2016-17, , according to IBEF, which is well above the national average. Himachal Pradesh, which recorded a per capita income of Rs 1,47,330, it is doing better than the national average on this parameter as well.
The main contributors to this growth rate are the CAGR of 4 per cent, 7 per cent and 9 percent recorded by the primary, secondary and tertiary sectors, respectively. Further, the contribution of the primary, secondary and tertiary sectors to the state's gross value added were 16 per cent, 43 per cent and 41 per cent, respectively. In per capita income terms, too,
With a stable political  environment and a single-party government, the state offers a progressive business environment.
According to the 2011 census, the overall literacy rate of the state was around 82.8 per cent. This offers investors a large pool skilled labour, making it a favourable destination for knowledge-based sectors. It also has a large pool of semi-skilled and unskilled labour.
Policy and fiscal incentives
The state offers a wide range of policy and fiscal incentives for businesses under the Industrial Policy, 2004. To promote and incentivise industry-led sustainable growth, Industrial Policy 2013 was launched by the state government. The state has progressive and investor-friendly policies catering to a variety of sectors such as tourism, hydropower, renewable energy, pharmaceuticals, food processing, biotechnology, IT and handicrafts, among others.
Another important aspect is the ease of doing business, with a number of reforms being undertaken on single window clearances, easier environmental and labour laws and a trouble free industrial relations scenario.
The state has constituted State Level Single Window Clearance & Monitoring Authority, which acts as the apex body for facilitating investments in the state.
Infrastructure in place
Himachal Pradesh, which is a hill state in Northern India, is well connected to the rest of India. Connectivity within the state is also well developed. It has a total road length of 50,449 km, which includes 2,622 km of National Highways. It also has a high teledensity of 133, which means most residents have more than one phone.
There are three airports in Himachal Pradesh, in Shimla (Jubbarhatti), Kullu (Bhuntar) and Kangra (Gaggal). The state also has more than 60 helipads in operation that are used by tour operators, businessmen and government officials.
The two main cities in the state, capital Shimla and Dharamshala, where, incidentially, the Dalai Lama resides, are being developed as Smart Cities to improve urban infrastructure available in the state.
Industrial development
Till the turn of the last century, Himachal Pradesh was predominantly an agrarian. Since then, it has emerged as a preferred manufacturing destination for sectors such as pharmaceuticals, biotechnology, FMCG, textiles, light engineering and cement, among others.
Himachal Pradesh is one of the leading fruit and vegetable producing states in the country providing it with a high potential for the growth of the food processing industry.
Because of scenic diversity, there is a great potential for tourism with focus on eco-tourism, adventure tourism and spiritual tourism. According to the Confederation of Indian Industry (CII), it is working closely with the state government on the theme Building Competitive Himachal, for the overall and inclusive development of the state.
Himachal Pradesh also has abundant water resources making it a leading hydro power producing state in India. It has a hydro power potential of 27,436 MW (of which just under 5,000 MW has been harnessed.  Himachal Pradesh accounts for 25.9 per cent of the country's total hydro power potential. As of March 2016, all villages of Himachal Pradesh had been electrified. Further, it has a renewable energy potential of more than 36,000 MW.
The state also has a rich heritage in handicrafts. These include woollen and pashmina shawls, carpets, silver and metal ware, embroidered chappals, grass shoes, Kangra and Gompa style paintings, wood work, horse-hair bangles, wooden and metal utensils and various other household items.
Himachal Pradesh, which is also called Dev Bhumi or Land of Gods, is famous for its topographic diversity and pristine natural beauty. In 2016, the state witnessed a total of 18.45 million tourists, of which 17.99 million were domestic tourists and 0.45 million were foreigners.
Investors are moving in
The state has attracted large investments from several large Indian and multinational companies.
The Adani Group, Nestle, Dabur, Cremica, Ranbaxy Laboratories, Dr Reddy's Laboratories, Torrent Pharmaceuticals, Morepen, JSW Power, Statkraft and several other Indian and multinational companies have set up pharmaceutical, food processing and hydropower ventures in the state.
The Department of Environment, Science & Technology (DEST), Government of Himachal Pradesh, proposes to develop a Biotechnology Park (BTP) spread over an area of 35 acres at Aduwal in Solan under PPP mode. The park will have a biotechnology incubation centre as well as a biotechnology industrial cluster.
Nestle India has a factory in Tahliwal in Una, produces its highly popular Maggi noodles as well as a variety of chocolates. Dabur, a leading Indian consumer goods company, produces, among other things, honey and amla in Baddi.
Adani Agrifresh, a part of Adani Enterprises, has set up three controlled-atmosphere storage units at Rampur, Sainj and Rohru in Himachal Pradesh, with an investment of $40 million and a combined capacity of 18,000 tonnes of apples per year. The subsidiary is involved in the procurement, storage and transportation of fresh fruits and vegetables. The company directly buys fruits from about 4,000 farmers.
Land remains a challenge
Himachal Pradesh's bio-diversity and fragile ecology, however, poses a challenge as there is not enough land to meet the requirements of its industrial development.
There is a proposal before the government to revive the plan to develop a large area near the existing Baddi-Barotiwala-Nalagarh (BBN) region, which houses almost 90 per cent of the state's industries, as a new industrial zone but an earlier proposal along the same lines had to be abandoned because of environmental concerns.
The region has several factors working in its favour – a good network of roads and proximity to Chandigarh being the two most important.
Bright future
The state has had political stability over the last three decades. Politically, it has a pattern of alternating between BJP and Congress governments every five years. Both parties have provided stable governments, though Congress governments of the past have been mired in corruption scandals. But this has not slowed the pace of economic development.
This indicates that the state's economic future will remain bright for years to come.