Goyal offers a new template to UK, US to close out trade deal negotiations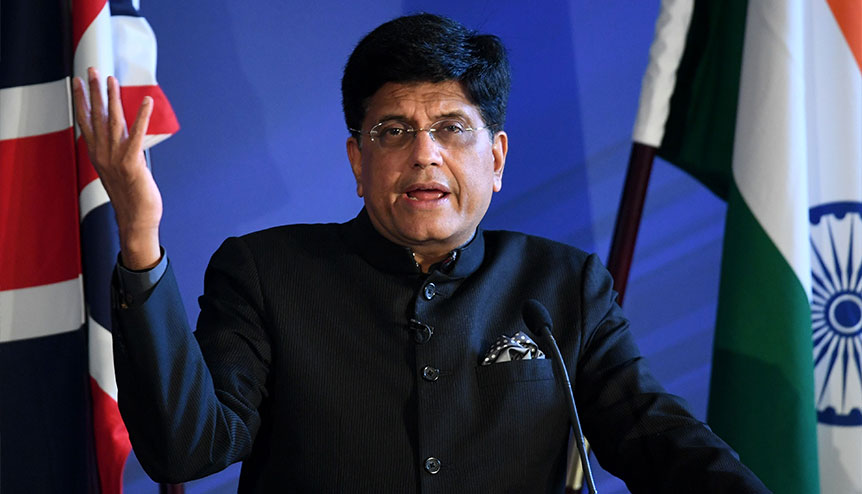 India has offered to negotiate and sign limited trade deals, covering a few dozen important items, with the US and the UK even as talks on comprehensive FTAs carry on. This could provide a formula for settling outstanding trade negotiations with the EU, ASEAN and other nations.
Twice, in the space of a little more than two weeks, India's Commerce Minister Piyush Goyal has spoken of limited or partial trade deals with two of New Delhi's largest trading partners, the UK and the US.
Have you read?
UK-India ties must be on track despite Brexit pains
Why India-UK partnerships are booming amid the Covid-19 pandemic
Why US and India need each other to combat terror around the world
Weary of China, ASEAN looks at India for leadership
Defence becomes the new building block for UK-India ties
Goyal proposes partial trade deal with the UK
Addressing a CII webinar on September 15, he said: "… Normally, it takes a good amount of time to sort out all the issues that crop up (in a comprehensive Free Trade Agreement). It may be a good idea to pick up 40-50 items and look at a Preferential Trade Agreement… We can pick up come items which are of great importance to both countries, which have a good potential for a bump up in trade, because very often in the FTA you'll have a thousand lines or maybe five thousand lines, but usually trade between two countries is restricted to five-seven hundred lines. I do sincerely believe that the time is opportune and ripe to have an early harvest between the two countries."
Similar deal in the works with the US
Earlier, on September 1, Goyal had said India and the US are close to finalising a partial trade deal covering about 200 items. At a virtual event organised by the US-India Strategic Partnership Forum, he said: "I just had a conversation with (US Trade Representative Robert) Lightizer that the entire trade package is ready and we can do it before US elections…I'm open to signing it tomorrow. I have left it to Bob (Lighthizer)."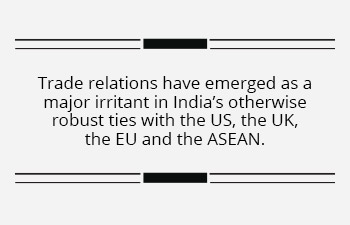 Trade relations have emerged as a major irritant in India's otherwise robust ties with the US, the UK and also the European Union, which is India's largest trading partner, and the 10-nation ASEAN bloc, with which India shares close cultural ties and strategic convergence.
US President Donald Trump's decision to withdraw Generalized Systems of Preferences (GSP) benefits to India, under which New Delhi exported about $6 billion worth of goods to the US at zero or very low tariffs, impose punitive tariffs on Indian steel and aluminium exports to that country and impose heavy curbs on the issue of H1B and L1 visas, which most US and Indian technology companies use to move Indian professionals to the US has severely strained Indo-US ties in recent years. The trigger: Allegedly high Indian import tariffs on several items the US considers important for its economic interests.
Similarly, the British government's tight-fisted policy on issuing work visas to Indian professionals and other restrictions on the entry of Indian goods even as it demanded greater access for its goods and services to the vast Indian market, the world's fifth-largest, has led to some Indian commentators saying that the UK was interested only in the Indian market but not its people.
Read more:
India-US relations are set for a win-win run
Collaboration with US key to India diversifying energy basket away from fossil fuels
Does the race to the White House really matter for India Inc.?
India and Central Europe could be poised to rediscover their old business partnership
Pandemic gives a renewed thrust to India-EU ties
Only a few items of trade are really important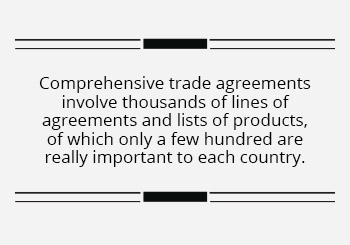 As Goyal said at the CII webinar, comprehensive trade agreements involved thousands of lines of agreements and lists of products, of which only a few hundred are really important to each country. Left unsaid was the fact that many of the less important items could be politically sensitive products in either or both countries, making it difficult for democratically elected governments to make concessions on them.
In view of this, signing limited trade deal with important trade partners, leaving the more contentious items on the agenda to be resolved later, can help keep the bilateral relationships going, deepen the stake each side has in the other's economic well-being without in any way sacrificing national interest or upsetting important domestic political interests of either government.
New template offers hope
Partial trade deals offer partner countries the option of engaging economically with other nations on areas of mutual benefit without in any way conceding ground on areas of trade discord.
Goyal's initiatives on limited trade deals with the US and the UK could offer a template to resolve outstanding economic issues with important partner blocs such as the EU and ASEAN.
India has been negotiating a Free Trade Agreement with the EU since 2007 but have little to show for it. The latter claims, with only partial justification, that India's trade regime is highly restrictive.
US, EU leaders in restrictive trade practices
But as Goyal told a leading Indian media publication: "The US is the leader in creating non-tariff barriers through standards and Europe has impossible standards which create impediments to free flow of goods and services." In this context, he said India does not mandate even a tenth of the quality standards that the US and the EU demand – to the detriment of Indian trade and industry.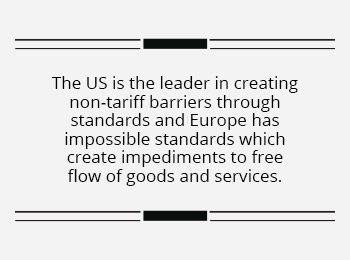 Then, previous Indian governments may have conceded too much in return for inadequate benefits in trade negotiations with the ASEAN. The Modi government is now renegotiating these deals with ASEAN.
Limited deals offer countries a way out of trade imbroglios
Here again, the partial trade deal template may help India maintain its robust trade and economic cooperation with these two powerful blocs leaving the door ajar for negotiating more comprehensive agreements at a later date.