Govt, pvt. sector, individuals, will set India on a path to self-reliance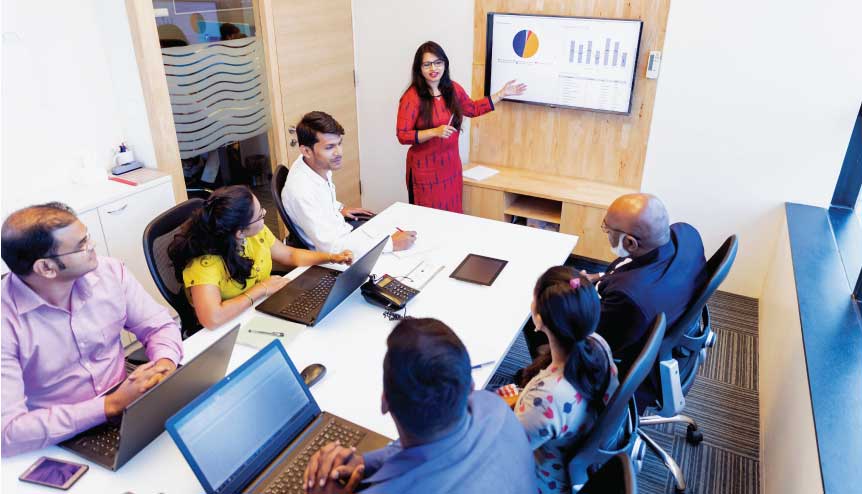 With the Modi government effectively turning the screws on Chinese entities by examining even the smallest holdings in Indian companies the stage has been set for India to power full steam ahead in the path to self-reliance and self-sufficiency.
The Indian government's decision to examine minutely even miniscule Chinese holdings in foreign direct investment (FDI) proposals is a step in the right direction. The authorities, in doing so, have taken a significant U-turn from their earlier approach of examining "significant beneficial ownership."
The earlier Cabinet approval for FDI screening, set in April this year, from countries bordering India was set at 10 percent threshold, the provision in the Companies Act, or 25%, the prescription in the Prevention of Money Laundering Act.
Read more:
Self Reliance and Reliance are writing the great Indian story
How India's goal for self reliance is transforming aerospace
Govt, pvt. sector, individuals, will set India on a path to self-reliance
Rapid missile tests by DRDO demonstrates drive towards self-reliance
Reliance Retail writes parallel script in India's growth story
Taiwanese entities preferred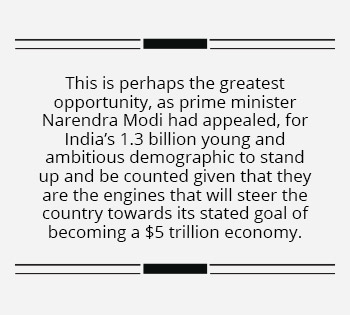 This effectively puts the brakes on Chinese entities who, lured by the progress that India is making and offers, will be prevented from entering the country from nations like Singapore or Mauritius and even Hong Kong but, in a diplomatic snub to China, Taiwanese inflows have been exempt from mandatory clearance.
Under the scanner are also companies like Paytm, Zomato and BigBasket who have Chinese stakeholders while several proposals put in are also under the scanner. Significant ministries ranging from commerce, industry, power and telecom have also been told to be watchful and thwart Chinese presence.
The introduction of legal changes into this ecosystem – possible amendments to the Companies Act and FEMA, which governs FDI – will ensure that India is safeguarding itself against a marauding hegemon.
More to read:
India's path to self-sustenance could find many takers
Reliance's 5G ambitions provides alternative to a tainted Huawei
How India's textile industry re-invented itself during the Coronavirus crisis
Digital India receives added boost with KKR-Reliance deal
Private sector should push for level playing field in domestic defence production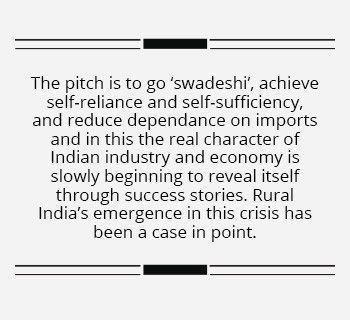 The pitch is to go 'swadeshi', achieve self-reliance and self-sufficiency, and reduce dependance on imports and in this the real character of Indian industry and economy is slowly beginning to reveal itself through success stories. Rural India's emergence in this crisis has been a case in point.
India is developing self-reliance in the sectors of defence (three successful missile tests in the last month are stand out examples), automobiles (two, three wheelers, cars and construction equipment), e-vehicle manufacturing, and perhaps even an alternate fuel economy for rural India.
The rise of India's youth
This is perhaps the greatest opportunity, as prime minister Narendra Modi had appealed, for India's 1.3 billion young and ambitious demographic to stand up and be counted given that they are the engines that will steer the country towards its stated goal of becoming a $5 trillion economy.
By pursuing the policy of Atmanirbhar Bharat, India has a unique advantage over other countries in terms of the distribution of oits youth population. The 2018 census shows India had the largest population of youth in the world, spanning 600 million youth. But to ensure that its stated goal is realized this is as good a time as ever for the younger generation to start getting equipped in terms of skill building and skill upgrades to identify and get the jobs of tomorrow.
Digital and tech set the pace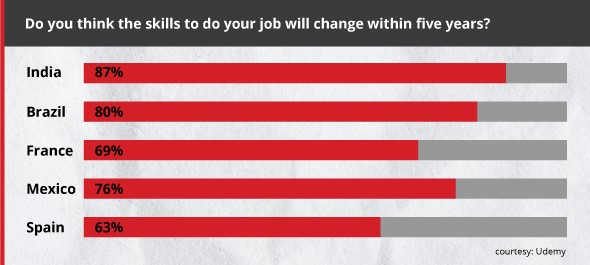 Digitalisation and technology are setting the schedule for tomorrow's job sector and with it the future of work is set for a seismic change. The narrative in the conundrum needs to change given that a Great Learning study on the AI industry in India in 2019 found that 4,000 positions are lying vacant due to a shortage of people with the requisite skills. While a more recent report by Udemy, titled Global Skill Gap shows that nearly 92 per cent of full-time employees in India believe that India's workforce is competitive in the global market. But it agrees that there is a skills gap in the country.
Still more to read:
Dip in smartphone imports has a nice ring to it
India's $23 billion manufacturing package packs a punch
Indian govt finally gives up coal monopoly, opens up sector to pvt competition
Modi unleashes a spate of reforms over a year
Festive season sales could launch Indian tech cos globally
Numerous schemes in place
The Modi government has put numerous schemes in place to ensure that today's youth has multiple choices in front of them to prepare themselves for the adventures that lie ahead tomorrow.
The Covid-19 pandemic has already ensured a new philosophy in company work culture. Work from home is already the norm and this has led to the rise in digital technology. Our ability to embrace it illustrates the virtues of adaptability and agility. The future holds enormous potential for Indian industry as it turns the corner. The government, private sector and the individuals just need to be on the same page.