Government e-Market Place targets $100-bn sales in 5 years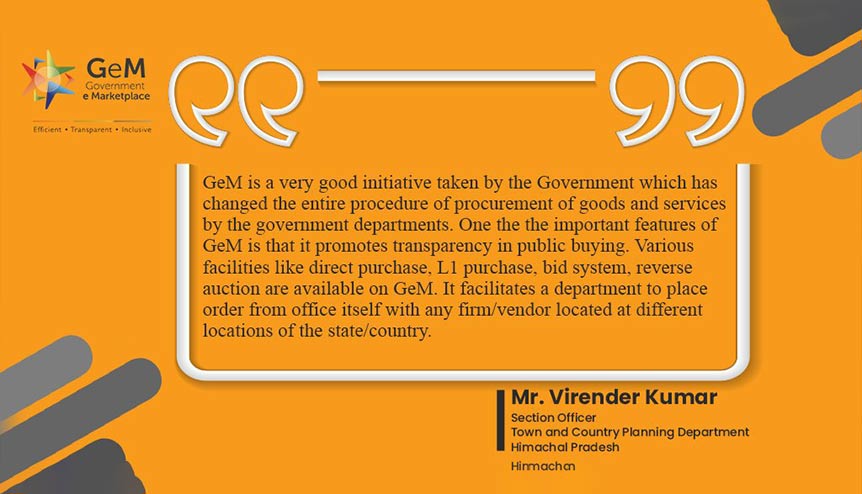 The Modi government has launched the biggest-ever reforms of India's public procurement system by taking the process online. This has substantially reduced human interface and, with it, brought down corruption, delays and inefficiency. It has the potential of becoming the Indian government's answer to Amazon.
The Indian government's online procurement platform, called Government e-Market Place or GeM www.gem.gov.in is targeting transactions worth $100 billion over the coming three to five years a 3,000 per cent jump from the $3.5 billion in annual transactions that it now facilitates.
Government's Amazon

If it can achieve its goal, it will have lived up to the sobriquet of the Government of India's in-house Amazon.com.
GeM 4.0, the latest version of the platform, will "offer a unified system that is smarter, better unified, more intelligent and inclusive. This involves a technology roadmap that enhances each and every step of the user experience on the portal – creating unified and seamless user journeys for buyers and sellers. GeM 4.0 represents one of the largest uses of advanced technology on any government platform in the world," GeM CEO Talleen Kumar told a national public procurement conclave organised by GeM and leading industry body, the Confederation of Indian Industry (CII) recently.
Read more:
Kirana stores are vital for dominating India's e-tail sector
Rural India drives the boom in Indian e-commerce sector
Retail and e-commerce must present level playing field for all
New payment opportunities fill in the e-commerce gap for small businesses in India
India's e-commerce policy caught between a rock and a hard place
Part of Modi's drive to improve ease of doing business
Government procurement procedures in India, as in many other parts of the world, were horribly mired in bureaucratic processes that bred inefficiency, delays and corruption.
Soon after coming to power in 2014, Modi, a firm believer in using technology to improve the country's governance systems, set about reforming the public procurement system, which is an important generator of economic activity in the country.
More to read:
Dip in smartphone imports has a nice ring to it
Women entrepreneurs are driving 50 percent of India's start-up ecosystem
Festive season sales could launch Indian tech cos globally
Apple, Samsung take the E-com route to boost consumption
India's e-commerce market to grow to $150bn by 2022
GeM idea took shape in 2016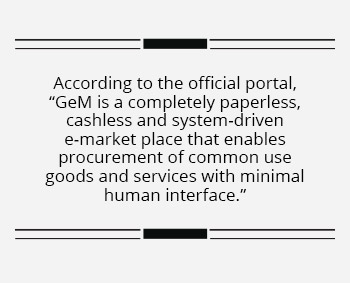 For this purpose, in 2016, two Groups of Secretaries recommended the setting up of a dedicated e-market for different goods & services procured or sold by government or PSUs. The recommendations included suggestions on reforming the Directorate General of Stores & Depots (DGS&D), the government's official procurement agency.
The formation of the GeM was announced by late Finance Minister Arun Jaitley in his Budget speech for 2016-17 to facilitate procurement of goods and services by various Ministries and agencies of the Government.
Boldest reforms of public procurement system
The setting up of this portal for procurement of goods and services by Central Government ministries and departments, public sector undertakings and other autonomous Central Government bodies is the boldest step ever by any Indian government to reform its procurement procedures.
According to the official portal, "GeM is a completely paperless, cashless and system-driven e-market place that enables procurement of common use goods and services with minimal human interface."
Still more to read:
The world wants a piece of the Indian innovation pie
Ambani-Bezos rivalry heats up; market awaits Amazon's next move

India's growth rates likely to rebound quite strongly next year
The lights are shining in rural India
Connectivity makes the Indian farmer App-solutely successful
Rural-Women Entrepreneurship: Shaping New India
No human interface
Prior to the launch of the GeM portal, government procurements were a messy affair, often riddled with corruption and marked by delays in payments and deliveries and other systemic deficiencies.
By eliminating to a large extent any human interface in vendor registration, order placement and payment processing, GeM has eliminated entry barriers for small suppliers who wish to do business with the Government but were hitherto daunted by lack of access to people in positions of authority.
The system enables online, cashless and timely payments by the Railways, defence ministry, major PSUs and state governments as well. Corruption and delays have also been substantially reduced by sending SMS and e-Mail notifications to both buyer(s), his/her head of organisation, paying authorities as well as sellers.
Portal can become an Amazon rival in future

As more companies, especially micro, small and medium enterprises come on board the portal and as the government and PSUs increase the percentage of their procurement and sales via the e-portal, GeM will gain more salience and, perhaps, can even emerge as a rival to Amazon.com and other leading online retail platforms sometime in the future, at least in India.