From spirits to lamb, UK exports to India ring in the profits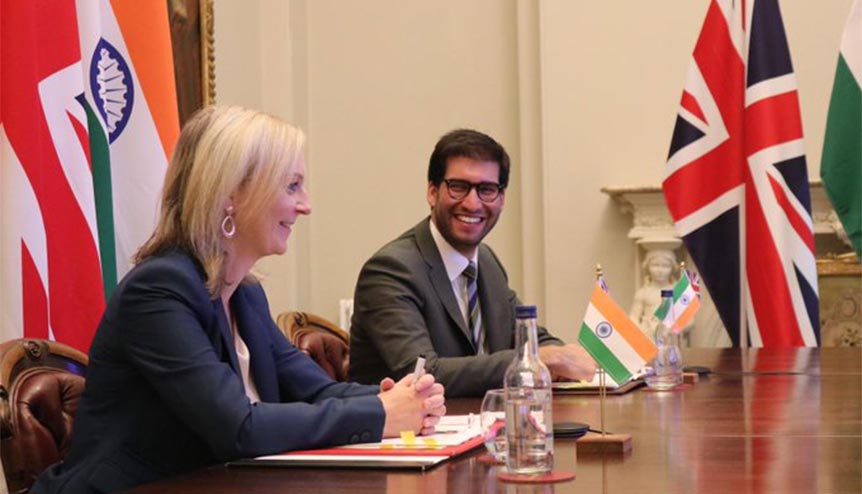 Several barriers to trade have been successfully lifted to facilitate greater market access since the UK and India concluded a Joint Trade Review, the British government's latest analysis shows.
As many as 175 barriers to trade across 61 countries worldwide, including India, opened up new global markets for British exporters, according to the UK's Department for International Development (DIT) latest assessment for the financial year 2019-2020.
With India, work has been underway to reduce barriers to trade since both countries completed a Joint Trade Review in 2018 and, according to DIT estimates, these have already delivered value to British companies worth £250 million per year. This is based on industry estimates through unlocking UK exports in spirits, oats, pigs for breeding, poultry, and lamb to India.
Have you read?
Healthcare holds key to UK-India early harvest deal
Goyal offers a new template to UK, US to close out trade deal negotiations
Unlocking potential: The future of the UK-India automotive trade relationship
The significant opportunities for UK SMEs to trade with India
India-UK JETCO opens up scope to reap some Early Harvests
Realising the potential of the India-UK-Israel trade triangle
Golden opportunity
UK Minister for International Trade, Ranil Jayawardena, said: "This is fantastic news for British exporters. Fewer trade barriers mean British businesses in every corner of the country have a golden opportunity to realise their full potential.
"As we take back control of our trade policy for the first time in almost 50 years, this shows how we can open and expand access to markets around the world, as we back businesses in pursuing their global ambitions. This is even more crucial in the current economic climate, as more trade means more jobs, helping Britain bounce back."
Barriers refer to unnecessary, legal, regulatory, or administrative requirements. This includes labelling restrictions, out-of-date regulations, and licensing requirements.
The British government's analysis shows that liberalising market access barriers could go on to boost British exports by £75 billion per year.
Read more:
UK-India ties must be on track despite Brexit pains
Why India-UK partnerships are booming amid the Covid-19 pandemic
India-UK research collaborations must up the ante
Indian doctors get their fair due in UK's Covid-19 fight
UK's envoy to India clinches key pacts before taking charge of newest ministry
Key market
And, India is one of the key target markets to bring down these barriers, especially against the backdrop of ongoing talks for a potential preferential trade agreement, ahead of a wider post-Brexit free trade agreement (FTA).
Indian Minister of Commerce and Industry Piyush Goyal had recently revealed that India has even agreed to put a "large measure" of Scotch whisky imports on the table, a long-standing UK demand, to help accelerate the trade talks.
"Not that I drink Scotch whisky but I want to put an end to spurious liquor being sold in India in the name of Scotch whisky. As a bargain we are looking to create opportunities for our MSMEs [micro, small and medium enterprises], farmers, fishermen, handicrafts, textile industry, gems and jewellery industry," the minister told a Confederation of Indian Industry (CII) virtual summit in mid-September.
The DIT has also been running an online "Report a trade barrier" service, encouraging businesses to directly flag issues that slow down or restrict a company from exporting goods or services to an overseas market, including India.
Dominic Goudie, Head of International Trade, Food and Drink Federation, said: "British exports of food and drink are frequently constrained by market access barriers when entering overseas markets and we depend on the support of government to help resolve these issues.
"We welcome the government's continued commitment to driving export growth by addressing longstanding issues that restrict trade and encourage businesses to report any trade barriers they experience via the government's online service."
Crop yields
Among the highlights for the British export story to India is the recognition and registration of polyhalite, a multi-nutrient fertiliser mined in the UK. According to experts, the removal of trade barriers in this area gives Indian farmers the means to increase crop yields while supporting a cleaner, greener and sustainable approach to farming. Polyhalite is used in fertilisers and can be mined through a relatively simple, low-energy, non-chemical production process. It is now among the leading products on the UK's export basket to India.
"As well as negotiating new free trade agreements, DIT is taking a targeted approach to get rid of the trade barriers that are detrimental to British exports and investment. This will help to build closer trading relationships with the largest and fastest growing economies in the world," notes the department in its latest analysis.
Brexit effect
Meanwhile, the UK is still trying to thrash out a trade deal with the European Union (EU) before the end of the Brexit transition period on December 31, 2020.
Earlier this year, it had launched a GREAT Ready to Trade campaign in 18 cities across 13 countries to push the message that Britain is now free to do its own new trade deals with countries around the world as a non-member of the European economic bloc. Mumbai was among the cities on this campaign drive and since then both sides have held several rounds of trade talks, albeit virtually due to the coronavirus lockdown constraints.
As UK International Trade Secretary Liz Truss highlighted at the India Global Week 2020 summit: "During the Covid crisis, we have been working with India to keep supply chains open and keeping trading routes alive and as we emerge from Covid, it is vitally important we don't move to protectionism."
She has since chaired the first UK-India virtual Joint Economic and Trade Committee (JETCO) talks, with further ministerial dialogues scheduled for the coming weeks.