Fighting for the right to sanitation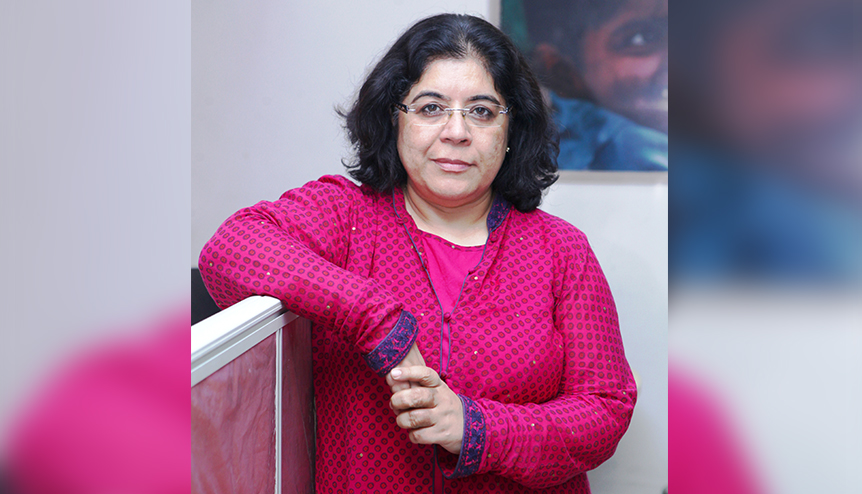 Charities Aid Foundation (CAF) India says it has successfully accelerated its Water, Sanitation & Hygiene (WaSH) agenda through the power of partnership.
Working on the principle of advancing the national and global agenda for sustainable development, CAF India has been providing extensive support to address the sanitation challenges across India for the past several years. At CAF India, we realise that accessibility to clean, safe and secure sanitation practices are essential in keeping the continuity and retention of young children in schools. According to the World Bank, in 2006, the cost of not having toilets, for the country as a whole, was $54 billion. The biggest victims of this lack of access to basic sanitation are children, women and adolescent girls. CAF India's approach towards Water, Sanitation & Hygiene (WaSH) programme is based on developing a holistic model, with emphasis on the 'construction of toilets', not as an end to the problem but rather viewing it as a means to address the larger issues of education, health, hygiene, dignity and gender equality.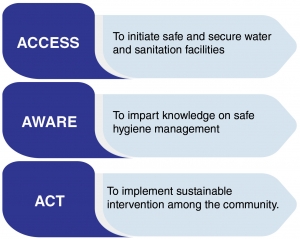 As a global signatory to United Nations Global Compact and life time member of local GCNI network, CAF India has enhanced the Ten UN Guiding Principles (UNGP) through its sustainable practices conducted under the larger ambit of Right to Clean Water and Sanitation. Our projects, in partnership with a diverse range of partners address the national agenda of Swachh Bharat – Clean India and the global agenda in form of advancing SDG6 – ensuring sustainable management of water and sanitation for all. Our "Right to Clean Water and Sanitation" follows a universal Triple A Framework:
Through our intervention we have been working to enhance schools sanitation by improvising infrastructures. We promote sustainable technologies such as rain water harvesting, green campus and clean energy for solutions in providing clean water facilities.  Additionally, we enhance awareness and knowledge among children especially girls and local community members on safe hygiene and management. Our overall mission is to promote and nurture a holistic environment for young children, especially girls.
Using a sustainable service system approach, we have adopted a universal methodology to advocate our sanitation programme pan India. Through the use of pertinent, cost effective technologies we have focused on building user friendly, sustainable infrastructure and facilities. These are built in a manner that ensures equitable accessibility for all types of users. We have developed a comprehensive strategy with multiple primary and secondary level indicators to select the schools which receive the interventions under the programme. Some of the prime indicators on which the schools are assessed are Provision of Sanitation Facilities and Provision of Safe Drinking Water.
We have exclusively made provisions to address the challenges faced by women and especially abled. Reducing all forms of inequality and ensuring gender equality have been intrinsic elements of our programmes.
CAF India team of specialists have developed a robust system of  project monitoring and evaluation processes.  These processes have been inbuilt within the organisation and form an intrinsic element in all the programmes implemented on ground. Our internal team of senior researchers and sustainability specialists oversee the overall project cycle management. This includes conducting processes of baseline studies, periodic evaluations and monitoring mechanisms which are conducted by the cluster for each project.  Our projects are implemented  by specialised NGOs, duly validated by our due diligence team.
Our sanitation programme involves a range of stakeholders, including community members, School Management Committees (SMC), Panchayati Raj Institutes (PRI), municipal authorities, teachers, children, corporates / private companies, state and district education / health departments, local and national media and celebrities for sustainable sanitation outcomes. Networking and linkages with government and other stakeholders were established for promoting partnership, advocacy and synergy for enhancing convergence among key stakeholders thus furthering the agenda of partnerships.
CAF India also follows the UN principles of "Universal Partnerships for All" within our programmes. As a result we have emerged as grant mobilisers to impact accelerators for our private sector and implementation partners. Through our ongoing programmes we have ensured that the outcomes of the development agenda reach to the most marginalised and vulnerable sections of the population situated in the most remote parts of the country.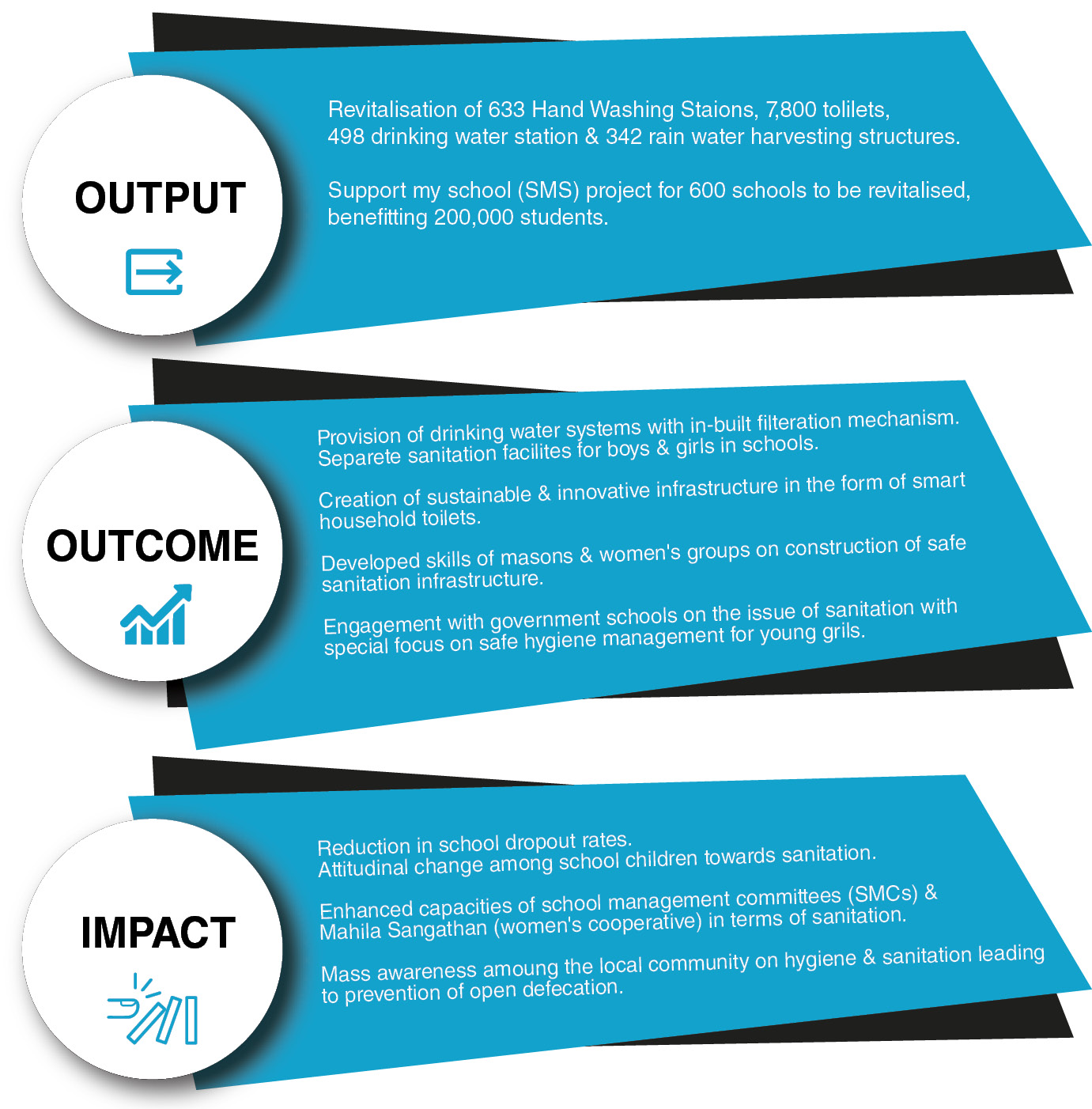 We are cognisant that the challenges faced by our country cannot be solved by just one entity and hence through our various initiatives, CAF India has consistently worked towards igniting a spirit of partnership in resolving diverse causes and development challenges faced in the global and national context. Most of our corporate partners involved sanitation  projects range from diverse sectors primarily FMCG, IT, Textile, etc. We are involved in advancing our partners  sustainability interventions in the remote areas where their factories, bottling plants, manufacturing units are located. There is a tremendous pressure on water resources, which has resulted in stress in availability of both surface and groundwater resources. Also, the communities are so marginalised that nearby schools and other facilities face deteriorated sanitation conditions due to lack of water availability and awareness. We initiated the task of reviving water bodies along with providing clean sanitation facilities in these areas as these are the immediate source for promoting safe, clean and health environment. This also implies that any local intervention conducted in the area of reviving, restoring and providing access to clean water and sanitation will directly benefit to the immediate section of the marginalised population residing in the nearby remote areas. Thus also leveraging the engagement of our corporate partners in the local areas of interventions and accentuating the impact in diverse states of India. These strategic interventions also enables alignment of their CSR operation with core business.
While CAF India is cause universal, sanitation is one of the key sectors of our involvement. In the last decade, as part of our Public-Private-Community initiative, we have successfully managed implementation of several collaborative, pro poor projects that have addressed sanitation issues, facilitated service delivery for the urban and rural communities and built their capacities. These projects have largely and regularly been supported by private sector, individuals, institutions and UN agencies. Working at the crux of a changing development landscape we need to do more and expect support and guidance from all sections of the society at large to be successful in our endeavour to do more in order to transform lives and communities.
Meenakshi Batra is the CEO of Charities Aid Foundation (CAF) India with over 24 years of experience in the international development, Corporate Social Responsibility (CSR) and not-for-profit sector.