FaithTech Series: How Sikhs zoomed in to combat Covid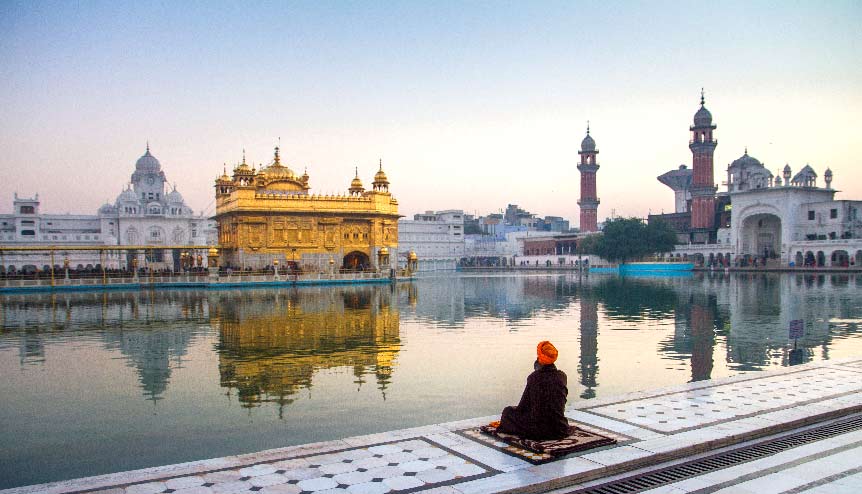 Technology has become a crucial companion for many religious faiths since the outbreak of Covid-19. Services where people once gathered en masse for prayer are now streamed live on platforms such as Facebook, Instagram, and YouTube. And Zoom has gone from being just a business conference app to a household name. 
In this FaithTech Series, 'iGlobal' explores how technology has enabled religious practices to carry on without too much disruption to meet the spiritual needs of the community and the wider world. In the first edition, we speak to Sikh2inspire on how they have transformed their mission through the coronavirus lockdown. Founded in 2011, Sikh2Inspire aims to spread far and wide the essence of 'Gurbani', or sacred compositions, and the rich history of the Gurus whose teachings led the way for the Sikh faith.
Innovative means
At Sikh2Inspire one of the first things sewadars (volunteers) Bhervinder Singh and Herrai Singh identified was the disruption to routine and the toll Covid-19 will have on mental health.
"We wanted to provide routine and consistency to people's lives. Through our Facebook and Instagram platform we have become conscientious and rigid in terms of people knowing that at 4pm (BST) they can log in and see and listen to Live Nitnem from Guru Nanak Gurdwara Smethwick," explained Herrai Singh. Nitnem means daily routine and is a collection of Sikh hymns (Gurbani) to read minimally three times a day.
Vaisakhi cheer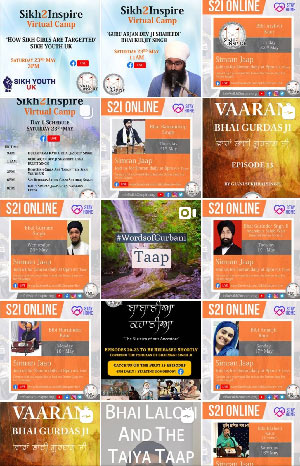 This year, Vaisakhi – one of the most important events in the Sikh calendar – also fell within the lockdown period of April. Vaisakhi commemorates the Amrit Ceremony of Initiation, which took place in 1699 under the guidance of the 10th Guru, Guru Gobind Singh, on the first day of the month of Vaisakhi. 
The way Vaisakhi is celebrated had to also take on a whole new hue. Virtual worship included prayers directly from the Golden Temple in Amritsar being streamed by Sikh2Inspire. The special Vaisakhi programme consisted of live kathas and kirtans, talks and Q&As. Over 100+ Vaisakhi activity sheets were launched for Sikh kids to get creative at home.
Sikh camp
Its annual Sikh Camp, the largest residential camp held by Sikhs outside of India, went virtual as per government guidelines on social distancing. Between May 23 and 25, the virtual worldwide camp brought together people from all over the world for six talks, katha (verbal explanation/discourse of Gurbani and historic episodes) and simran (remembrance of God by repetition or recital of Naam – name). 
Embracing the power of social media, Sikh2Inspire also launched "Cooking in Quarantine" #s2ieats sessions on Facebook.
"These are not complex recipes but fun things you can do with your family," said Herrai.
A special series called "The stories of our ancestors", also on Facebook, consist of a collection of stories of how Sikhs in the past dealt with certain situations throughout time. These stories charter times of genocide of when Sikhs faced great human rights violations in the 18th century as well as covering inspiring stories of the great Gursikhs, Saints, and Shaheeds creating the foundation of Khalsa Raaj. Serving both as a reminder to modern generations of Sikhs about the struggles and history of their ancestors and also providing the knowledge to apply these methods to modern-day life.
"It builds up a lot of confidence in people when we think about what our community and what we are going through at the moment, it does not touch the surface of what they went through," says Bhervinder.
Unity in uncertainty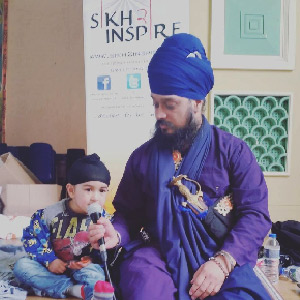 All of these various activities have touched many lives within the British Sikh community, and indeed worldwide.
As 26-year-old Navneet Dhinsa reflects, meditating daily by doing simran through the lockdown has proved extremely beneficial, with technology coming to her aid at a time when the gurdwara was out of bounds.
"When I started this whole process of meditating at home, it was difficult to get into that phase. YouTube tutorials have really helped me," she says.
"For many Sikhs, the gurdwara is an important part of their lives, and we wanted to try and help in whichever way we could," adds Herrai.
With live streaming enabling people to stay connected with their faith in any part of the world, technology has proved a real boon in these uncertain times.
by Preeti Bali