Essential health service coverage is improving in India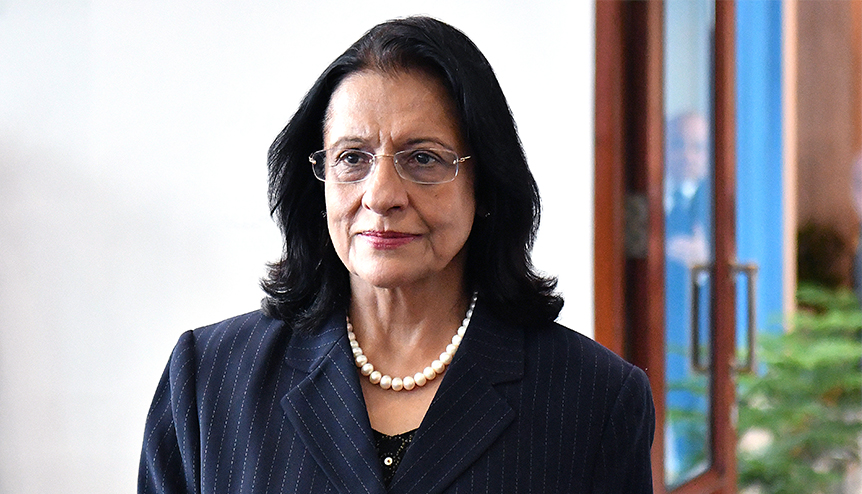 Dr Poonam Khetrapal Singh is the World Health Organisation's (WHO) Regional Director for South-East Asia. In this interview, she talks through her mission to combat health inequalities, the role of the private sector in tackling challenges in the sector and some key milestones as a Global Indian.
What are some of the milestones in your mission to combat health inequalities in the region?
WHO South-East Asia Region is central to global health with over a quarter of the world's population and an even greater share of the world's disease. When I took over as  the Regional Director in 2014, I identified universal health coverage as one of my flagship priority programmes. The focus was on strengthening health workforce and essential medicines. The reason being almost half of the South-East Asia Region's population lacks access to essential health services. At least 65 million people are impoverished because of health spending, with medicines being the leading cause of out-of-pocket payments.
Universal health coverage means access to quality health services for everyone everywhere, when and where they need them, without suffering financial hardship. Over the years, and with accelerated efforts in recent times, essential health services coverage has improved in all of the Region's 11 member-countries. These services are now increasingly covering disadvantaged groups and addressing inequity. For example, maternal and child health services have expanded and improved considerably. Institutional delivery in the region has increased by 78 per cent in the last decade and antenatal care coverage for four visits has gone up from 42 per cent in 2005 to 74 per cent in 2016.  These and other efforts have led to 70 per cent decline in under-five mortality rate between 1990 and 2017 and a 60 per cent decline in newborn mortality. With improved services, in 2016 the Region achieved elimination of maternal and neonatal tetanus, becoming only the second WHO Region to do so.
With enhanced services, diseases that plagued the poor, caused death, disability and burdened them with hospital expenses, are now being eliminated. Four countries – Bhutan, Maldives, DPR Korea and Timor-Leste have eliminated measles and six countries have achieved rubella control. There has been significant progress against neglected tropical diseases, which have truly been diseases of the poor and the neglected. India has eliminated yaws; Maldives, Sri Lanka and Thailand have eliminated lymphatic filariasis. Sri Lanka and Maldives have eliminated malaria. Thailand has become the first country in Asia and second globally to eliminate mother-to-child transmission of HIV and syphilis, following focused efforts to reach the most vulnerable population such as the migrants. The significance of the Region's polio-free certification in 2014 cannot be overstated, which is another example of combating health inequality. The success against polio followed concerted efforts to reach the unreached, the underserved and the marginalised population. The lessons from polio are now guiding other health initiatives in the Region, including routine immunisation programme.
These are just a few of the milestones that the Region has achieved in its quest to bridge health inequities, which are in sync with the global Sustainable Development Goals 2030.
What is the kind of impact organisations like WHO can achieve through inter-country cooperation?
Diseases don't follow geographic boundaries and hence countries around the world must work together to combat  them. If not for inter-country cooperation, achieving any health target would be impossible. Cooperation among countries helps share knowledge and best practices. And WHO plays the role of a catalyst. Globally, the International Health Regulation binds 196 countries across the globe to help the international community prevent and respond to acute public health risks that have the potential to cross borders and threaten people worldwide. In WHO South-East Asia Region, countries have information sharing platforms on many issues such as malaria; and have synchronised immunisation drives for polio and measles.
WHO facilitates cooperation among countries around their shared challenges and concerns to achieve public health solutions. These exchanges have the potential to impact sub-regional and regional integration processes as well as global health policy debates.
What are the big health-related challenges that you feel a country like India is successfully addressing?
India has shown great progress in several key health areas and its commitment to advancing the health for all agenda is promising. India's ambitious plans through the expansion of health protection schemes such as Ayushman Bharat, and commitments to significantly increasing health spending as a proportion of GDP, are great initiatives in the right direction towards ensuring better outcomes for its 1.3 billion population.
Essential health service coverage is improving in India, so is accessibility and affordability of medicine. The progress made in reducing child deaths and maternal mortality deserves special mention. Between 2012 and 2017, India's under-five mortality has fallen from 22 per cent to 18 per, outpacing the global decline.  Maternal mortality has decreased by 77 per cent between 1990 and 2016, putting India on track to achieve the Sustainable Development Goal (SDG) targets for MMR. Access to quality health services, government schemes aiding institutional deliveries, enhancing vaccination coverage of pregnant woman and children, expanding reach of diarrhea and pneumonia management and higher rates of literacy among women are some of the factors that have enabled this progress.
India's commitment to accelerate coverage of safe sanitation services which, assuming 100 per cent coverage is achieved by 2019, could avert up to 300,000 deaths due to diarrheal diseases and protein energy malnutrition since the country launched the Swachch Bharat Mission in 2014.
India's efforts towards TB elimination is also commendable. Implementing National Strategic Plan for TB through key policy decisions, such as mandatory notification of all TB cases, patient centric and community led response, making newer diagnostics and drugs for drug resistant TB accessible, will I believe go a long way in reducing the regional burden of the disease. At the End TB Summit earlier this year, India also expressed its willingness to support neighbouring and regional countries in filling gaps in access to TB medicines, diagnostic tests or technical expertise.
Finally, there a concerted push towards disease elimination and prevention through immunisation. India has made great strides in efforts towards increasing immunisation coverage through Mission Indradhanush, and introducing new vaccines into its universal immunisation programme. The Hib containing pentavalent vaccine and the PCV against pneumococcal disease, are both going to play a significant role in protecting Indian children against the leading infectious cause of death among children- pneumonia. With a focus on measles elimination through the Measles-Rubella immunisation campaign, I am hopeful that India will be able to meet the regional health targets and make a significant impact to the global progress towards SDGs.
What are some of the steps towards realising your mission to articulate a strong regional voice in the global health agenda?
What happens in the South-East Asia Region matters – so much so that our success or failure will prove decisive in the world's effort to achieve the Sustainable Development Goals and the ambition they represent.
A small success here can transform the lives of millions of people. Over the past few years, the Region has emerged as the top performer in the organisation globally and this has been possible through building a strong, result based and responsive regional office that gives cutting edge advice, and member-states who have made significant achievements in all the flagship priorities. The countries have taken notable steps towards protecting and improving the health of their people and they continue to learn from one another. The member-states document and adapt good practices to fit their needs, noting what went right and how it can be replicated next time. They assess risks and hazards and pass this information on to communities and leaders across the region. Through this they improve their ability to face and overcome adversity and avoid repeating mistakes. And in doing so they will create a healthier, more resilient South-East Asia Region, ultimately contributing to the global health agenda.
How do you see the role of private sector investments impacting the health agenda in the region?
In an era of dwindling international development aid, private sector investments play an important role in driving the health agenda . From strengthening health systems, including support for provision of healthcare services through Public Private Partnership, manufacture of drugs, vaccines and diagnostics, the private sector has contributed to better health outcomes for the rich and wealthy as well as the unprivileged and underserved.
How would you say being a Global Indian influences your mission?
It is privilege for me to be the first woman to be elected as the Regional Director of WHO South-East Asia. That the member-countries of a Region, that represent a fourth of the global population, have elected me twice, to lead and drive health agenda for billions of people, is indeed an honour.
India certainly has its own challenges, but it is my rich experience working in the country as an Indian Administrative Service officer, that has enabled me to take on global duties and challenges. My role in delivering WHO's mission to ensure better health and well-being, better protection from health emergencies and universal health coverage, gives me a platform to be able to positively impact lives of the most vulnerable and marginalised population.
One feels that the issues will be different at various levels, at the country level, regionally and globally, but they are not. The challenges are on a larger scale in the Region, but the basic issues are the same be it communicable diseases, non-communicable diseases, maternal health, children's health, gender, reproductive health. Of course, there are variations among countries with each having their unique struggles, but I think the meaning of being a Global Indian lies in realising the linkages and drawing from related experiences to impact the international health agenda.