Easier visa regime will benefit Britain more than India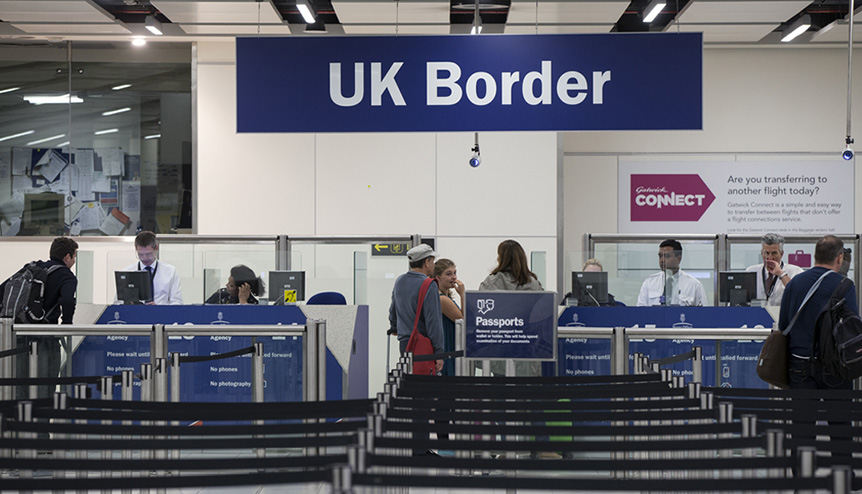 Tough immigration norms in the UK are holding up a proposed trade deal with India. But studies show that easier visas will also help Britain stave off competition from Australia and retain its position as the second-most popular education destination in the world.
The Theresa May government's hard line on immigration is not only causing outrage in India, it is also costing the UK dear. Oxford, Cambridge, St. Andrews, SOAS, LSE and many other iconic institutions that made Great Britain a magnet for students around the world seeking higher education are drawing fewer international students.
The UK, for long the most popular destination for international students after the US, is likely to soon lose that coveted position to Australia. A University College London (UCL) report released on July 19 says the number of international students going to the UK for higher studies has shown barely any growth since 2012.
Losing attraction
In 2015, Britain attracted 130,000 more students than Australia but the total number of students choosing the UK grew a paltry 11,000 or 2.6 per cent. That means the total number of students entering the UK that year was about 423,000.
The intake of foreign students in Australian educational institutions, which was a little less than 300,000 in 2015, is growing at 12-14 per cent. If the relative growth rates don't change drastically, Australia will replace the UK at the second spot within a few years.
In fact, the report, authored by Prof. Simon Marginson, Director of CGHE and Professor of International Higher Education at the UCL Institute of Education, says Australia may have surpassed the UK on the number or students in tertiary education in 2018. If it has not, it will almost certainly do so in 2019, the report adds.
This process is likely to be hastened by the UK's exit from the European Union (EU). Currently, the rest of the EU sends the largest number of students to the UK who pay a much smaller fee than non-EU foreign students. This advantage will disappear once Brexit happens, leading, most analysts believe, to a substantial fall in students from the EU.
Falling numbers from India
Restrictive and, in the opinions of many people, unreasonable and unwarranted visa restrictions on Indians – and particularly students from India – have led to a sharp fall in the number of Indians studying in the UK.
According to estimates, the number of student arrivals from India fell to a low of 9,720 in 2016-17 from almost 24,000 six years previously, a decline of 60 per cent.
Another set of figures released by the UK Council for International Student Affairs in January this year, said the number of Indian students getting UK visas fell 44 per cent from five years ago. Though the number for 2017 was slightly more than that of the previous year, it put the total number of Indian students entering the UK in 2017 at 14,081 compared to 60,000 in 2010.
Getting authentic numbers is difficult but reading of these two sets of numbers leads one to the same conclusion: the number of Indian students choosing to study in the UK is falling quite dramatically.
Job creators, not job takers
This is unfortunate because people-to-people ties between the UK and India are centuries old. The 1.5 million-strong expat Indian population in the UK has contributed disproportionately to the country's social and cultural fabric and has established itself as a model expat community that can blend seamlessly into milieu of the host country without losing touch with its country of origin.
Educated, hard-working and industrious, the Indian expat community, called the Living Bridge by Indian Prime Minister Narendra Modi, has had a significant impact on the British economy.
There is ample evidence to prove that Indians – whether students or professionals – do not take away jobs. Quite to the contrary, they are actually job creators.
Sample this: According to the Grant Thornton 'India Meets Britain Tracker 2018', about 800 Indian companies, which have invested billions of pounds in the country, generated £46.4bn in combined revenues, counted nearly 105,000 people on their payrolls and contributed £360m in corporation tax in 2017.
Jaguar Land Rover, Tetley, Typhoo and a host of other iconic British brands have been bought over by Indian entrepreneurs when they were on the verge of collapse and revived, saving and creating thousands of local jobs across the UK. According to the UK's Department for International Trade (DIT) , Indian companies added 6,867 jobs in 2016-17.
Immigration holds up trade deal
Experts and well-wishers in the UK and India had hoped for a quick conclusion of a UK-India trade deal in the immediate aftermath of Brexit. It was logical to expect the UK government to want to stitch up trade deals with large trading partners such as India in order to compensate for the loss of markets flowing from Brexit.
In India, Prime Minister Narendra Modi has been a strong advocate of Indian companies becoming part of the global supply chain in order to life the share of manufacturing in the economy to 25 per cent from 16 per cent at present.
A Global Britain joining hands with a Global India for mutual benefit and the greatest common global good was a dream partnership that could shine like a beacon in a world that was becoming increasingly protectionist.
But no Indian  government can make concessions on trade without receiving reciprocal consideration on people movement. In other words, the Indian government was bound to demand greater access to the UK and its educational institutions for its professionals and students in return for lowering entry barriers for British goods into the British government.
But the hard stance of the May government on immigration made it difficult for the talks to go forward, resulting in a continuation of the transactionalism that has come to characterise the otherwise warm relationship between the two countries.
This reluctance to pay heed to India's concerns on immigration is also giving rise to an unhealthy impression in New Delhi and elsewhere in the country that London only wants India's business but not its talent. India's former Commerce Minister Nirmala Sitharaman (now Defence Minster) even made this point on an open platform to British Trade Secretary Dr Liam Fox during PM May's visit to India in November 2016.
The latest blow
The decision of the UK to exclude Indian students from a list of "low-risk" countries whose nationals would be subjected to less stringent visa procedures, has proved to be the latest hurdle in the path of a closer economic and strategic clinch, which both countries acknowledge will be of immense mutual benefit.
Eyebrows were particularly raised in India and also in some quarters in Britain as countries like China and Bahrain have been included in the list of countries subjected to easier entry rules.
This move revived memories of the time a few years ago when the UK Home Office sent vans to areas with large Indian populations with the slogan "Go home or face arrest" emblazoned on them. In the ensuing crackdown against illegal aliens, many genuine Indian students had also been sent back.
The perception of bias towards China is only exacerbating the situation. The UK introduced discounted multiple-entry visas for Chinese visitors and business tourists at a price of for £87 – reduced from the usual £330 – when David Cameron was Prime Minister, but has not done the same for Indian visitors.
Chinese students, like students from 27 other countries, can follow a streamlined process of applying for a 'Tier 4' student visa; Indian students are still required to submit far more documentation on applying for a student visas.
Encouraging more Indian students to study in the UK has several collateral benefits. Many of these highly qualified students return to India and eventually reach the top echelons of their professions – in industry, academia and politics – and serve as ambassadors for closer bilateral relations. A few other stay back in the UK and contribute meaningfully across all walks of life as is evident from the success stories of many expat Indians in British business, academia and social life.
Opportunity knocks a second time
Now, there is another opportunity to push for a bilateral trade deal between the UK and India. There are reports that negotiations on the proposed Free Trade Agreement (FTA) between India and EU, stalled since 2013, have run aground again and may not be resumed.
The main point of divergence: the movement of professionals, the same reason why similar talks with the UK have stalled. There are other factors at work here as well but easier entry norms for Indians to work and conduct business in the EU is by far the most important.
If these reports are correct, then history has placed both countries at the same cross-roads. The UK, facing a messy Brexit divorce and India, fighting increasing isolationism and protectionism in global markets, both need good trade deals with large trading partners.
Here, Britain will have to accept that the balance of convenience has shifted in India's favour and that it will, therefore, have to walk the extra step to meet India.
That extra step could be concessions on immigration.
Opposite ends of the spectrum
The Indian economy is led by its services sector, which is largely powered by its large army of educated professionals. Being a knowledge economy means that the easy movement of its people across national borders becomes critical for the success of the Indian economy in the international arena.
The trade-off, therefore, for any trade deal with India has to be access for goods into India in return for access for Indian professionals and students to foreign markets.
Now posit this against the Brexit vote, the aftermath of which propelled May into 10 Downing Street. This was a vote against immigration. And given May's earlier record on immigration as Home Secretary, it will be facile to believe that the UK government will be willing to make any concessions on this count.
On the face of it, it would seem to present the two countries with mutually exclusive solutions to this problem that is in both their interests to resolve.
Reinterpreting the Brexit vote and the facts
Here, India Inc. would like to revisit the Brexit vote and its underlying message. Yes, it was a vote against open borders. Yes, it was a vote against unlimited immigration. Yes, it was a vote against foreigners taking over British jobs.
But a deeper analysis of the vote will show it was primarily a vote against open borders and job seekers from Eastern and Southern Europe.
It is unfortunate that Indians have got conflated with the European immigrants who triggered the backlash.
Then, the May government's assertion that there are as many as 100,000 illegal aliens from India in the UK looks highly inflated. This and the stiff terms proposed by the UK government for their repatriation to India forced Prime Minister Modi to pull out from signing a pact on this issue.
Tightrope walk
The need of the hour was for the two countries to walk on eggshells as they tried to find a way to square this hole. Instead, the British government went ahead and announced a new visa policy that caused outrage in India.
Britain will have to concede that its intransigence – some have even called it a hard line – on immigration and visas and its perceived targeting of Indians is not going down well with New Delhi.
The Indian government, on the other hand, will have to factor in the anti-immigrant mood that fuelled the Brexit vote into its calculations when negotiating a trade deal with the UK.
Without this, Indian students and professionals may well look at greener pastures in Australia, Canada, New Zealand, Singapore and elsewhere. And by the looks of the report cited at the beginning of this report, so are students from other countries.
UCL's Prof. Marginson said in his recent report: "UK higher education is still highly valued internationally, but the government has held down the growth of international student numbers for five years, by limiting new student numbers and post-study work visas.
"Meanwhile, competitor nations are strongly promoting their international education."
An easier visa regime, thus, will not only help bring India and the UK closer, it will also help Britain retain its position as the second-most popular destination for global students.