Does Rajapaksa's win herald a new chapter in India Sri Lanka ties?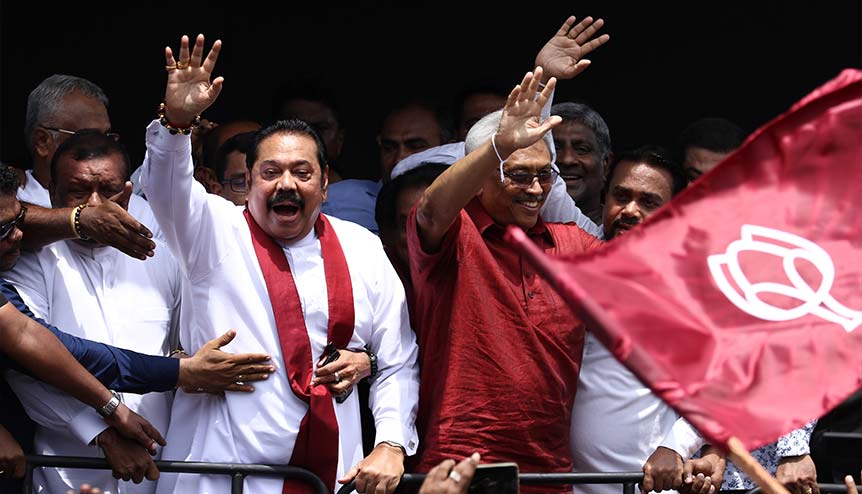 Mahinda Rajapaksa's landslide victory in Sri Lanka puts the Rajapaksa family firmly in the saddle. As the stars realign, it signals yet another new beginning for India-Sri Lanka relations.
A landslide electoral victory with a near two-thirds majority has once again put 74-year-old Mahinda Rajapaksa firmly in control of Sri Lanka's destiny. Elder brother to President Gotabaya Rajapaksa who himself won an impressive election last November, Rajapaksa was leading a minority government before the elections and has returned with his confidence enhanced manifold. The Rajapaksa family is now at the centre of the island country's political landscape.
The victory has significant implications for India, Sri Lanka's closest neighbor and its biggest trade partner. A strong authoritarian leader, Rajapaksa is credited with Sri Lanka's decisive victory over the Tamil tigers (LTTE) putting an end to the bloody civil war that lasted for decades. It ushered a period of growth for the country but Rajapaksa's soft corner for China meant much of it has been bank rolled by the dragon eager to gain a firm foothold in the region.
The Chinese angle
During the time of the war, China provided arms to help Sri Lanka crush the rebels and after that with massive loans for its infrastructure projects. Prime examples are the construction of the Norocholoi coal-fired power station, the port at Hambantota, and the international airport at Mattale. When Chinese warships docked at the harbor in Colombo in 2014, relations with India hit a new low.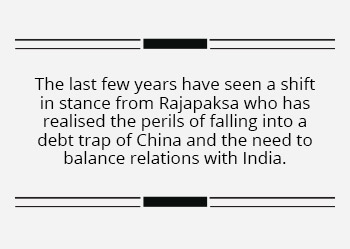 The last few years have seen a shift in stance from Rajapaksa who has realised the perils of falling into a debt trap of China and the need to balance relations with India. Aided by the majority government of Narendra Modi in India, which was also as eager to refresh and reboot, Rajapaksa's first reaction after winning the election where he called India as friends and relations, is indicative of the two countries turning the page on bilateral ties.
"With the strong support of people of Sri Lanka I look forward to working with you closely to further enhance the long standing cooperation between our two countries. Sri Lanka and India are friends and relations," Rajapaksa tweeted.
The southern connect

India and Sri Lanka share a history of over 2500 years and obtained their independence from colonial rule within a year of each other. The two countries also signed one of their earliest free trade agreements that dates back to 2000. It isn't the first time that relations are being reset either, it has happened almost every time a regime change has occurred in either of the two nations.
"The pandemic has forced a reset of ties of every country across the world with each other. Protectionism was growing anyway but now new terms of engagement are being discussed but as far as India and Sri Lanka are concerned, it is nothing new," says a foreign policy expert in New Delhi. "We have done that so many times now and I am sure we will keep doing that in future too. With China in the mix, this is also necessary. It is good to take stock, reset and then chart a new course."
Reset on ties
That reset doesn't begin now either, it is already underway. For the younger Rajapaksa's swearing in last year, it was India's foreign affairs minister S Jaishankar who dashed down to Colombo to be there in person. It got the desired response when the President chose to visit India as the first country after the swearing in. Sri Lankan foreign minister Dinesh Gunawardena's three-day visit to India before the pandemic in January this year, which was also his first overseas trip since assuming office, only underlined that.
Beyond the mere rhetoric however, sterner tests will follow. In the post pandemic era with the world getting split into two halves, how Rajapaksa chooses to balance ties with India and China without disappointing one nor offending the other will be keenly watched. The under review East Container Terminal in the Colombo port will be one such test. A trilateral project involving Sri Lanka, India and Japan it was put on hold after protests by port workers. In the heat of the elections and post the Hambantota fiasco, Sri Lanka did not wish to be seen as selling assets to foreign countries. It was also a project conceptualised by the previous Sirisena-Wickeremesinghe government.
It would be one of the first files that Rajapaksa will have to dispose. How that pans out will be the first indications on the way forward for India and Sri Lanka.