Digital transformation of the workplace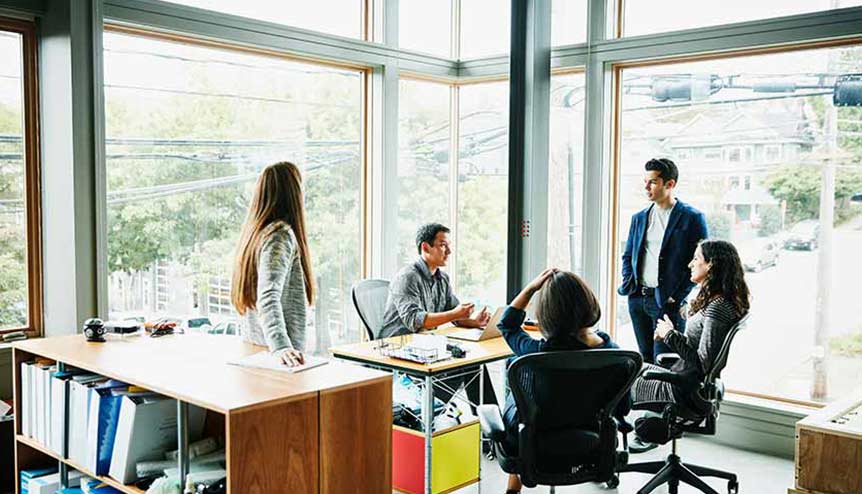 The right workplace design can go a long way in uniting workforce to embrace digital transformation and believe in the change envisaged by the management.
Digital transformation is the process of using technology to modify or create new business processes, culture, and customer experiences that meet changing business and market requirements by an organisation. The digital transformation of an organisation can be broadly categorized into the following:

Business process transformation – Data, analytics, machine learning, and other ERP technologies offer valuable new ways to reinvent processes with the goal of lowering costs, reducing cycle times, or increasing productivity.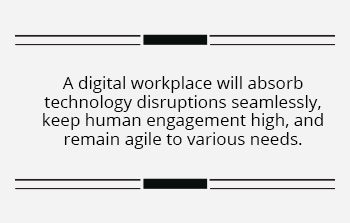 Business model transformation – Some companies like Netflix and Uber are pursuing digital technologies to transform traditional business models. Whereas process transformation focuses on finite areas of the business, business model transformations are exploring the business fundamentals and creating innovative and disruptive business models.
Business domain transformation – New technologies are redefining products and services, blurring industry boundaries, and creating entirely new sets of non-traditional competitors. Organizations like Amazon are able to identify and flourish in new domains when they leverage their core strength with the correct digital transformation strategy.
Organisational Culture transformation – Full, long-term digital transformation requires redefining organizational mindsets, processes, and employee capabilities for the digital world. Smart corporations recognize digital transformation requires agile workflows, a bias toward testing and learning, decentralized decision-making, with a razor focus on implementation.
Have you read?
Data Centres in India offer opportunities galore
Dubai is a haven for Indian real estate investors
UK real estate set to pitch for high net worth Indian investments
India's real estate sector adopts largest remote working experiment
Real estate opportunities in India are going to be unbelievable
What the workplace of the future looks like
The strong demarcation line between what is inside versus what is outside the organisation is slowly losing its relevance. Companies are open to break walls and allow a back-and-forth flow of people, expertise, and ideas. The formal structure inside organisations is also morphing into more fluid configurations. Agility is increasingly becoming paramount. When all these changes dovetail with the organisation's digital transformation ambitions, it will not only reshape workspace design, they will fundamentally redefine what workspaces are for.
Digital transformation of an organisation can be faster if the workplace is also designed to aid the transformation process. A digital workplace will absorb technology disruptions seamlessly, keep human engagement high, and remain agile to various needs. Let us list some of the functional requirements of a digital workplace and how design helps to address them.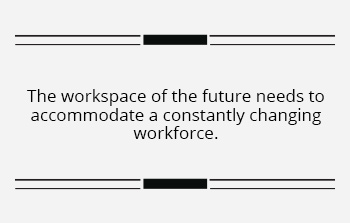 The fluid workforce: The workspace of the future needs to accommodate a constantly changing workforce. We will have permanent employees, remote workers, gig workers, individuals, or teams from partner companies, customers, suppliers, and so on. As the line between outsiders and insiders blur the workspace has to meet the needs of both first-time visitors and long-term occupants.
The design thinking process will start acknowledging and empathizing with this varied workforce. The look and feel of the office will exude diversity and not be limited by a singular corporate theme. Access control of spaces will reduce but CCTV monitoring with visual analytics will increase.
Transient team structures: The agile way of work demands that project teams are formed around a specific need or challenge and disbanded when their work is done. Functions and departments will no longer be the workplace equivalent of a home address. The workspace needs to be like a chameleon changing colours and patterns as and when businesses ask for it.
The office furniture design will accommodate this ask of agility in an innovative manner. Workstations will transform into meeting tables, cafeteria seating will moonlight as team huddles, and a lot more. Space planning will allow users to change the function of the space with minimal changes.
Connectivity and collaboration: To succeed in the digital economy, companies (as well as individuals, and communities) need to be well connected to flows of knowledge. The workspace has to nurture that connectedness. It must provide the technology, tools, and environment that enable seamless collaboration and knowledge-sharing both inside the organisation and also with customers, suppliers, partners, and others on the outside.
Designers will keep on sprinkling the office with think labs, studios, sandboxes, phone booths, and pop-ups to create an environment of collaboration. Networking will become wireless which will allow people to move around the office freely. Furniture will come with inbuilt connectivity features.
Democratisation: Hierarchy can be a hurdle for innovation. It centralises decision-making and controls who has access to whom and to what kinds of information. Companies that adopt agile methods need to reduce (though not necessarily eliminate) such status-based differences. Leaders need to operate more transparently.
Workspace design will reinforce cultural values such as democratization and transparency. Cabins will disappear and meeting rooms will only be available for discussion. Transparent glass walls will replace the solid drywalls. Designers will consciously choose finishes, furniture, and graphics which underline the millennial need for transparency and equity in the workplace.
"When digital transformation is done right, it's like a caterpillar turning into a butterfly, but when done wrong, all you have is a really fast caterpillar."
This quote by George Westerman encapsulates what all business leaders need to remember while starting their digital transformation process. We are today convinced that our business needs this miracle cure to stay relevant, profitable, and future-ready. But only a few of us are getting the digital cube right while the rest are still grappling with it. Digital transformation isn't just a switch you turn on with the right amount of investment. All business executives recognise it as an enabler but when it comes to implementation there are real challenges to overcome. The right workplace design can really unite your workforce to embrace digital transformation and believe in the change envisaged by the management.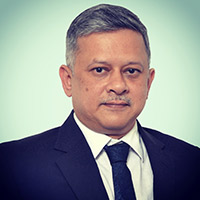 Arnab Ghosh is the National Director – Corporate Fitouts, Colliers International India.