Digital India: A landmark year for digitisation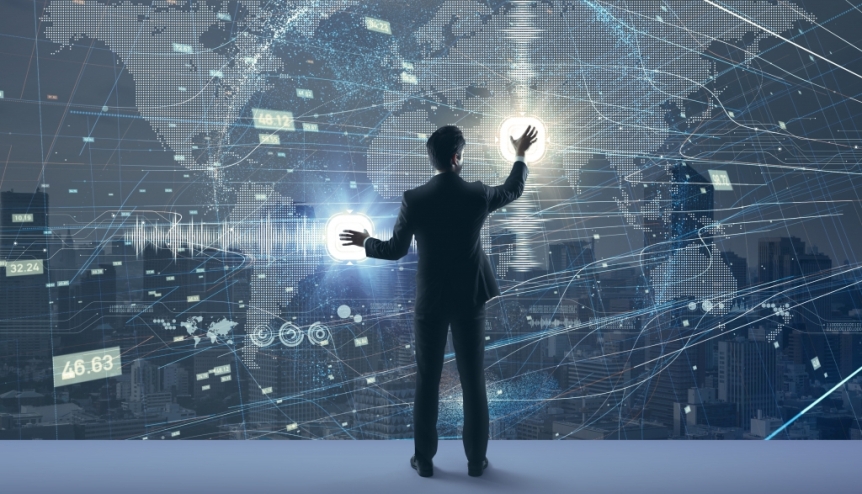 Giant strides have been made in digitising the Indian economy and improving internet penetration, but more conviction is required to get Smart Cities off the block.
The year 2017 was a landmark year for digitisation of the economy in India. Following the demonetisation exercise of November 8, 2016, when 86 percent of liquidity in the system present in the form of Rs 500 and Rs 2000 currency notes, was sucked out in one stroke, the usage of digital modes of transaction has seen a quantum jump.
In the last one year, 10,728.4 million transactions were made digitally leading to capital worth Rs 1,376,660.3 billion ($ 21.180bn) changing hands in the process. The monthly trend in these transactions also suggests that beyond demonetisation, India has begun to well and truly embrace the merits and convenience of going cashless. In the first nine months of the year, volumes hovered at less than 900 million per month. That is not a flattering number as the government has targeted transactions of 2500 crore for 2017-18.
The numbers have, however, swollen since October — the onset of the festive season in India when consumer spending tends to spike. In December, volumes crossed the 1-billion mark for the first time ever while the value of these transactions at Rs 125.51 trillion ($1931bn) was also the second-highest ever after March 2017.
In the last one year, transaction volume through the unified public interface (UPI) – a payments system launched by National Payments Corp. of India (NPCI) that facilitates instant fund transfer between two bank accounts on a mobile platform, without requiring any details of the beneficiary's bank account, has risen by more than 7,000 per cent. In December 2016, only around 2 million transactions were recorded. It received a major stimulus from the government after Indian Prime Minister Narendra Modi launched the Bhim (Bharat Interface for Money) app on December 30th, 2016.
As of January 1, 2018, the app has been downloaded 21.65 million times on the Android platform and around 1.03 million times on the iOS platform. According to NPCI, around 9 million transactions took place on the Bhim app in December.
While BHIM is the largest, many such digital payment and mobile wallet applications from Google's Tez to AadhaarPay, Paytm and Mobikwik have proliferated in the last 12 months expanding the horizon of the cashless transaction ecosystem.
The government's push towards the use of these instruments is relentless. Recently, it decided to bear the merchant discount rate (MDR) applicable on transactions made through debit cards, BHIM UPI and Aadhaar-enabled payments system (AEPS) up to and including a value of Rs 2,000 for a period of two years with effect from January 1.
Yet, a potentially larger device in this and where attention should now shift is to encourage the use of debit cards. There are more than 800 million debit cards in use in India today yet an abysmally low percentage of them are used regularly for transactions. The reason? Lack of enough number of swipe machines at retail outlets and the prevalent MDR that do not incentivize use of these cards. Waiving of the latter is the first step towards unlocking its potential.
This generic shift from a cash-based to a cashless economy is central to government's Digital India plan. A successful transition solves many problems and achieves multiple objectives of this government in one go – curbing rampant corruption while bringing more efficiency and accountability in the financial system.
Smart Cities
Promoting digitisation of the economy, however, is only one important aspect of government's overall comprehensive Digital India plan. The creation of Smart Cities, promoting digital literacy by spreading high-speed internet across the country, boosting electronics production in the country and preparing workers for the future are other integral aspects of the plan. The progress on all these counts is tardy when compared to the digitisation of the economy.
The success of the Smart City project where the government plans to develop 100 cities by 2022, is perhaps the most critical of the lot. Over the last 70 years, over 35 crore people have moved from rural parts of the country to the cities in India. This has led to rapid urbanisation of the landscape as many new cities have sprouted even as the infrastructure wasn't upgraded to meet the needs of the oncoming traffic. The trend will only intensify in years to come.
The United Nations predicts that the largest urban growth will take place in India, China and Nigeria, which would contribute 37 per cent of the projected growth of the world's urban population by 2050. In India, this translates to over 40 crore new urban residents and cities need to be prepared for this influx.
Smart Cities promise to be safer, more efficient and smarter urban centres than before, harnessing technology to solve many of the incumbent problems, such as sensors monitoring traffic levels, systems that collect and analyse energy use data, and security cameras that send data directly to city administrators.
Jaipur, for example, is being developed as South Asia's first "Lighthouse City" joining the likes of Hamburg (Germany), Barcelona (Spain) and Adelaide (Australia). In collaboration with Cisco, digital infrastructure has been created in the city to offer amenities including intelligent kiosks, wireless broadband, safety and security services, traffic management and environmental updates.
Smart surveillance cameras have shortened police response times, and environmental services at key locations provide Jaipur authorities with the necessary data to handle pollution and problems caused by desert conditions when they arise.
Such examples however, are few and far between. Around 90 cities have been identified under the project till date — 60 of them between January and September 2016 and 30 more in June 2017, but only 7 per cent of the Rs 9,860 crore allocation has been spent so far. Work is stalled in most of these projects and many of them are still stuck in bureaucratic red-tape.
The lingering controversy surrounding Aadhaar — the 12-digit biometric identification project that forms the bulwark of many of the Digital India plans – is proving to be a needless distraction. While the government has been forthright in allaying fears of any breach in privacy or security with the project, apprehensions refuse to go away and fresh controversies erupt every now and then. A lot hinges on the verdict of the apex court that is hearing the case on the validity of Aadhaar.
Internet Access
Penetration of internet access in India is progressing at a relatively swift pace even if issues related to poor service and network issues have cropped up in some pockets. Despite India's leadership in IT, much of the nation's population suffers from insufficient digital infrastructure. In 2015, only 22 per cent of adults in India had access to the Internet. Meanwhile, fewer than two out of every five businesses in India have an online presence, compared with almost two-thirds of firms in China.
However, India is making great strides to improve connectivity. The government's tech push aims to leapfrog India into the 21st century by connecting 250,000 villages. This includes a national fiber optic network to provide broadband Internet for every citizen, as well worker training programmes in new digital technologies. So far, 100,000 gram panchayats have already been connected with optical fibre.
The Digital India plan is the government's most ambitious and visionary statement of intent and already unprecedented strides have been made. The challenge is to keep the momentum going and overcome some of the glitches along the way.