Designing an intricate growth strategy for the future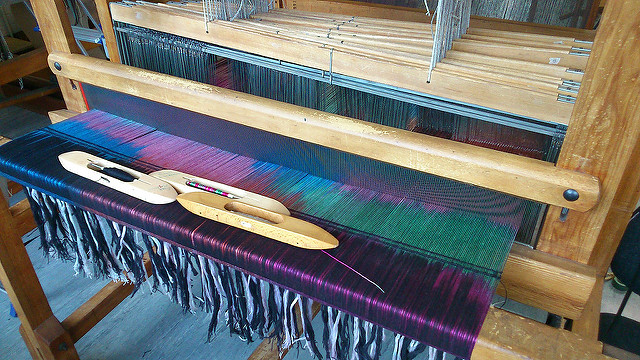 The Indian textiles sector has received much-needed attention but its future continues to hang in balance unless bold initiatives begin to pay off.
The Indian textile industry is the country's oldest, going back five millennia, and its modern day avatar employs more than 45 million people, making it the country's second largest employer after agriculture.
Over the last couple of decades, however, this industry has been facing global and domestic headwinds that are threatening its continued wellbeing. But governmental and industry efforts to overcome these challenges also offer considerable upsides and the proposed renewal of the industry promises to rejuvenate it and make it ready for the challenges of the 21st century.
Leading producer
India is among the world's leading producers of cotton textiles, jute, silk, wool and man-made fibres. Cotton alone accounts for about 60 per cent of India's textiles industry.
The following is a list of the components of India's varied textiles industry:
Cotton: This is the largest component of the Indian textile industry and provides direct and indirect employment to millions of people.
Silk: India is the world's second largest silk producer, accounting for almost a fifth of the global output. The main varieties of Indian silk are mulberry, eri, tassar, and mooga.
Jute: India produces 63 per cent of the world's jute and is by far its largest producer in the world. Jute, which is called the golden fibre on account of its colour and also because of the many fortunes it created in the past, is produced mainly in India's eastern region.
Wool: This is easily the smallest sub-sector of India's large and sprawling textiles industry. India, which accounts for about 2 per cent of global wool production, is the world's seventh largest producer.
Handlooms: This is, arguably the most famous of India's textiles sectors. Its production is still highly decentralised. Many producers still use traditional, non-motorised methods of producing handloom cloth though powerlooms have proliferated in recent decades. Handlooms have a 13 per cent share of the Indian market.
Man-made fibres: This is the most recent addition to India's millennia-old textiles industry. These are produced in large factories from synthetic filament yarn, account for 62 per cent of India's total production and employ about 5 million people.
Market size
The Indian textiles industry has an annual output valued at approximately $100 billion and is expected to grow almost 100 per cent over the coming decade. It has a 15 per cent share in India's export basket and is among those sectors where 100 per cent FDI is permitted. According to India's Ministry of Textiles figures, the textiles industry contributed about 14 per cent to the country's industrial output and 4 per cent to GDP in 2015-16.
Spurt in investments
After stagnating for a few decades, the Indian textiles industry has seen a surge in fresh investments over the last decade and a half from domestic as well as foreign players. During this period, foreign investors pumped in more than $2.5 billion into the sector.
Marks & Spencer, Zara,  Benetton, Levi's, Promod, Rieter, Zambiati, Bilsar, Monti, Trutzschler, Soktas, CMT, E-land and Nisshinbo  are some of the foreign companies that have set up base in India.
The following are a few of the other large ongoing investments in the sector:
Max Fashion, a part of Dubai-based Landmark Group, is expanding its operations across 120 cities by setting up 400 new stores at an investment of $60 million.
Future Group is planning to open 80 new stores under its affordable fashion format, Fashion at Big Bazaar (FBB), and is targeting sales of 230 million units of garments by March 2018. This is expected to grow to 800 million units by 2021.
Raymond has partnered with Khadi and Village Industries Commission to sell Khadi-marked readymade garments and fabric in KVIC and Raymond outlets across India.
Exports are booming
India exports Made in India yarn to a number of countries such as the US, the UK, Russia, Singapore, Japan, France and Sri Lanka, among others. In 2015-16, it exported textiles worth $40 billion and this is expected to grow to at a CAGR of 10 per cent to about $45 billion in the current year. The main items of export are bedding, bath and home décor items and some textiles.
Struggling in garments
Despite its position as one of the world's leading players in the textiles industry, India's share of the global garments market is a miniscule 4 per cent. The main problem is that Indian garment manufacturers have to import cloth from other countries. Then, relatively high labour costs, stringent and archaic labour laws, lack of scale and insufficient forward and backward linkages to the global supply chain are other constraints that hold back this sector.
As a result, India loses out to cheap garment manufacturers exporting their products from bases countries such as China, the Philippines, Bangladesh and Vietnam, among others.
Policy boost
The Narendra Modi government announced a Rs 6,000-crore ($900 million) package for the garments sector last year.
"This sector has tremendous job generation potential. The new policy aims at creating 11 million new jobs over the next three years," India's Textiles Minister Smriti Irani has said.
The package is designed to create jobs for women and includes several tax and production incentives. There is also a plan to introduce more flexible labour laws to increase production.
"In a first-of-its-kind move, a new scheme will be introduced to refund the state levies that were not refunded so far. Drawback at all industries rate will be given for domestic duty paid inputs even when fabrics are imported under the Advance Authorisation Scheme," an official statement had said when the new policy was introduced. A sum of Rs 5,500 crore ($800 million) has been allocated for this drawback scheme.
The government has also announced export promotion policies for the sector and permitted 100 per cent FDI under the automatic route.
Following are some of the government initiatives to revive the sector
The government will soon announce a package for the powerloom sector, which will include social welfare schemes, insurance cover, cluster development and upgrades of obsolete looms. It also plans to provide tax benefits and marketing support. These steps will help the power loom sector revive.
The government has roped in 20 e-commerce companies that will enable artisans and weavers across the country to selling their products directly to the consumer.
Textile parks, textile processing, machinery and carpet development initiatives, among other things planned in order to improve the fortunes of the textiles sector. MoUs to this effect were signed during the Vibrant Gujarat 2017 Summit.
The government has sanctioned $5 million for the promotion of handlooms made in Meghalaya.
All these measures are expected to generate fresh investments of more than $12 billion in the textiles sector over the next three years.
Besides, these, Finance Minister Arun Jaitley also announced the following measures in Budget 2017-18 to boost the textiles sector:
Encourage new entrepreneurs to invest in sectors such as knitwear by increasing allocation of funds to Mudra Bank from $20.4 billion to $36.6 billion.
Provided $330 million for reskilling and upgrading the skills of people working in the textiles industry.
Road Ahead
The new policy and other initiatives of the government of India has given the Indian textiles industry a boost and the future looks promising on the back of strong domestic and export demand.
But, experts warn, the precise trajectory of the sector will depend critically on how the policy is implemented and how the industry capitalises on emerging opportunities in India and abroad.