Cross-fertilising British and Indian talent can develop a new tradition of telling Indian stories to a global audience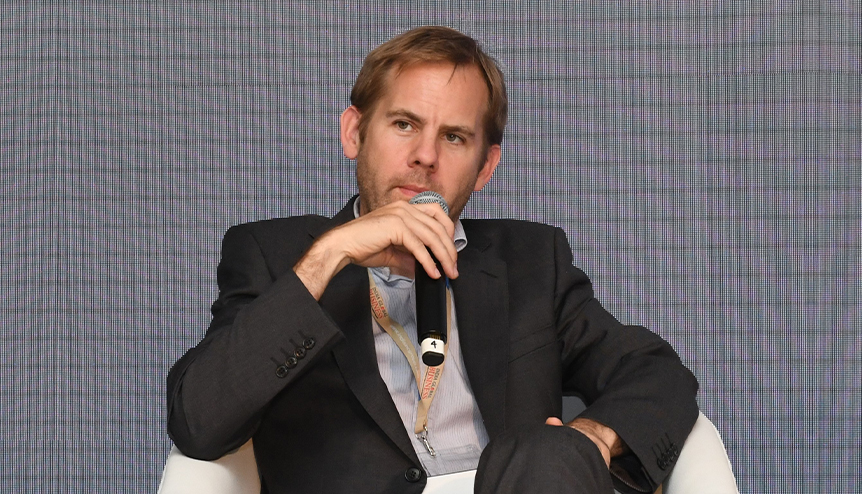 A renowned British filmmaker believes that Indian stories, lensed through the UK, can create a global impact.
The disruptors have arrived.
The world of the media is being turned on its head.
Traditional television broadcasters are under threat, as is the theatrical cinema business.
There has been much said and written about the arrival of the global streaming services Netflix and Amazon into India, with their pockets stuffed full of dollars and hushed talk of unprecedented programme budgets. The promise of a new golden age further heralded with the imminent launches of Apple's global streaming service and that of the newly-merged Fox/Disney, not to mention the movement into original video content of Facebook, YouTube Red and other players.
For once this isn't all hype. The notion of content and boundaries is revolutionised on a near daily basis now smartphones have become personal televisions and data is sold at bargain basement prices. Gone are the days, or so we are told, of 500 TV channels all with nothing good on them, today's viewer is no longer bound by the Stalinist schedules of the past, we are free to choose what we want to watch, when we want to watch it no longer can audiences be sold any old rubbish pumped out by the cable networks to sell ad-time – "premium" – is where's it at – and it's what the streamers believe they are there to deliver.
Of course the definition of "any old rubbish" is personal, the more discerning viewer might consider reality shows rubbish – but a lot more people enjoy watching them! The same might be said of fashion TV or a whole host of other sub-genres. These formats won't disappear, but there will be less of the bad ones and more serious investment into the good ones. After all, the amount of content and content providers may increase exponentially, but the amount of hours available to view content do not, unless of course we believe the wild predictions of how artificial intelligence will change our lives, a statement I'm highly dubious of given that, in spite of technological advancements, we seem to now work more hours, not less (presumably to pay for our subscriptions to Amazon and Netflix).
From the consumer point of view, what this suggests is they are going to get what they want, only better, because there is less waste. And for producers the promise of vast budgets. Well here's the catch.
Netflix and Amazon have both set out their stalls in India with local commissioning structures. but the problem is that these follow local pricing structures. While a top documentary commission can be in excess of $1m an hour and a top drama commission $5m or more per hour from these providers when commissioned via LA or London, the so-called "localised" budgets are closer to $250k per hour. These are punchy budgets for the Indian domestic market, but even accounting for production costs being lower in India, what this doesn't suggest is that the shows being created are intended for export outside of India, or at least outside the diaspora. These shows are being imagined by the streamers as local content rather than the new "House of Cards" or "Narcos", shows that have created a global conversation, shows that have become "brands" in their own right, exciting because they come with rave reviews from across land and sea and have been the drivers of the streaming business.
I don't believe this due to a lack of talent in India, this can and should be a two way street, Indian stories should be made in a way that can excite a global audience and find a fanbase in middle-America, in Scandinavia, in Africa; the problem is or has been a cultural one. Any kind of business is about "talking the same language" and the communication business this is key.
By language I don't just mean the spoken word (the large speaking English population is one of India's key assets in this new dawn of global streamers), the issue is the language of story, structure and character. Bollywood has created a rich and distinctive culture of film-making, but it is a form of entertainment that has struggled to export beyond India and the diaspora. While recent success has been seen in China with the Amir Khan blockbuster Dangal, this success has simply not been matched in the West. This is a challenge for the whole industry. If budgets are to rise for Indian story content, then these stories need to be told in a way that is attractive to audiences East and West. As global players this is what Amazon and Netflix demand. So a different kind of story-telling, a 21st kind of story-telling, a mash-up.
The solution, I believe, is AI.
Artificial Intelligence you're thinking right? But as I explained in the media panel discussion at UK-India week last summer the AI I'm interested in is Anglo-Indian. For me there is real opportunity in the next decade or so in looking at how Indian and Indian diaspora stories, lensed through the UK, can create a global impact in the way they haven't before. I believe that by merging the culture of story-telling that has developed in the UK over several decades, by cross-fertilising British and Indian talent, a new shared tradition can develop, that breaks down barriers to telling Indian stories to a global audience.
This isn't just the wishful thinking of one producer, in numerous conversations at the highest level at Amazon and Netflix and also with the powerful agents WME and CAA who "package" films and TV in America, the idea of London or the UK at least as a bridge is an attractive notion not just from the language of story, but also the language of finance, business and the law. Having worked in Hollywood and Bollywood I can see there is much to be done in educating both sides of the divisions in practices of employment, contracts and accounting. By creating a nexus through the UK, with its close historical alliance with India and large Anglo-Indian population, together with the familiarity of British producers with the Hollywood system, there is a huge opportunity to exploit the desire of US studios to go deeper into the Indian and market, and the mission to tell Indian stories to a global audience.
The next decade, I believe, is the moment to capitalise on this. If that doesn't sound sincere, then I'll refer you back to the famous Remington Shaver commercials in which the chairman Victor Kiam appeared, declared, "I liked it so much I bought the company". Following my experiences writing and directing the film Sachin: A Billion Dreams, a great example of a tie-up between an Indian producer and a (white) British director, I have invested in and sought to develop content with Anglo-Indian writers and financiers aimed at bridging this gap, to harness the dual force of an emotional Indian approach, with the more buttoned up, but heavily schooled British documentary tradition.
There is much work to be done, but I believe firmly that this the pathway to deliver "premium-premium" shows telling Indian stories in a way that the whole world can appreciate. Stories that open up the hearts and minds of the world, stories that can be shared through the unique global accessibility of the streamers, stories that can ultimately bring us closer together in our understanding and on the way make for a blossoming of the creative economies in the UK and in India.