Corporate India gears up for business after lockdown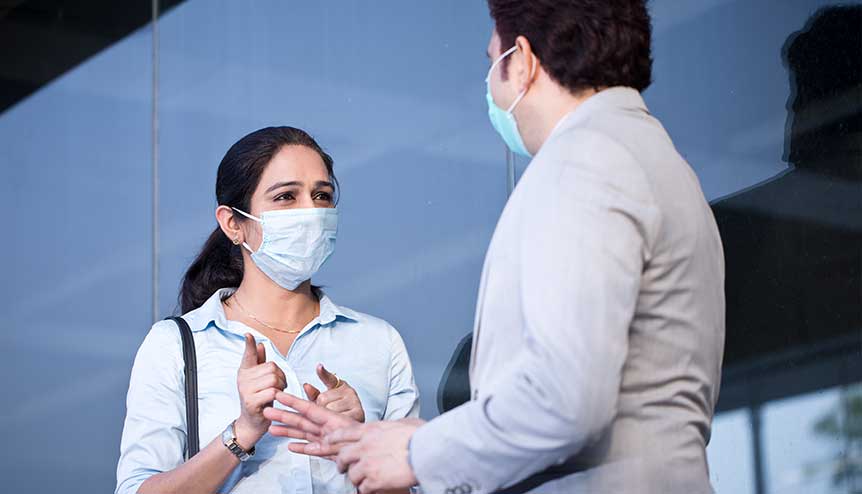 A recent McKinsey report maps out how amidst the chaos and destruction, the coronavirus has forced businesses to rethink and adapt to new challenges.
The coronavirus pandemic that swept across the world earlier this year brought with it a new reality imposed by enforced lockdowns, strict rules on social engagement, health risks and long periods of isolation. Countries all around the world are now looking at contracted economic growth, and India is no different. The International Monetary Fund has predicted the country's growth rate will be around 1per cent for 2020-21 and the World Bank has said the Indian economy will contract by 3.2 per cent in the financial year of 2020-21.
Related stories: India can get a lion's share of digital transformation opportunities
India's economy and fiscal position is set for a sharp rebound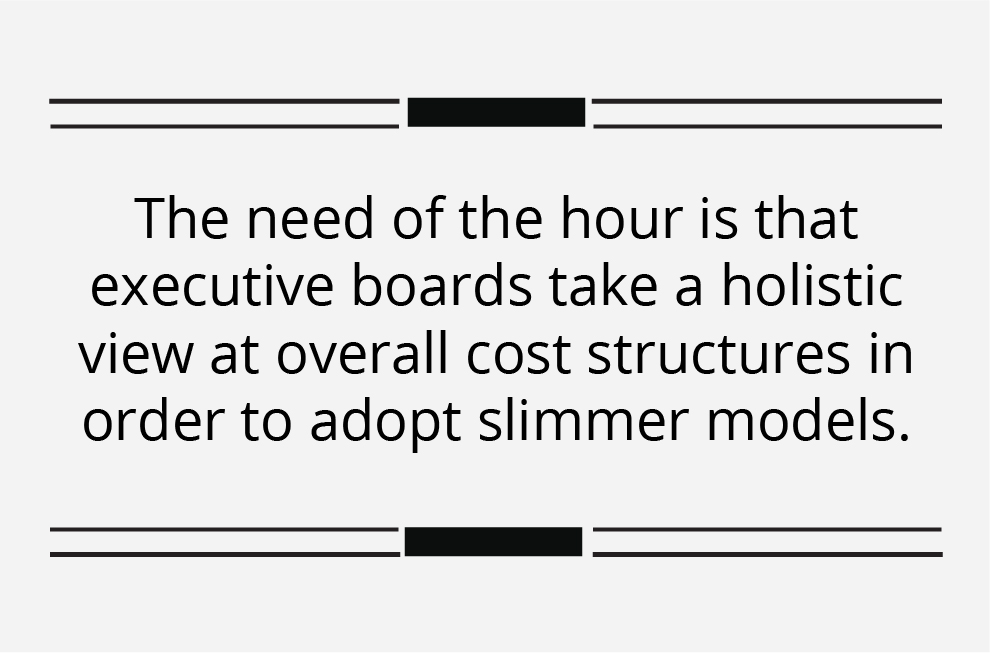 As India battles the Covid-19 pandemic and copes with the economic impact of the lockdown, businesses will have to be agile and capable of adapting quickly in order to survive.
A recent report by McKinsey collates the responses of several CEOs and senior executives of Indian companies to understand how businesses can survive the current scenario and the 'next normal.'
The report takes into account that the Covid-19 crisis has forced corporate India to take stock of its day to day operations and address some of the long-standing pain points. It recommends five points for businesses to build resilience.
Slimmer cost structures
Falling revenues and the diminished ability to service debt have weakened corporate India's balance sheets. Most companies, particularly SME's will now have to compete aggressively in an already fierce market. While profits dip low, the cost to most companies remains the same as pre-Covid, adding further strain. According to the report, the fixed costs of large Indian companies amount to 49 per cent of their cost base on average across sectors. In service sectors, the proportion can be as high as 60 to 70 per cent; in manufacturing, it is around 20 to 30 per cent.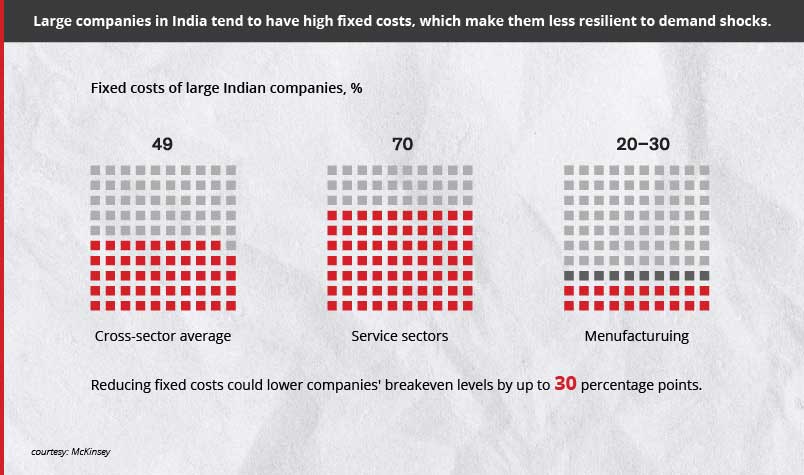 Companies are now actively looking to downsize in a bid to reduce costs. The need of the hour is for executive boards to take a holistic view at overall cost structures to adopt slimmer models. The McKinsey report suggests that adopting a slimmer cost structure could lower company fixed costs by 30 per cent points, which would make businesses more resilient to demand shocks in the market. This is especially important for start-ups which are seeing their revenue streams evaporate.
Investing in value-creating portfolios
Research suggests that only 16 per cent of invested capital in India is allocated to value-creating sectors – that's just one-sixth of India's $1.1 trillion of invested capital. The remaining 84 per cent is allocated to sectors such as energy and domestic services where the returns on the invested capital are lower than the weighted average cost of capital.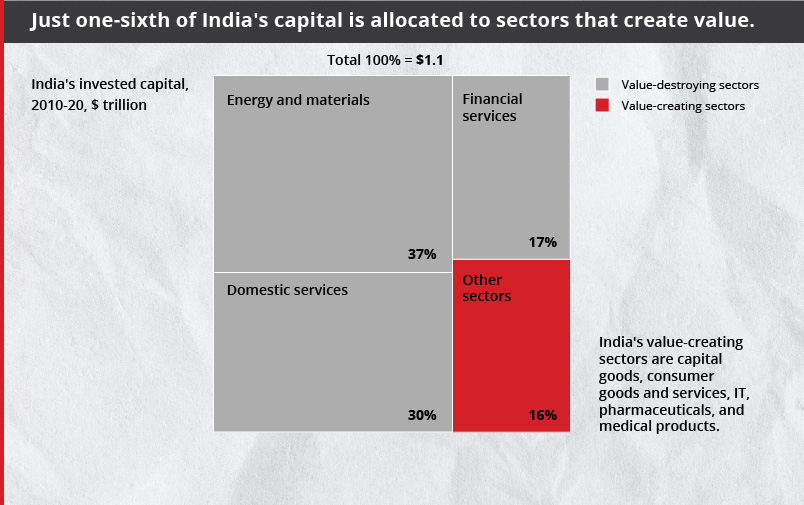 The jury is still out on whether the impact of the pandemic will alter the value-creation profile of corporate India. This means that now companies are grappling with reallocating funds away from sectors that create less value and into those that create more.
The recent reforms introduced by the Modi government have gone a long way in creating new investment opportunities in value-creating areas such as the rural sector and infrastructure. Also, businesses which make the shift towards expanding into knowledge and innovation-led sectors with minimal capital requirements will be able to capitalise on changing consumer preferences, shifts in regulations, and environmental imperatives.
Embracing digitalisation
Covid-19 has exponentially sped up digitalisation in India, with more and more consumers making the move to online services for food shopping, retail, entertainment, education, amongst others. Businesses too have had to make the switch, some overnight, to adapt to the 'new normal' of e-commerce, social distancing and remote working. This rapid digitalisation has once again forced corporate India to re-examine methods of doing business, streamlining operations and embracing new technologies to cater to the increasing demand in the digital sphere.
The move to digitisation has also generated immense opportunities for start-ups, small and medium-sized companies who can now reach out to a global audience. Over time, companies with strong digital services will be able to cut back on physical locations and one to one engagement with virtual options. This, in turn, will help in reducing overhead costs, not to mention insuring their businesses against future economic slowdowns.
Flexibility in operations
As India slowly comes out of the lockdown, businesses are grappling with the challenge of bringing people back to work and helping them adapt to the 'new normal.' And with the threat of a new wave of infection looming on the horizon, most companies are struggling with the uncertainty of further impact on business. Most sectors are already seeing companies operate at a reduced capacity to comply with social distancing and other new safety measures. Employee welfare thus plays a large part in ensuring not just the safety of the workforce but also the business. Companies, therefore, will need to make the move towards building smaller, more agile teams with flexible shifts to meet social distancing protocols. Providing employees with safety equipment such as masks and PPE suits where necessary will also play a key role in ensuring safety. Allowing employees to work remotely, where possible, is also another option to ensure employee welfare and business continuity. Thus, once again, businesses will need to re-examine day to day operations, building in more flexibility and adaptability.
Engaging all stakeholders
One of the positive impacts of the coronavirus pandemic is that it has jolted executives out of their set ways of thinking and making decisions. Businesses are increasingly looking at the impact of their businesses overall, engaging all stakeholders instead of a select few.
The increasing success of video conferencing, for example, has thrown the need for frequent corporate travel into sharp focus. Businesses are now also examining the positive and negative impacts of their day to day operations on the envenoming and local communities. Executive boards are now accounting for systemic impacts on all stakeholders from employees and consumers to the local communities and environment. Many are making the move to or are considering adopting more sustainable models for doing business.