Can Saudi Arabia solve India's oil conundrum?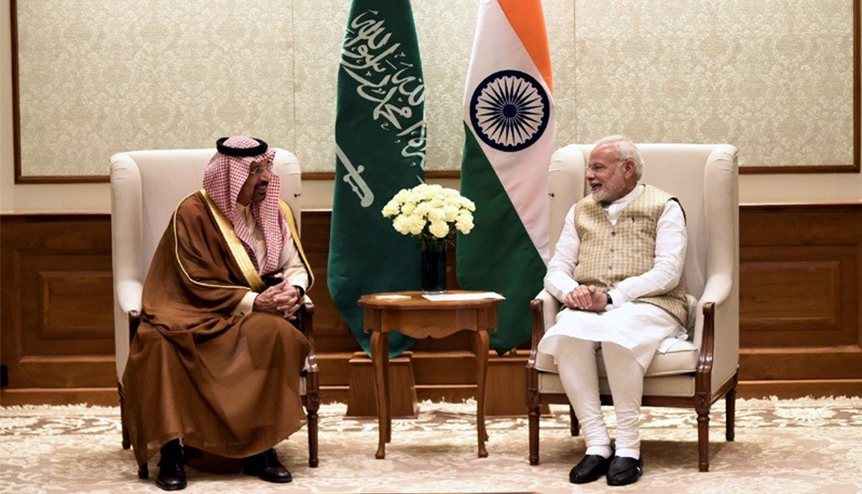 As the Donald Trump administration's deadline for Iran sanctions beckons, India must find alternatives for its crude oil needs fast.
In the last few months, there have been hectic parleys in the diplomatic channels between India and Saudi Arabia. The topic is an obvious one — crude oil. The decision by the Trump administration in the US to unilaterally withdraw from the Iran nuclear deal of 2015 in May earlier this year and re-impose sanctions on Tehran, and any country that chooses to do business with it, has left India particularly vulnerable.
With an annual crude production of 234 million tonnes in 2017, Iran is the world's fifth-largest oil producing nation. India, which imports over 80 per cent of its crude oil requirement every year and is world's third-largest oil consumer, is Iran's biggest customer for oil in the world after China. In 2017-18, India imported 220 million metric tonnes of crude worth $88 billion, a 25.5 per cent growth over fiscal 2017. Iran was its second-biggest supplier.
Deadline looms
As Trump's November 5 deadline for the sanctions beckons, India needs to quickly curtail its dependence on Iran but doing so on such a large scale is easier said than done.
Already, the Indian oil market is under pressure due to crude oil price inflation and the depreciation of the Indian Rupee against the Dollar. The Indian basket for crude oil prices have increased by 18 per cent from October 2017 to October 2018 and the resultant impact on both the national exchequer and the purses of the Indian population is already being felt. The country can't afford any external disruption to its oil supply that would increase the chaos in the domestic market. This is where Saudi Arabia steps in.
Saudi Arabia is one of the largest producers of oil in the world. The middle-eastern country pumped 9.95 million barrels of crude daily in August this year that was next only to Russia in terms of sheer volume. This is still significantly lower than its terminal capacity, which itself is being increased, but the country has promised to ramp up its production to fill in for the losses in Iran. The following month in September, the country increased its production by 50,000 barrels per day to a level of 10.53 million per day as offtake from Iran started declining in anticipation of the US sanctions.
is hence imperative for India to reach out to Saudi Arabia to at least partially fill in for the 22 odd million tonnes of crude that annually comes from Iran. While it may be impossible to bring imports from Iran down to zero, as an aside India is also seeking a waiver from the US. Private refiners like Nayara Energy and Reliance Industries plan to put a complete halt to their imports in future. They significantly cut imports in June.
To offset that, Reliance, along with state refiners Hindustan Petroleum, Bharat Petroleum and Mangalore Refinery Petrochemicals, are looking at an extra 1 million barrel of crude each month from Saudi Arabia from next month. That alone means 4 million barrels of crude per month over and above what Saudi Arabia supplies to India every year. There are reports that India has actually sought an even higher, 9 million extra barrels of crude, every month. The Middle Eastern nation has promised India it would not be found wanting when India would need more oil.
"We have the capacity. We have invested tens of billions of dollars to build spare capacity of 2-3 million barrels per day over the years," said Saudi Arabia's oil minister Khalid al-Falih at India Energy Forum recently. "We have seen sanctions on Iran. These supply disruptions need a shock absorber and the shock absorber to a large extent has been Saudi Arabia."
Bilateral ties
Despite Saudi Arabia's proximity to Pakistan on cultural and religious matters and its ambivalence on the Kashmir issue, its bilateral ties with India have always been positive. Two-way trade during 2016-17 stood at $25.79 billion. India's imports from Saudi Arabia reached $ 19.94 billion, whereas exports to the kingdom stood at $ 5.13 billion. In terms of global exports of India, Saudi Arabia's share stood at 1.86 per cent during 2016-17, while the kingdom was the source of 5.19 per cent of India's global imports during the period.
But can the world in general, and India in particular, really rely on Saudi Arabia to effectively fill in for Iran? There is no certain or even a straight answer to this. The massive reserve of spare capacity in the deserts of Saudi Arabia is the stuff of legend but it has not been tested until now. For now, officials in the desert country believe they can produce upto 12.5 million barrels of crude oil per day if required. Not everybody buys that claim. Iran for one, thinks there can be no replacement for the quantity of oil that it produces.
"Iran's oil cannot be replaced by Saudi Arabia nor any other country," said Iran's oil minister Bijan Zanganeh. "Any country that makes such claims just wants to display its support for US sanctions against Iran. What the Saudis had been supplying the market with were not from Riyadh's spare capacity but from tapping its oil stocks. The price hike in the market is the best evidence to state that the market faces a supply shortage and it is worried."
As per Energy Information Administration of the US the total spare capacity at OPEC (Organisation of Petroleum Exporting Countries) a group of 15 of the biggest oil producing countries of the world, is set to average 1.49 mb/d in the fourth quarter. This is already low by historical standards within the group that controls nearly half of all oil produced in the world. EIA believes OPEC spare capacity will fall to 1.19 mb/d by the fourth quarter of 2019. This would suggest Saudi Arabia does not really have much spare capacity at its behest.
Quantity match
Historically, Saudi Arabia has never produced crude to match the claims of some of its officials. Even in 2016, when the country was flooding the global markets with its oil, it was still only producing at less than 11 mb per day. As such there are doubts like those of Zanganeh whether it can produce even at over 11 mb per day as well.
Further, oil inventories controlled by Saudi Arabia have also been falling since 2015. It has exhausted around 100 million barrels over the past three years, cutting its stockpiles from 330 million barrels in 2015 to 229 million as of July 2018. This corroborates Zanganeh's charge that it cannot produce as much as the world wants and needs to dip into its inventories for supplies. Al-Falih has countered that they were topping up storage facilities around the world in order to serve customers to compensate for Iranian supply but it is also, like its claims on production, an untested one.
"We are confident from day one that there is no problem in the sourcing of crude. There is plenty availability of crude in different parts of the world," said India's petroleum minister Dharmendra Pradhan.
To strengthen its energy security in future, India is planning to increase its oil reserves equivalent to at least 87 days of net imports. Strategic crude oil reserves are meant to tackle emergency situations, allow a country to tide over short-term supply disruptions. International Energy Agency (IEA) members maintain emergency oil reserves equivalent to at least 90 days of net imports. At a time of growing uncertainty in global oil markets, such reserves will help India to manage supply and price risks as part of its evolving energy security architecture.
Road to self-sufficiency
India's current storage capacity comprises of 5.3 million tonnes built at an investment of $600 million. Construction of an additional 6.5mt of strategic crude oil reserves at Chandikhol in Odisha and Padur in Karnataka was approved in June. These facilities together will help support 22 days of India's crude oil requirements. Domestic refiners also maintain 65 days of crude storage, taking the total tally to 87 days.
Bids to fill Padur strategic petroleum reserves will be invited over the next few months. Not surprisingly the only one to commit to this is Abu Dhabi National Oil Co (Adnoc), the state-run oil company of the United Arab Emirates (UAE).
Yet, building the storage capacity will solve only one part of the problem. India will still need to know to what extent it can rely on Saudi Arabia for oil on a sustainable basis. Despite its efforts to reduce dependence on oil and ramp up renewable energy sources, its thirst for crude is not going to come down anytime soon. As per a report by OPEC from September, India's oil demand is expected to rise by 5.8 million barrels per day by 2040, accounting for about 40 per cent of the overall increase in global demand during the period. During the same period the global oil demand will increase by 14.5 million bpd from 2017 to 111.7 million bpd in 2040.
"There have also been concerns expressed by consumers with regard to the outlook for supply, including from some of our friends in India. As a major consuming country, without the stability it would be a huge challenge for them to plan, let alone manage the supply-demand dynamics in this fast-growing economy. However, our current view is that the market is currently adequately supplied and well-balanced," said said Mohammad Sanusi Barkindo, secretary general at OPEC. "For 2019, there is the potential for an imbalance, because of larger growth in supply."
That also happens to be the year India goes to polls.