#BeTheRevival: PM Modi lays out the way for India and a better new world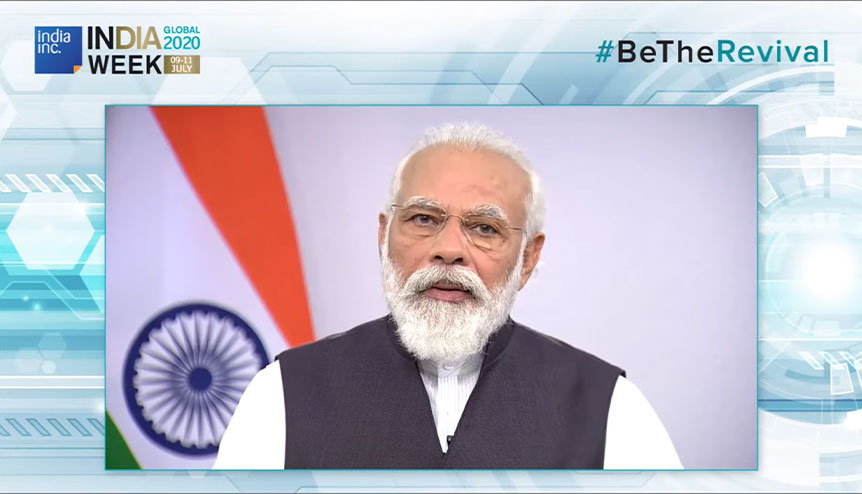 The Indian Prime Minister made a headline grabbing address as a curtain raiser to the biggest virtual international event on India's globalisation.
Prime Minister Modi inaugurated India Global Week with an inspiring speech on how India would play a pivotal role in being the revival for a world under the onslaught of a global pandemic. Modi's address was nationally and internationally televised to millions of viewers.
#BeTheRevival: India & A Better New World, the three-day webinar (July 9th-11th) produced an excess of 5,000 global participants across 75 sessions and over 250 speakers from all disciplines to engage in a global discussion and lively debate.
The sessions which attracted renowned guests from across all disciplines, explored business, strategic and cultural opportunities. It endeavoured to comprehend global challenges and arrive at informed decisions for a brighter future beyond COVID-19.
Thanking India Inc prime minister Modi said, "I appreciate India Inc. organising this important event, which is part of the excellent work that India Inc. has done over the past years. You have helped make the links between India & the UK stronger. Congratulations."
Modi exuded optimism and hope not only for Indian citizens but the world in general in these times of global disruption across multiple platforms.
"History has shown that India has overcome every challenge with a spirit of reform and rejuvenation. The same spirit continues now. Indians have the spirit to achieve what is believed to be impossible. When India talks about revival, it is revival with care, revival with compassion, revival with sustainability.
And in rallying foreign governments and investors who wanted to do business with India he stated, "Indians have the spirit to achieve what is believed to be impossible. No wonder, in India we are already seeing green shoots when it comes to economic recovery.
"India remains one of the most open economies in the world. We are laying out the red carpet for all global companies to come and establish their presence in India."
Focusing on sectors Modi elaborated that, "The Indian tech industry and professionals have been showing the way for decades. We are opening the door to investors to come and invest directly in the hard work of our farmers.
"The pandemic has shown that India's pharma industry is not just an asset for India but for the entire world. Atmanirbhar Bharat merges domestic production and consumption with global supply chains. Atmanirbhar Bharat is not about being self-contained or being closed to the world. It is about being self-sustaining and self-generating.
Modi's call for reskilling key to 'Make in India' ambitions
Indian youth will have to skill, reskill and upskill on an ongoing basis to remain relevant in the job market, Indian Prime Minister Narendra Modi said in a digital conclave on World Youth Skills Day.
It was a timely reminder to India's entire workforce – and to its youth in particular – that the Covid-19 outbreak had completely changed the paradigm of work not only in India but across the world.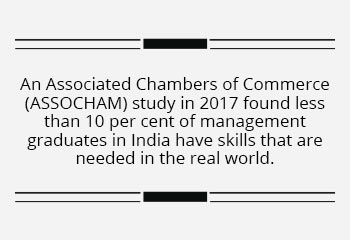 The Prime Minister's exhortation to India's youth is particularly relevant as the government's think tank, NITI Aayog, said in a December 2018 report titled "Strategy for New India @ 75" that a minuscule 5.4 per cent of Indian workers have undergone skills training compared to 96 per cent in South Korea and 75 per cent in Germany. Then, an Associated Chambers of Commerce (ASSOCHAM) study in 2017 found less than 10 per cent of management graduates in India have skills that are needed in the real world. Another study, called "The Higher Education Report" by the Federation of Indian Chambers of Commerce and Industry (Ficci) and EY showed a lack of connect between what is taught in class and what industry needs on the ground.
Related stories: How corporate India can solve the skilling puzzle
The case for investing in education in India
Why Skill India is critical to India's future
Prime Minister Modi launched the Skill India Mission in 2015 as a flagship programme of his government to provide training to and upgrade the skills of millions of people to prepare them for employment in modern workplaces.
The Indian government also launched the National Policy for Skill Development & Entrepreneurship in June 2015 to provide skilling opportunities for poor and underserved communities and for developing a globally competitive workforce.
Demographic dividend
India is the world's youngest country – 65 per cent of the population is under 35 years old and 50 per cent is under the age of 25. Every year, an army of about 10-12 million youth enter the country's workforce. This massive demographic segment needs proper skills to prepare them for a life of gainful employment. And that is why skilling them is so important for the country's future.
Skill India an integral part of self-reliant India
Incidentally, the day also marked the fifth anniversary of the launch of the Skill India Mission. In his address, Modi said: "Skill is something we give to ourselves. Skill is a treasure. Skill is about self-reliance. It not only makes one employable but also provides avenues for self-employment. Skill is not only a way to earn. It is also a driving force," he said, adding that skilling, reskilling and upskilling will play a major role in fulfilling his dream of ushering in an Atma Nirbhar Bharat (Self-reliant India).
The government has also undertaken an exercise to map the skills of workers in order to match them against the requirements of industry. To facilitate this, it has launched a portal that can connect people with particular skills connect with employers looking for such expertise. At a time when millions of migrant workers have left the big cities and returned home to their towns and villages, this is expected to help a significant number of workers find jobs in line with their skills.
Work in progress
The Skill India Mission is critically important for the success of many other missions such as Make in India, Start-up India and Stand-up India. It offers scope for collaboration with skills providers, educational institutions and consultancies that specialise in this area from around the world.
But as India prepares to welcome foreign investments from companies that are looking to de-risk their global supply chains from over-dependence on one country, the Prime Minister's message on preparing oneself to face the emerging job market will remain relevant for many years to come.