Ayushman Bharat start-up challenge: Billion-dollar babies in the making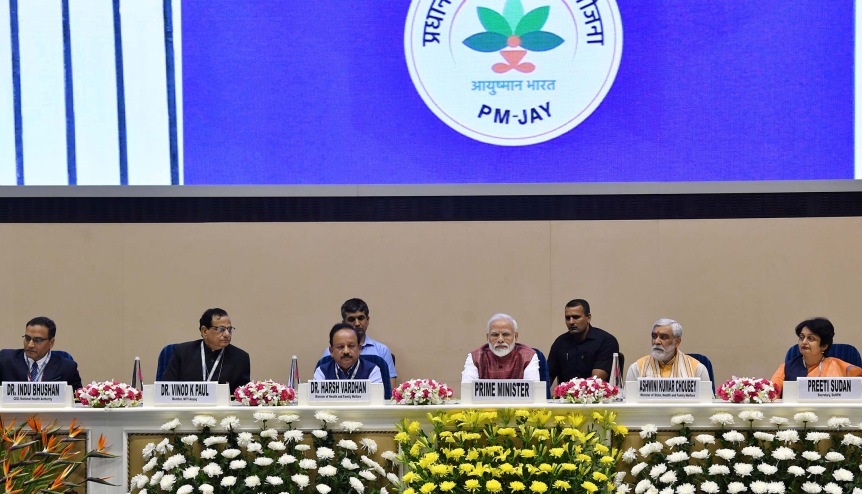 Start-up grand challenge: A unique competition for start-ups that will be invited to develop cutting edge technology to support the implementation of AB-PMJAY.
The Narendra Modi government's fascination with technology and numbers is making an impact on governance in unexpected ways.
Since the launch of Ayushman Bharat-Pradhan Mantri Jan Arogya Yojana (AB-PMJAY), the world's largest publicly funded national health insurance scheme, a year ago, about five million people have been treated under this scheme. The data collected from this pool of patients is being used for medical studies on newborns and hysterectomy or uterus removal in partnership with the World Health Organization (WHO) and the World Bank.
Cardiology, cancer and organ replacements are the most sought-after procedures under the scheme. According to National Health Association (NHA) data, one-and two-stent angioplasty tops the list of packages offered under the scheme. Radiotherapy, knee replacement and hip replacement follow in that order.
With every passing day, the data pool is growing. Given the sheer scale of AB-PMJAY, this will soon emerge as the world's largest and most diverse medical database. Delving into this database can yield new insights into healthcare that can have global implications.
But a year since launch has seen some niggling problems crop up in the scheme. On October 1, the first anniversary of the scheme, Prime Minister Narendra Modi launched the "Start-up Grand Challenge", a unique competition for start-ups that will be invited to develop cutting edge technology to support the implementation of AB-PMJAY.
Dr Indu Bhushan, CEO of Ayushman Bharat, told the media that participating start-ups will be invited to offer solutions for seven problems being faced by the scheme – such as reducing cost of operations, securing patients' database and building the capacity of the work force, among others.
Start-ups already working in areas such as medical device design and manufacturing, hospital management, digital health management, health communications, training of medical workforce, etc., can participate in this challenge.
At present, Ayushman Bharat is grappling with the high cost of diagnosis and diagnostics. It is also finding it difficult to measure and track the quality of healthcare across a vast and diverse country. Then reducing infection rates at hospitals is another challenge not only for Ayushman Bharat but for most hospitals across India. Another problem is that many potential beneficiaries are still not aware of the scheme. Reaching out to them is a major challenge that must be successfully overcome to ensure the success of the scheme.
The biggest potential challenge is to develop a robust and real time fraud detection system that can play havoc with the economics of this ambitious scheme that is essential for ensuring accessible healthcare for millions of Indians. For starters, the Modi government is planning to introduce biometric authentication of patients at the time of admission as well as at the time of discharge. But this is a low hanging fruit and start-ups working on this problem will have go way beyond this to win the challenge.
The winners of this challenge will win cash prizes and also get opportunities for post-marketing testing and validation studies for their innovations/apps/inventions. The National Health Authority under the Ministry of Health, Government of India, will also put the winners in touch with leading institutions in the healthcare sector for commercial development and deployment of the innovations. The winners will also get to partner with states implementing Ayushman Bharat.
The "Start up Grand Challenge" will challenge Indian medical sector start-ups to dig deep into the country's famed frugal engineering, frugal innovation and frugal management skills to come up with uniquely Indian solutions to problems that are, in essence, universal in the healthcare universe.
And winners could potentially come up with multi-billion dollar innovations that could be developed and marketed around the world. No wonder the Indian government believes this challenge could mainstream several start-ups and boost private and foreign investment in India's healthcare sector.
Ayushman Bharat, which offers beneficiary families free treatment of up to $7,150 a year at no cost to them, currently covers 500 million people or about 40 per cent of the Indian population. The premium for this health insurance scheme is paid by the government. The plan is to increase the coverage to 900 million Indians or 70 per cent of all Indians.
The possibilities are endless!