Air corridors to help fulfill potential of India's ties with Central Asia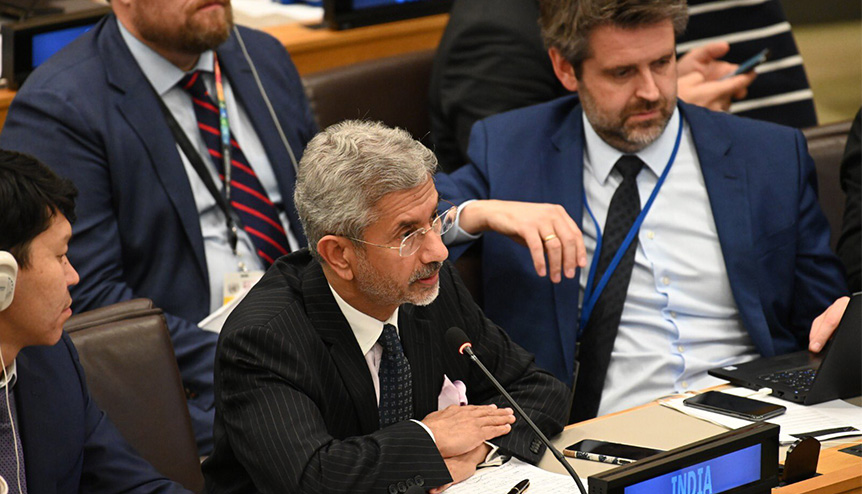 Indian Foreign Minister S Jaishankar has said India is exploring air corridors between India and five 'Stans' of Central Asia to enhance and deepen economic engagement and facilitate trade in perishable goods such as food products and farm produce and position India as a medical tourism destination in the region.
Highlights:
Central Asia is crucial to India as a source of raw materials such as oil and gas as well as uranium.
Bilateral trade, however, remains below potential due to lack of direct connectivity between India and this region, due to Pakistan blocking overland access for Indian goods.
Air corridors will facilitate the movement of goods and expedite the flow of medical tourists from Central Asia and outbound tourists from India.
Central Asia and particularly the five republics that form the core of the region – Uzbekistan, Kazakhstan, Tajikistan, Turkmenistan and Kyrgyzstan, or the so-called five "Stans" – is crucial to India as a source of raw materials such as oil and gas as well as uranium and is also a potentially large market for Indian exports.
Yet, three decades after these countries gained independence from the erstwhile Soviet Union, bilateral trade between India and this region is a mere $2 billion. About $1.5 billion of this $2-billion trade is with Kazakhstan with more than $1 billion is on account of oil exports from that country.
Connectivity the key problem
The primary reason for this poor performance on the trade front is the lack of direct connectivity between India and Central Asia. Pakistan, which lies between India and the five "Stans", does not allow Indian goods overland access to the region.
Air corridors could resolve issue
To overcome this problem, India is exploring the setting up of "air corridors" between India and five Central Asian nations, India's External Affairs Minister Subramanian Jaishankar said recently at the inaugural session of the "India Central Asia Business council" which was attended by Indian businessmen and diplomats from the five Central Asian countries. .
This will facilitate the movement of goods such as fresh fruits and other agricultural produce and expedite the flow of medical tourists from those countries and outbound tourists from India.
Such air corridors will complement India's involvement in operationalising the Chabahar port in Iran for which Indian Finance Minister has allocated $15 million in the coming year's budget. This follows an assurance from the US that it would not sanction international banks and other companies for financing and supplying equipment and other materials needed for constructing and operating the port. This port is a critical link between India and Central Asia.
Air corridor versus the overland route
The flying time between India and Central Asia is just a couple of hours if Pakistan allows overflight facilities. Even if it doesn't, bypassing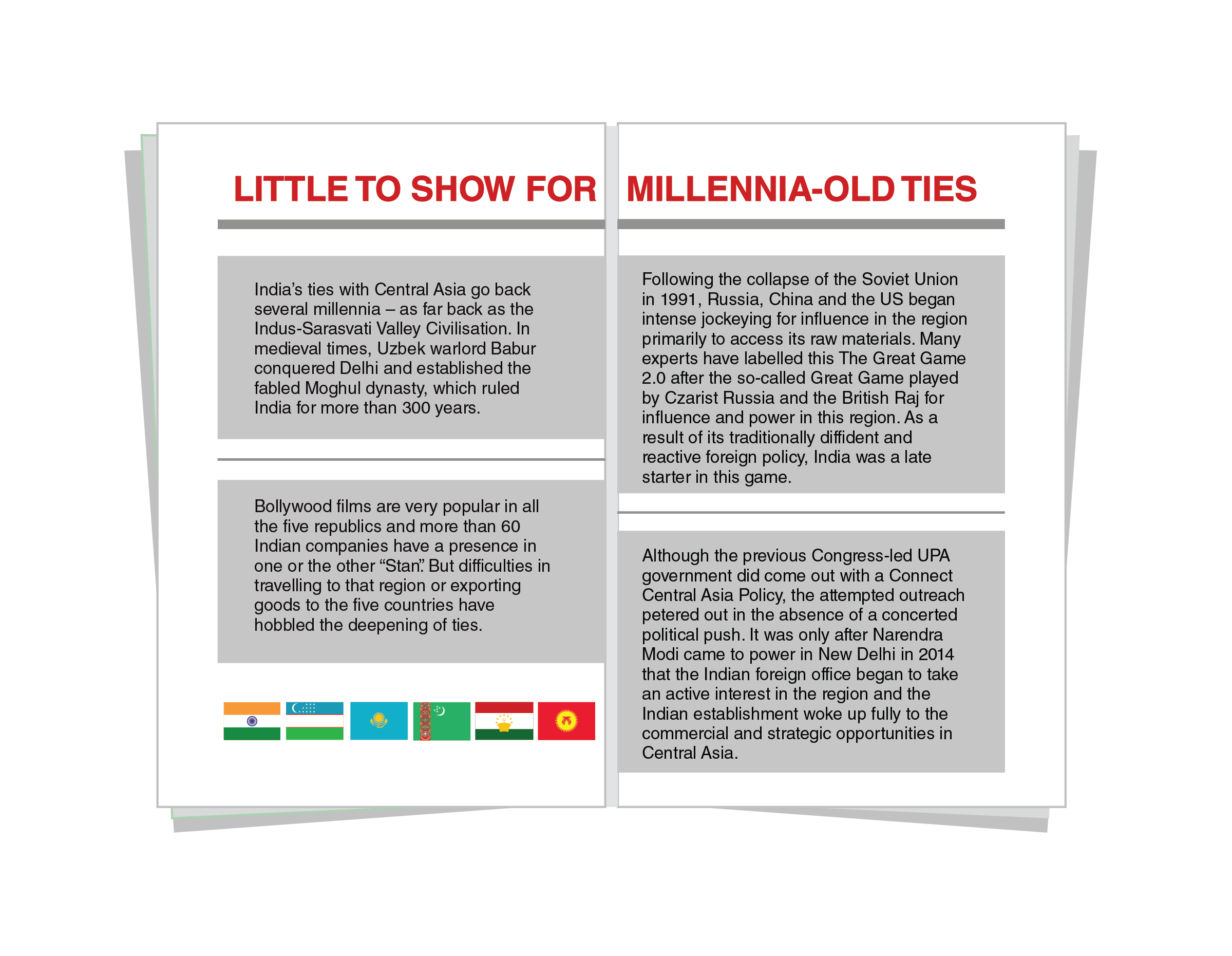 Pakistan and flying over Iran to reach Central Asia takes only four to five hours compared to almost two months using the overland route.
"There is the challenge of lack of efficient overland connectivity… (But) clearly, a great potential exists in enhancing trade and economic engagement between India and Central Asia," the Indian Foreign Minister said, adding that India and Central Asian states had prioritised energy, pharmaceuticals, automotive, agro-processing, education, urban infrastructure and transport, civil aviation, IT and tourism to strengthen economic links.
Currently, most of the trade between India and Central Asia passes through the Bandar Abbas port in Iran or China since the rail link between the India-developed Chabahar port in Iran and Afghanistan is yet to be completed. This could take years.
"Our connectivity initiatives through the International North South Transport Corridor and the Ashgabat Agreement will also continue," Jaishankar said. This 7,200-km-long multi-modal network of ship, rail, and road transport network connects India to Central Asia, Russia and Europe via Iran, Afghanistan, Armenia and Azerbaijan.
Meanwhile, air connectivity will resolve many of the issues faced by medical tourists, tourists and exporters and importers of perishable goods.
Air connectivity the obvious next step following Modi's 2018 visit
India's sporadic and anaemic ties with the five Stans of Central Asia underwent a paradigm shift following Prime Minister Modi's successful visit to these countries in July 2018. He was the first Indian Prime Minister to visit all five states on a single trip.
Looking to seal agreements to ensure India's energy security, open up these hitherto virtually untapped markets for Indian goods, win allies in the fight against terrorism and counter growing Chinese influence in the region, Modi said: "… We have resolved to intensify our cooperation further."
In Kyrgyzstan, the two countries signed agreements to cooperate with each other in the fields of information technology and medicine and explored the possibility of generating power from that country's massive untapped hydro potential.
"Kazakhstan is our biggest economic partner in the region. We will work together to take economic ties to a new level," the Indian Prime Minister said after his talks with that country's then president Nursultan Nazarbayev. The two countries also signed agreements on boosting cooperation and business ties in in sectors such as defence and railways and an agreement on uranium supply.
Kazakhstan, which has 15 per cent of the uranium reserves, is the world's largest producer of this strategically critical mineral and accounts for more than a third of global supplies.
The Prime Minister and his team signed agreements on combating terrorism and increasing economic relations with Uzbekistan and Tajikistan. India also signed an agreement with Uzbekistan for the supply of 2,000 tonnes of uranium to feed its nuclear reactors – on the same lines as the pact with Kazakhstan.
The potential is there; it just needs a push and greater people-to-people connect and easier connectivity to activate ties and deepen and massively expand the economic engagement. One or more air corridors, both for cargo and passenger flights, is clearly an idea whose time has come.
*Read more on India's plans to privatise Air India in the segment 'Last Word.'