10 reasons why the UK should care about Indian elections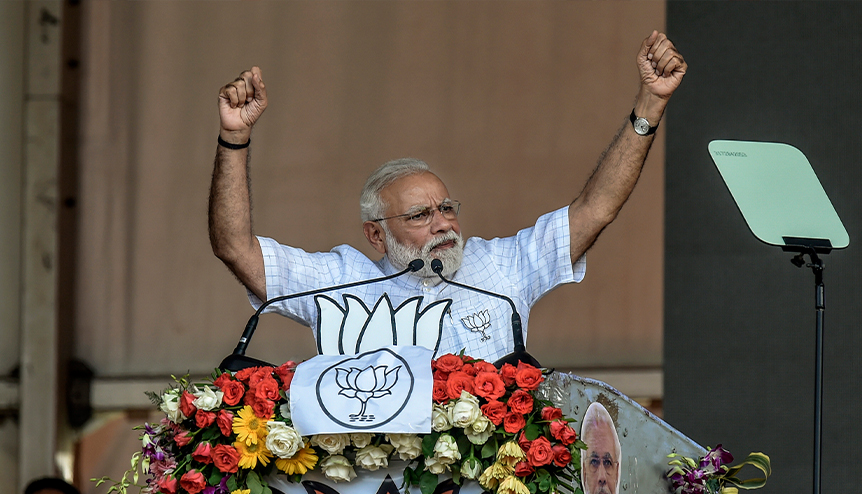 As the world's biggest celebration of democracy gets underway with the seven-phased Indian General Election, here is a wide-angle view on why a Brexit-weary Britain would be wise to keep a close eye on the ballot box outcome.
On April 11, Indians began voting in what has been categorised as one of India's most important elections in a generation. This in no way undermines any of the other major democratic events that have taken place in the country in the past but simply underlines the sheer complexity of the times.
Narendra Modi, who is seeking a second term as Indian Prime Minister, has been appealing to the electorate with a straightforward message of needing more time to complete the reforms and development agenda he initiated since May 2014. The Opposition Congress Party is hoping to capitalise on what it feels is growing disenchantment with Modi's promise of better days. Besides, there are scores of regional parties in the fray who, commentators believe, may well hold the key to some of the parliamentary arithmetic that may come into play on May 23 – the results day.
It is a well documented fact that second-guessing the Indian electorate has never played out well, as voters in the estimated region of 900 million could confound all pre-poll and exit poll forecasts yet again. However, the one thing that can be said with some certainty is that the whole world will be keenly watching this unparalleled exercise of democracy.
The UK, as one of India's key partners on the world stage, will no doubt be among them; but given the Brexit-hit upheavals at home, the Indian election is likely to slip down its agenda. Therefore, it is perhaps prudent to analyse the top 10 reasons why the Indian elections should matter to the UK – the persistent deadlock over its impending exit from the European Union (EU) aside.
Defence collaboration
India is the world's largest importer of defence equipment and the UK has struggled to be counted among its top suppliers, with the US, Russia, France, Germany and China dominating that landscape.
Prime ministerial visits to a string of ministerial ones on both sides over the recent past have attempted to fortify the India-UK defence collaboration, with Britain judiciously buying into Modi's Make in India programme to make itself more attractive to the Indian government. The UK will benefit from a focus on developing a strategy to transition from being an exporter to forming partnerships and strengthening supply chains within India to meet future defence requirements.
The potential for UK exports to India may be quite far from being met but some of the work certainly seems to be paying off, with the UK Office for National Statistics (ONS) figures released in March indicating that UK exports to India increased at the fastest rate among the country's top trading partners outside the EU. The UK registered a 19.3 per cent hike in trade with India in 2018, compared to the previous year. This far outstripped the hike with other trading partners such as Japan (7.9 per cent), China (4.6 per cent), and Canada (4.2 per cent).
The numbers do bode well for Britain's post-Brexit future as long as it does not take its eye off the ball with any new Indian government, which will continue to have a host of other global exporters lining up to align with the world's fastest-growing large economy.
Trade and investment figures
While the trade and investment figures have also registered a significant hike recently, there is a lot of headroom for these to be further enhanced.
The ONS figures analysed by the UK Department for International Trade (DIT) in June last year registered a 31.8 per cent hike in goods and services exports from Britain to India. India also emerged among the top destinations for UK services outside the EU.
DIT's Secretary of State, Liam Fox, said at the time: "Demand for high quality British products remained strong from countries outside the EU including China, India and Canada and we are putting companies in position to benefit from growing global opportunities."
However, this positive bounce aside, the other side of the coin is that the UK is no longer India's largest G20 investor, with Japan having muscled in on that distinction last year, and Brexit is far from good news for the 800 Indian companies operating in the UK.
"Several major Indian companies that have invested in the UK are concerned about post-Brexit developments especially around their supply chains. Some of the companies have decided to 'wait and watch' the developments before proceeding with their investment plans," the Confederation of Indian Industry (CII) warned in its written evidence to the UK Parliament's ongoing 'Global Britain and India' inquiry.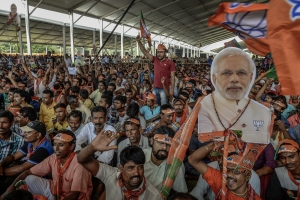 The UK is the fourth-largest investor in India and while it was beaten by Japan in the foreign direct investment (FDI) stakes as the largest G20 investor into the country, it remains ahead of Germany and France, who contribute 3 and 2 per cent respectively.
Whatever the hue of the government thrown up at the end India's latest polling drive, these figures will need a lot more work on the UK side – keen to woo markets outside the EU as part of its Global Britain mission. The UK Foreign Office has admitted that a lot more work is required before any form of a post-Brexit free trade agreement (FTA) can be signed off with India and that is where the ongoing work on removing barriers to trade will need consistency.
Indian diaspora
The Indian PM famously classified the 1.5-million-strong Indian diaspora in the UK as the "living bridge" between the two countries, a phrase which has taken on touchstone connotations across all sides of the India-UK political spectrum.
This bridge can wield considerable influence on the bilateral relationship as the largest diaspora community in the UK. As a group, the Indian diaspora in the UK comprises 4 per cent of the population and contributes an estimated 10 per cent of taxes to the UK Treasury. These figures were flagged just recently in the House of Commons, to which British Prime Minister Theresa May responded: "I welcome the contribution that the Indian diaspora are making to our country. Many of them are running businesses, employing people up and down the country and successfully exporting and supporting to our economy. But they also play a very important role in our society and the bilateral relationship with India."
This group has been extremely active during the 2019 election campaign, with thousands of non-resident Indians (NRIs) travelling back to their constituencies in India to vote and Overseas Citizens of India (OCI) trying to influence the vote despite not having the right to cast a vote. One only needs to look back at the rock star style welcome given to Modi during the mega diaspora event at Wembley Stadium back in November 2015, as then British PM David Cameron watched on in visible awe, for an idea of the intense election fervour that resonates across borders.
An election that matters so deeply to so many of its citizens is clearly an important one for the UK to track.
Indian students
The UK government recently launched its 'International Education Strategy' in preparation for its post-Brexit policies and has set a target of increasing the total number of international students from around the world choosing to study in the UK higher education system from the current level of 460,000 to 600,000 each year by 2030. This new strategy, set to be rolled out in the coming years, will offer undergraduate and Masters' students the chance to stay in the UK to look for work for six months after graduating.
Indian students, accounting for a large major chunk of applicants from outside the EU, are believed to be particularly sensitive to the post-study work option of being able to gain work experience following their degree courses at UK universities.
Vivienne Stern, Director of the Universities UK International (UUK), said: "We know that our Indian students are ambitious and passionate about their chosen career paths, and we welcome the focus on employability in the international education strategy."
UK universities hope that this would go some way in addressing the falling student numbers from India, which seems to have been arrested somewhat in recent months. In 2018, Indian student visa numbers registered a 35 per cent hike to hit 19,505 but with China at 99,723 visas, it is believed a lot more needs doing to attract more high fee-paying numbers from India.
Health service
India's ambitious Ayushman Bharat project, dubbed Modicare by virtue of the Indian PM's vision for it, has some very obvious synergies with Britain's National Health Service (NHS).
Described as the one of world's largest government-funded healthcare insurance schemes, Modicare is expected to benefit over half a billion people. The UK has acknowledged the massive potential of striking partnerships across this initiative, with a recent conference of healthcare experts from both countries at Queen Elizabeth Hospital in Birmingham.
Andy Street, the Mayor of West Midlands, told the gathering: "There couldn't be a better time for us to explore synergies and potential partnerships between India and the UK on life sciences."
"Indians form the single largest group among foreign-origin healthcare professionals serving in the NHS. No doubt, they can become the catalyst for taking UK-India collaboration to another level," noted Consul General of India in Birmingham Aman Puri.
Research & development
Beyond just the healthcare sector, India and the UK have been gradually working on creating a robust cross-sector R&D partnership.
UK Research and Innovation India (UKRI), based at the British High Commission in New Delhi, has overseen investments of over £300 million in co-funded research and innovation programmes comprising over 200 individual projects, involving over 175 different UK and Indian research institutions and more than 100 industry partners.
The collaborative projects cover an array of themes, including energy, environment, food security, health, IT innovations, social sciences, and humanities.
This next generation IT networks cover a deep cybersecurity partnership, with a 'Framework for the UK-India Cyber Relationship' clinched between Modi and May in April last year during the Indian PM's last UK visit. It commits both sides to an annual ministerial-level Cyber Dialogue alongside a commitment to "share knowledge on skills initiatives in cybersecurity".
Commonwealth
The Commonwealth, which represents the former colonies of the British Empire, have a combined population of 2.4 billion, with nearly half of that concentrated in India – making it the largest member-country.
After a hiatus of nearly a decade, Modi became the first Indian PM to attend the Commonwealth Heads of Government (CHOGM) summit in April last year, indicating India's willingness to play a more proactive role within the multilateral body.
"It is a great time for India and it is exciting to see the energised way in which new opportunities are being taken up," says Baroness Patricia Scotland, Commonwealth Secretary-General.
According to the 'Commonwealth Trade Review 2018', India is the top recipient of foreign direct investment (FDI) from within the Commonwealth and is the second-most lucrative source of investment within the organisation. Between 2005 and 2016, India remained the top recipient of greenfield FDI from the Commonwealth, more than doubling the amount it received over 10 years.
"There has been a complete sea change of attitude towards the Commonwealth, which is entirely to India's credit and to the Commonwealth's benefit. This has given the Commonwealth the boost it needs," notes Lord Marland, chairman of the Commonwealth Enterprise and Investment Council (CWEIC).
Demography
Much has been written and said about India's youth dividend and that dividend offers a ready base for the UK's own global competitive agenda.
UK Cabinet ministers have proudly flashed the most recent skilled worker visa figures as a sign of how Britain has been successful in attracting some of India's brightest to the UK. According to the most recent UK Home Office data, Indians form the largest chunk of highly-skilled professionals within the Tier 2 (General) category of work visas, accounting for 54 per cent of all such visas granted in 2018. Indian nationals also marked the largest increase in the grant of Tier 2 visas last year, up by 6 per cent at 3,023 more visas compared to the previous year.
Indians are also among the largest group of professionals set to benefit from a new UK government plan to remove any limit on the number of PhD-level work visas to be granted. Besides, Indians can also benefit from a new Start-up Visa category for those starting a business for the first time in the UK and an Innovator Visa for more experienced business people who have funds to invest in their business.
"Under the new system, operating from 2021, we will always be open to the brightest and best from India, who wish to come to live and work in the UK," notes UK immigration minister Caroline Nokes.
And, even before some of these incentives, a steady stream of Indian start-ups have been driving in to the UK market, most recently ride hailing company Ola and hospitality firm OYO Rooms.
Financial services
Many of these skilled professionals are also active within the UK's vibrant financial services sector and help strengthen this aspect of the bilateral relationship.
Over the past few years, the London Stock Exchange Group (LSEG) has been a hive of activity for Indian Masala bonds, with as many as 44 Masala bonds being listed over the past few months and Indian corporates raising the equivalent of over $6.5 billion in mostly oversubscribed bond offerings.
"London provides unparalleled access to international investors specialising in Indian infrastructure investment," the LSEG proudly proclaims.
The Masala, or rupee-denominated bonds, reflect just one aspect of a string of recent investments both ways, with the BP Lightsource and EverSource tie-up to help channel $330 million towards India's utility-scale solar and wind projects being a recent example.
Geopolitics
And, finally, the biggest asset of the India and the UK relationship is the bond that is shared by two functioning and vibrant democracies.
When it comes to some of the world's most attractive markets, China is often referred to in the same breath as India. However, it is equally crucial to not lose sight of the democratic credentials of any lucrative market.
The UK has often reiterated its "shoulder to shoulder" stance with India against terrorism and its very categorical condemnation of the most recent terrorist attack on Indian soil by Pakistani-based terrorists in February 2019 was largely welcomed in India. The reference to "Indian-administered Kashmir" still rankles but it is hoped such colonial hangovers over nomenclature can also be smoothened out over time as both sides continue to find synergies across serious international issues such as counter-terrorism and climate change.
India offers much-needed geopolitical balance in a region rife with many political, economic and security complexities and the UK would no doubt want to ensure that its relationship can carry on building on the winning partnership – celebrated annually with a UK-India Week.
The 10 reasons laid out above are by no means a comprehensive list of why the UK should be interested in the Indian General Election. They are an attempt at flagging some of the very crucial factors that lie at the heart of this important bilateral relationship. As Rahul Roy-Chaudhury, Senior Fellow for South Asia at the International Institute for Strategic Studies (IISS), encapsulated after a recent visit to India – if the polls throw up a BJP-led government for another term, India-UK relations would move forward along the lines of the November 2015 UK visit of Modi when a joint statement on closer political and security cooperation was agreed, rather than possibly from ground zero if it is any other kind of permutation.
Without falling into the trap of trying to second-guess the Indian voter, continuity would be a good starting point in the context of the elections in India and the complexities of Brexit in the UK.