Window of opportunity for India as UAE and Israel embrace peace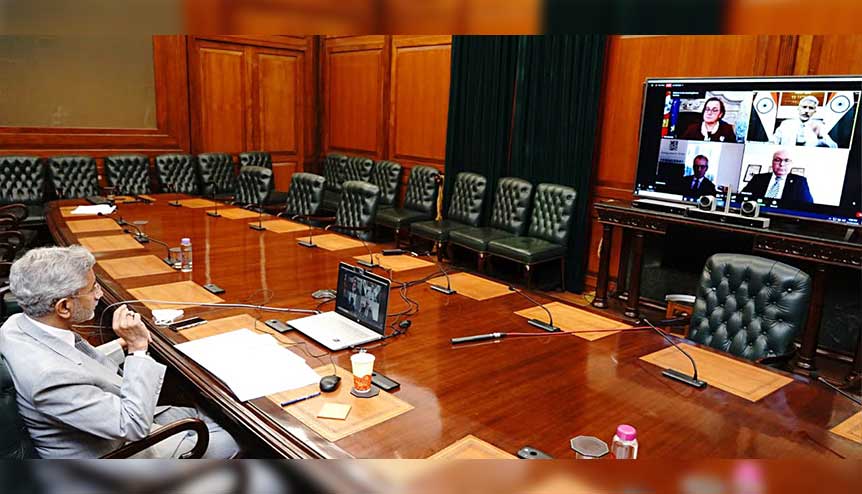 Normalisation of ties opens the way for strategic cooperation and boost in trade for India and Indian companies. The advantages to be derived for India are significant when assessed against the vast potential of trade and commercial activities between Israel and the Arab world.
A historic peace agreement between the UAE and Israel stands to benefit not only the Middle East but also India – an enduring ally of both nations which has assiduously nurtured and advanced its relationship with both countries during the tenure of Prime Minister Narendra Modi.
"[India has] excellent ties with both Israel and UAE, so the normalisation of ties between them is good news for India. It opens the way for meaningful cooperation in several areas of mutual interest ranging from conservation of water resources and promoting food security to joining hands in the fight against terrorism," said Navdeep Suri, India's former Ambassador to the UAE.
Have you read?
The Abraham Accord between Israel and the UAE is a boon for India
Dubai is a haven for Indian real estate investors
India-GCC dialogue paves way for robust growth
Indian diamond traders set to unlock sparkling potential of Israel-UAE ties
The UAE-Israel peace deal presents huge business opportunities for India
The potential of India continues to inspire us
Modi's strategic tango with Arab states paying rich dividends
India and the UAE seek to enhance commercial ties
A new chapter in Middle East diplomacy
The advantages to be derived for India are significant when assessed against the vast potential of trade and commercial activities between Israel and the Arab world, where New Delhi can be a crucial partner.
"[The UAE and Israel] will bring different mindsets to the table, different advantages, and I think the whole region will benefit from this agreement," Abdulla Bin Touq Al Marri, UAE's Minister of Economy, told CNBC in a recent interview. "All the other agreements are going to come in place, from aviation, from logistics and from technology… They're learning from us about logistics and hubs, and learning from us about tourism and connectivity," he said. "We're going to learn from them a lot on … the energy and water and space as well. These are the areas that we're actually very excited about," Al Marri said.
In August, the UAE became the third Arab country to open diplomatic ties with Israel in a US-brokered deal, and Bahrain soon followed suit. Egypt and Jordan established normal relations with Israel in 1979 and 1994, respectively. India's policy on Israel has also evolved – with PM Modi becoming the first Indian Prime Minister to visit Israel, in 2017, just months after hosting Palestinian President Mahmoud Abbas.
"It is simple to see the potential benefits of this move for India. Israel and India have enjoyed close relations in recent years, and India's Prime Minister Narendra Modi has also been able to cultivate strong relations with the UAE. With the two states normalising relations, the diplomatic environment in the Middle East will become more favourable for India," said Don McLain Gill, writing for the Asia & the Pacific Policy Society.
India's role in the equation
Indeed, with other key Gulf and Middle Eastern states such as Saudi Arabia, Oman and Egypt endorsing the UAE's decision, it implies that India's long-standing relationship with Israel won't be a hindrance when engaging with Arab and Gulf states.
Thanks to the dynamic economies of both the UAE and Israel, the peace agreement offers major scope to strengthen cooperation in vital sectors such as defence, cybersecurity, space science, healthcare, food security and financial services. According to Al Marri, the Minister of Economy, the UAE is looking at least eight trade and economic agreements, including double taxation and a free trade agreement with Israel, at a later stage. According to Israel's deputy chief economist Lev Drucker, the country's finance ministry sees the potential for annual bilateral trade starting at $2 billion and building up to $6.5 billion once cooperation matures.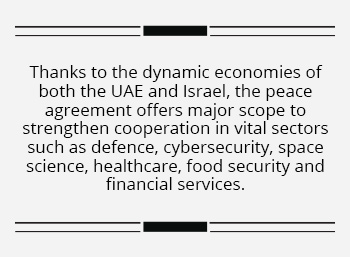 "The UAE has developed a reputation for pursuing a proactive and diversified foreign policy that stresses pragmatism over religious ideology; shuns extremism, and envisions a stable and moderate region that prioritises youth and prosperity," according to Dr N. Janardhan, senior research fellow for the Gulf-Asia Programme at Emirates Diplomatic Academy. "In a post-Covid, multi-aligned, technology-driven world, the UAE, Israel and India, along with the United States, will likely find that they have more common cause than they might have envisioned just a few months ago," he wrote in a column for Outlook.
Business boom
Large corporations from both countries have already rushed to seize the momentum, initiate dialogue to set up joint ventures and negotiate collaborative agreements. The UAE's Dubai Ports World, for example – one of the world's largest port operators – has signed an agreement with Israel's DoverTower to buy a stake in the privatisation of Haifa Port, Israel's largest port by cargo tonnage.
Soon after the announcement of the Abraham Accords, the UAE-Israel Business Council was established to foster economic cooperation and collaboration between the two nations. Its co-founder and deputy mayor of Jerusalem, Fleur Hassan-Nahoum, told Al Arabiya English that thousands of people have signed up to participate in the independent business council, with about half being Emiratis. "The council is both a platform for business connections and an active creator of joint ventures between the two countries," Hassan-Nahoum said.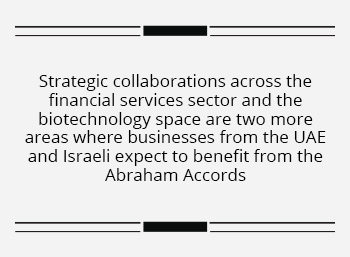 Strategic collaborations across the financial services sector and the biotechnology space are two more areas where businesses from the UAE and Israeli expect to benefit from the Abraham Accords, Ran Hamou, managing partner at France-based firm Everlaw, told the Medialine. "Each year, many Israeli startups are sold to foreign investors instead of developing their businesses to become major players… And UAE funds invest in many foreign companies around the world. If a UAE-Israel consortium were able to invest, such a group could [pursue business opportunities] across the entire European Union, and become a major player in that part of the world," Hamou said.
In this dynamic overhaul of trade relations, with annual trade between Israel and the UAE expected to reach $4 billion in just three years, here are some of the key sectors where Indian companies and businesspeople can contribute and collaborate:
Banking & finance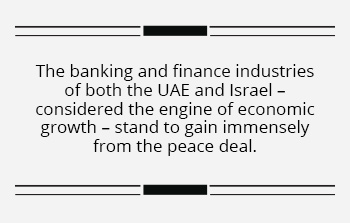 The banking and finance industries of both the UAE and Israel – considered the engine of economic growth – stand to gain immensely from the peace deal. The two countries signed a MoU on banking and finance on September 1, opening the door to agreements between institutions in both countries. A week later, the first official Israeli trade delegation arrived in the UAE, including the CEO of Bank Hapoalim, the biggest bank in Israel. Bank Hapoalim went on to sign an MoU with Emirates NBD, Dubai's largest bank, while Israel's second largest bank, Bank Leumi, later signed an MoU with Abu Dhabi Islamic Bank to explore areas for future cooperation in the UAE, Israel and other international markets. Such agreements will stand to benefit Indian tech companies such as Infosys – who play a major role in blockchain transactions between Indian and UAE banks.
The Abu Dhabi Investment Office, meanwhile announced that Tel Aviv would be the location for its first ever office outside of the UAE, while Israel's Harel Insurance Group signed a deal with the UAE's Dubai Insurance to provide services in both Israel and the UAE. These spate of agreements will help greatly in boosting the footprint of Indian fintech enablers who play a key role in facilitating transactions and the operating framework for most of these companies.
Shipping and transportation
The possibility of a direct shipping line between the UAE and Israel will be a major boost for Indian businesses and freight operations. While DP World is partnering with an Israeli group to bid for the privatization of Haifa Port, Danish shipping giant Maersk has announced that it would begin transporting cargo between the UAE and Israel. Similar collaborations could surge as innovators bring their experience together: Dubai's Al Habtoor Group and Israel's Mobileye have launched a partnership to create a fleet of self-driving "robotaxis" for Dubai. Testing of the autonomous vehicles will begin in 2021 and a pilot program is expected by the end of 2022.
Healthcare and Covid-19 vaccines
India's global expertise in vaccine production will come in handy as the UAE and Israel collaborate closely on coronavirus vaccine research. Private companies in Israel and the UAE announced in June that they would collaborate to develop research and technology in the fight against Covid-19. With the UAE and Israeli health ministers discussing how to better cooperate on tackling the pandemic and "ways to strengthen cooperation in the medical field," it opens up a plethora of opportunities for Indian pharma companies and vaccine manufacturers such as the Serum Institute of India.
Similar synergies are waiting to be explored in the broader healthcare and medical tourism category for Indian hospitals and allied companies.
Diamonds and precious stones
The diamond industry is literally set to shine in the aftermath of the peace agreement – with major benefits for Indian diamond traders. While Dubai is fast emerging as an industry leader, trading $23 billion in diamonds last year, Israel is also a major player with business worth $12 billion last year. Although neither Israel nor the UAE mines diamonds, the Israel Diamond Exchange is the largest in the world while Dubai hosts the largest trading floor.
Dubai aims to become the world's largest diamond dealer by 2023. The Dubai Diamond Exchange (DDE) and Ramat Gan-based Israel Diamond Exchange (IDE) have signed a range of trade partnerships and agreements aimed at building closer ties. According to Ahmed Bin Sulayem, CEO of the Dubai Multi Commodities Centre and Chairman of the Dubai Diamond Exchange, the new agreements would result in more Israeli diamond traders hosting and participating in diamond tenders in Dubai. For Indian diamond merchants and hubs like Surat – which polishes almost the entire bulk of the world's diamonds – this throws up closer and bigger opportunities for bulking up their trade volumes.
Tourism
With direct flights between the UAE to Israel slated to start soon, Indian travelers will form a significant part of the clientele both countries would like to woo aggressively. The UAE and Israel are both popular global tourism destinations, and are committed to facilitating direct tourism between the two countries. "We are working with all the relevant bodies to both facilitate the opening of direct scheduled routes and the visa issue, to ensure fast and easy travel between our two countries," Director-General of Israel's Ministry of Tourism Amir Halevi, said in an interview with Al Arabiya English. Conversely, it will also allow Indian tourism operators to offer new and easier gateways to Indian tourism hotspots for Israeli tourists.
Podcast: Play in new window | Download