Will Trump's tariff tantrums spark off a global trade war?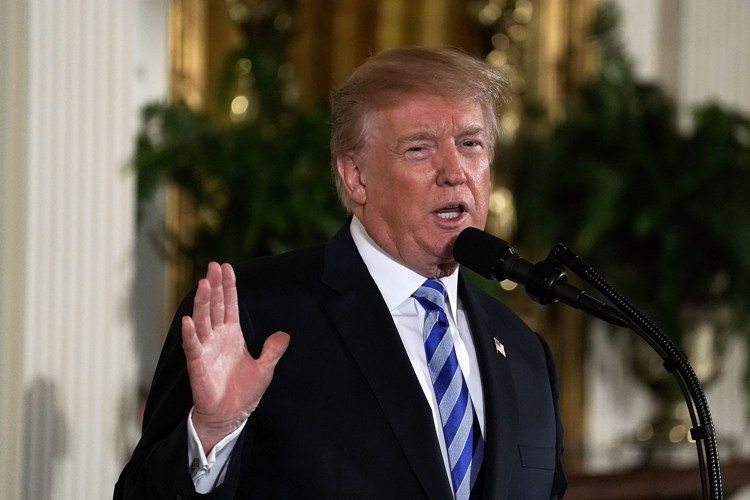 The signs are ominous. Recent utterances by the US President and top administration officials point towards more punitive import tariffs and entry restrictions to protect American industry. This could beget retaliation from China and others and seriously undermine the incipient global economic recovery.

The bull has entered the China shop and though it hasn't started rampaging yet, its first moves suggest that it could just be warming up.
US President Donald Trump has imposed high import duties on washing machines and solar cells to protect US industry, drawing strident criticism from China and a slightly milder statement from South Korea, the two countries immediately affected by the move.
Campaign promises
But governments around the world, including in New Delhi, are burning the midnight lamp trying to figure out if this was a one-off move or part of a larger strategy to redeem the US President's campaign pledge to his rust belt supporters.
These two punitive tariffs are in sync with what we know of Trump's attitude towards international trade – unilateral abrogation of international trade agreements, higher import duties and a strong bias towards domestic manufacturing – in his pursuit of making America Great Again.
Concerns in New Delhi
India has not reacted officially to this latest salvo in what could snowball into an all-out trade war.
But in private conversations, Indian officials admit that they are uneasy about Trump's hawkish pursuit of his "America First" slogan.
In sharp contrast with Indian Prime Minister Narendra Modi's "India First" credo, which envisages an embrace of free trade and forming partnerships with the world's leading industrial and technological countries to make Indian companies world class, the US version is more narrowly focused on squeezing foreign suppliers and companies out of the American market.
Complaints before WTO
The US has, in recent months, complained that India is not complying with World Trade Organisation rules on issues such as prescribing a mandatory domestic content on solar panels and allowing the import of US poultry products. Besides, it has also reiterated its long-standing grouse against what it calls restrictive trade practices and patent infringement on pharmaceuticals, IT and intellectual property rights.
Cutting the trade deficit
A major goal of Trump's protectionist vision is to cut the US' trade deficits with its major partners. India enjoys a $20-billion trade surplus with India and the Trump administration has told Indian Prime Minister Modi that the two sides should work towards reducing this gap.
"It is important that barriers be removed for the export of US goods into your markets and that we reduce our trade deficit with your country," Trump had told Modi during their meeting last year.
"The United States and India plan to undertake a comprehensive review of trade relations with the goal of expediting regulatory processes; ensuring that technology and innovation are appropriately fostered, valued, and protected; and increasing market access in areas such as agriculture, information technology, and manufactured goods and services," the joint statement issued after Modi's meeting with the US President had said.
Steel, aluminium, cars could be next
Many analysts in the US are expecting the White House to soon decide on increasing tariffs on steel, aluminium and automobile imports into the US in order to revive Detroit, the erstwhile auto hub of the world, and the fortunes of the US rust belt, which is… well, rusting.
In case of such a decision, India will be directly impacted. Though these expected higher tariffs may not specifically be aimed at India, that will offer little solace to India's steel industry, which is seeing a revival in recent months, or to its booming automobile sector, which has taken baby steps to enter the US market.
It's all about visas
India exports almost $100 billion worth of software services to the US. In recent months, India's leading software companies have found the going tough for a number of reasons.
One of the causes is the squeeze on H1B visas that are used by Indian IT majors to send many professionals to live and work in the US. Since coming to power, the Tump administration has made it much more difficult for Indian professionals to avail of this entry permit.
Indian policy makers feel any unilateral concession by India on trade with the US will be extremely difficult without a reciprocal gesture from the White House on Indian concerns over the grant of visas to its professionals.
No signs of backtracking
"We cannot have free and open trade if some countries exploit the system at the expense of others," the US President said recently. "We support free trade, but it needs to be fair and it needs to be reciprocal because, in the end, unfair trade undermines us all."
Back in 1990, Trump, who was not in politics then, had told 'Playboy' magazine that if he were ever to become President of the US, he would increase taxes of every Mercedes Benz and every Japanese car being imported into the US. Almost three decades later, he seems to be making good on that promise.
Now, analysts in the US and governments around the world are keeping a close watch on how Trump navigates through several multilateral trade agreements, such as the North American Free Trade Agreement (NAFTA) and a possible revival of the Trans-Pacific Partnership, which Trump arbitrarily scrapped citing terms that were allegedly unfair to the US.
There are already apprehensions in the US, Canada and Mexico that Trump may walk out of this long-standing agreement, which many considered a proxy for US support to free trade. A Reuters report last month quoted unnamed Canadian officials as saying they expect the worst.
Trump did not help matters by telling CNBC: "NAFTA's a horrible deal. We're renegotiating it. I may terminate NAFTA, I may not. We'll see what happens. I'll terminate it or renegotiate it."
Steep and slippery slope
Economists and policy wonks across the world are concerned that if Trump continues to take the US down the path of protectionism, other countries follow suit and impose higher tariffs to restrict the entry of US goods into their jurisdictions.
They fear that with national interests as well as jobs and prosperity at stake in these countries, it wouldn't take long for politicians to raise tariff walls against all or most imports, thus, hurting the incipient global recovery.
Immediately after the US announced the imposition of higher entry tariffs for washing machines and solar cells, China released an angry statement expressing its strong dissatisfaction and declaring that it will "resolutely defend its legitimate interests".
Given the simmering tensions between Washington and Beijing, such strong language was, perhaps, to be expected. But even South Korea, otherwise a US ally, has decided to hit back and said it would retaliate against the higher US levies, which are expected to hurt the fortunes of two of its largest chaebols – Samsung and LG – which are among the world's largest makers of washing machines.
Ominous signs
US media reports suggest that the language used by Trump and his senior officials at the recently concluded World Economic Forum summit in Davos could presage more such punitive measures against more countries and a wider array of goods and services.
US Commerce Secretary Wilbur Ross said rather combatively that the US would no longer be a "patsy" on trade. "Trade wars are fought every single day. The difference is US troops are now coming to the ramparts," he declared.
These are ominous pointers to the thinking in the US administration. The old saying "If America sneezes, the world catches a cold", unfortunately, still holds true despite signs that the influence of the US on global trade is on the decline.
The global economy is slowly inching its way out of a long worldwide slowdown. Any precipitous action by the US and retaliatory measures by China and other global trade giants will almost certainly set this process back by years, if not decades.
And an ebbing tide will bring down all the boats. Therein lies the fear for emerging economies such as India and recovering ones like the United Kingdom.