Why the Sitmex naval drill matters for Indo-Pacific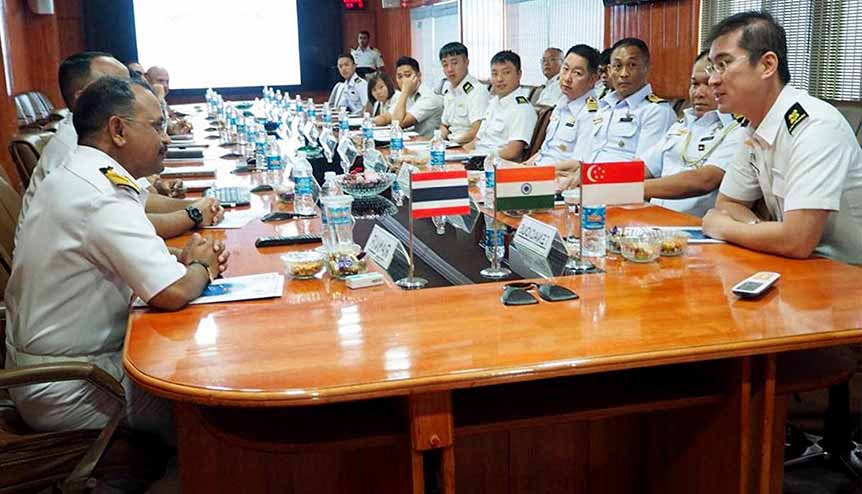 This annual exercise is a key manifestation of intra-Asian security networking and highlights growing synergy between the three friendly navies of Singapore, India and Thailand.
In June 2018, during his address at Shangri-La Dialogue, Indian Prime Minister Narendra Modi had announced a trilateral maritime drill between India, Singapore and Thailand.
Two years on, the Singapore-India-Thailand Maritime Exercise (SIMTEX) has emerged as one of the key pillars of defence cooperation and maritime readiness between India and pivotal powers of the Indian Ocean.
Read more:
Indo-Pacific instills new momentum into India-France ties
Japan-India can further a free and open Indo-Pacific
India's lease of US weapons systems an example of strategic convergence
Biden presidency will not rock the boat of India-US ties
India shining in the Middle East
Atmanirbhar Bharat means an India that works for global good
Rapid missile tests by DRDO demonstrates drive towards self-reliance
The second edition of the trilateral Naval exercise concluded in the Andaman Sea recently, with the Indian Navy deploying its indigenous Anti-Submarine Warfare corvette INS Kamorta and missile corvette INS Karmuk for the exercise held on November 21 and 22 and hosted by the Singapore Navy. Singapore deployed a 'Formidable' Class frigate 'Intrepid' and 'Endurance' Class Landing Ship Tank 'Endeavour' and the Royal Thai Navy deployed a 'Chao Phraya' Class frigate 'Kraburi' for the exercise.
"The exercise, being conducted as a 'non-contact, at sea only' exercise in view of COVID-19 pandemic, highlights growing synergy, coordination and cooperation in the maritime domain between the three friendly navies and maritime neighbours," the Indian Navy said in a statement.
As the host for the exercise this year, the Republic of Singapore Navy (RSN) led the conduct of the at-sea only exercise. The participating ships executed gunnery and small arms firings, manoeuvring drills, communications exercises, and naval warfare serials. This year's exercise was planned virtually due to COVID-19 restrictions, and there was no physical contact between personnel of the participating navies during the exercise.
Enhancing overall maritime security
Besides improving inter-operability between the friendly navies, SITMEX series of exercise – along other recent Indian maritime ventures such as the Malabar exercise – also aim to bolster mutual confidence and develop common understanding and procedures towards enhancing the overall maritime security in the region.
More to read:
Biden's bold new era of engagement with India
India, EU share common cause against terror, expansionism, unilateralism
India strides across Asia with its influence and inspiration
India and Italy revisit and re-energise their strategic ties
Australia and India, converging perceptions, aligning interests
India sends a subtle message to China through the 2+2 dialogue
India-South Korea cash in on unlimited opportunities
On the face of the current geopolitics of the Indo-Pacific, such exercises "attest to the intra-Asian security networking at work in the region as well as the role India continues to play with certain Southeast Asian states in operationalizing new instances of maritime collaboration in strategic spaces including the Andaman Sea," said Dr Prashanth Parameswaran, Fellow at the Wilson Center's Asia Program. "This also took place amid a series of broader developments, including the rising discussion of Indo-Pacific visions and increasing defense linkages among Southeast Asian states and between New Delhi and pivotal countries from the region," he said.
Crucially, operations such as Sitmex are also closely aligned with India's Mission Sagar that aims to enhance maritime security in the Indo-Pacific region.
According to Lieutenant Colonel Oh Zongbo of the Singapore Navy, who is also Commander of the Sitmex-20 exercise task group and commanding officer of RSS Intrepid, it was critical for the three navies to continue to engage one another amidst COVID-19 challenges. "SITMEX serves as a useful exercise for the three like-minded navies to enhance our inter-operability in maritime operations. The ability to execute and conduct these operations together is a testament to the long-standing ties and trust that we have established with one another," he said.
With such naval drills and collaborative approach, India has thus once again played a key role in altering the maritime defence readiness of the Indo-Pacific and made the vital sea corridor more secure for global trade.