Why is the western media biased about India?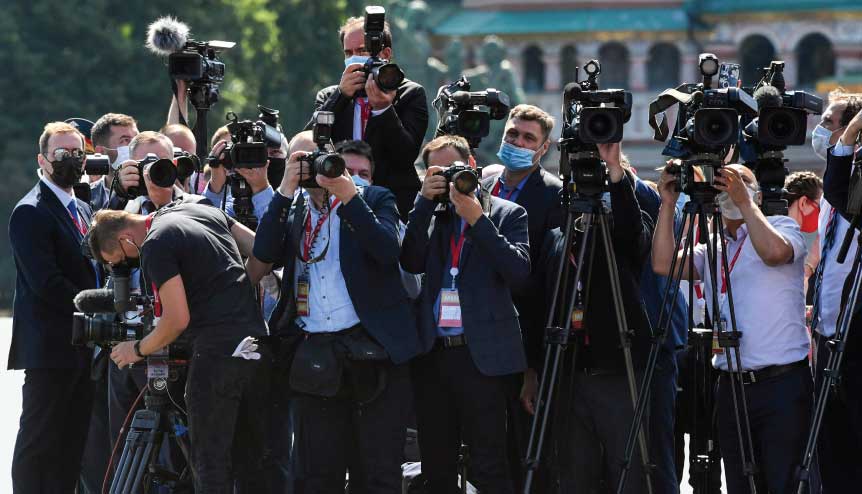 For many in the Western media and power circles, India can only be a metaphor of violence, bigotry, poverty and social discontent – the facts on the ground don't matter to them at all. In this battle of half-truths and outright lies, India and its government apparatus has certainly got a lot more to do to counter such jaundiced journalism.
Opinion is cheap – but facts are expensive.
That would be the key takeaway if anyone casually browses through some of the coverage of India by prestigious news media from the west in the recent months and years.
At the onset of the riots in Delhi in February, foreign media rushed to pronounce the verdict barely hours after the violence had begun: "pogrom," "genocide," it screamed.
Related stories: "Thank God" for Modi's economic and social reforms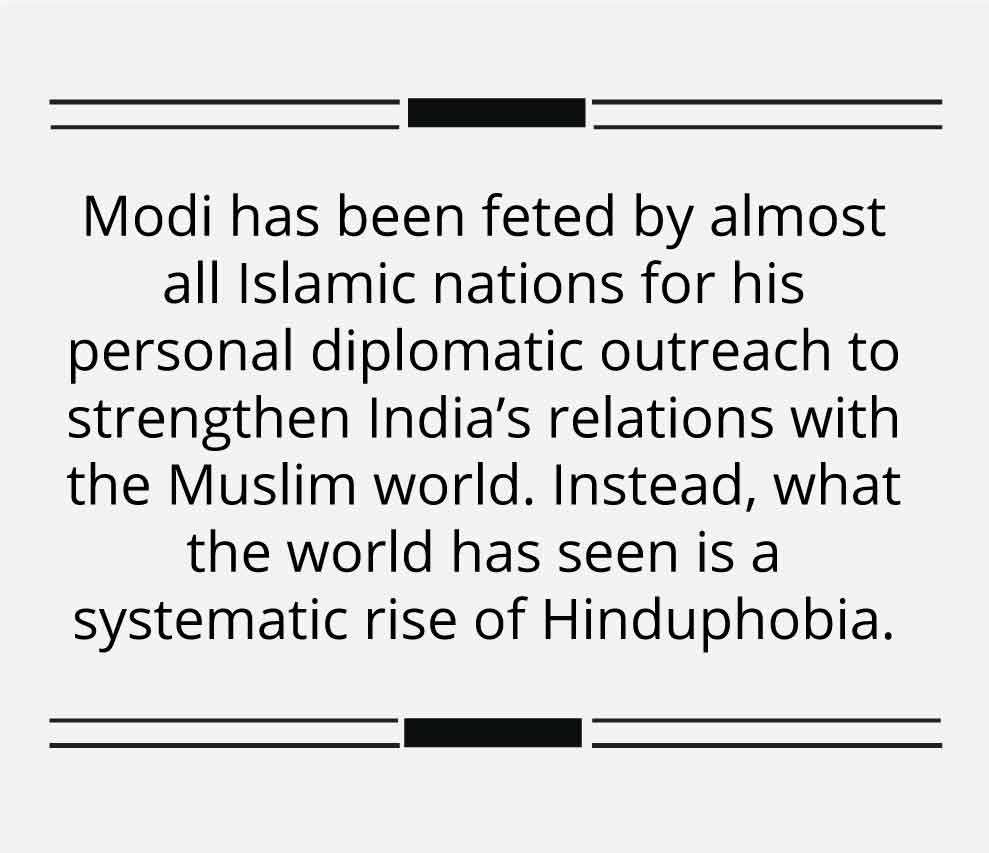 In an editorial dated February 26, The Guardian called the riots a "Hindu nationalist rampage" and informed its readers that "[Indian Prime Minister] Narendra Modi stoked this fire", while US presidential hopeful Bernie Sanders also joined the chorus of "widespread anti-Muslim mob violence" in Delhi.
Shortly before that, The Economist declared on its cover: "Intolerant India: How Modi is endangering the world's largest democracy".
That cover was reminiscent of Time magazine's infamous story in the run-up to the 2019 Indian parliamentary elections, which called Modi "India's Divider in Chief".
Perhaps as a way of an answer, the Indian Prime Minister returned to power with a record-breaking parliamentary majority for the BJP in May 2019.
But that couldn't stop American comedian John Oliver branding the democratically-elected Indian Prime Minister a "symbol of hate" – a term he seems to have not even used for the likes of Kim Jong Un or Recep Tayep Erdogan.
Reportage based on sublime lies
Of course, the toxic discourse doesn't just stop with hate – it covers the coronavirus too!
Former Goldman Sachs boss Jim O'Neill recently thanked god that the Covid-19 pandemic did not start "somewhere like India" – perhaps out of amnesiac memory that failed to remind him that the virus actually began in China's Wuhan and then spread to Europe.
Indeed, as Shashi Shekhar Vempati – the CEO of India's public broadcaster Prasar Bharati – recently articulated, such reportage is based on factual inaccuracies, false perceptions and sometimes even sublime lies. "We are sending rejoinders [to foreign media publications] backed by solid facts. It is factually incorrect to call [the Delhi riots] a pogrom as there were casualties and losses on both sides," an Indian Information and Broadcasting Ministry official told Outlook magazine, which also reported that the ministry had sent such rebuttals to media companies such as The Guardian, Washington Post, Time, Al Jazeera, The Economist, Huffington Post, New York Times and the BBC.
Turning down a BBC invite to an event, Vempati wrote to its chief Tony Hall that the broadcaster's coverage of the recent Delhi riots was "one-sided" and "damningly silent" on attacks on policemen and the brutal murder of an
Indian Intelligence Bureau official.
Biased reporting vitiating atmosphere
"Fake news and biased reporting by foreign media are vitiating the atmosphere in India and perpetuating false perceptions abroad. India is the world's largest democracy and one of the largest open markets for consuming English media. Most of these media outlets have reached a saturation point in terms of growth in their primary markets in the West. The only other big market is China, which has very high barriers and is not English-speaking. That's why these outlets are hyper-focused on reporting every minor incident in India. Even a small controversy can cause a substantial spike in digital traffic to these outlets that are increasingly challenged to sustain their growth through digital," Vempati told the magazine.
As these examples vigorously demonstrate, for many in the Western media and power circles, India can only be a metaphor of communal violence, bigotry, poverty and social discontent. In this battle of perceptions, India and its government apparatus has certainly got a lot more to do.

Problem with the point of view
While Western media has traditionally produced some of the finest works of global journalism and has generally been devoid of the shrill partisan spirit of state media apparatus, one of the problems that gives rise to such misleading and offensive coverage is that it still continues to view India through the prism of Orientalism. The west still imagines India as the land of elephants, naked fakirs and snake charmers where people are routinely butchered and women raped.
This deep-rooted endemic bias results in poor judgment calls and the failure to grasp the ground reality, often mingled with ignorance of local culture, customs and history – invariably, the leadership positions of these media companies' bureaus in Delhi, Mumbai, Bangkok or Colombo are usually filled by Westerners and not local journalists.
Who are they concerned about?
This problem of bias seems to have intensified in the Modi government's second term – and the cacophony over the Citizenship Amendment Act (CAA) and the abrogation of Article 370 revoking Jammu and Kashmir's special status seem to be cases in point.
While most outlets mentioned above rushed to condemn the CAA as well as abrogation of Article 370, if unbiased concern for minority rights was indeed their avowed concern, then surely the world would have heard much more about the barbaric plight of Hindus and Ahmadiyas in Pakistan, Uighurs in China or the Pandits of Kashmir. In fact there's barely any mention in foreign media of the fact that India is home to 200 million Muslims – the world's second largest – an overwhelming majority of whom have chosen to settle down in India rather than migrate to a Muslim-majority country.
The wrong point of view
One of the key reasons behind such outright bias and blatant partisan reporting is the point of view.
As New York-based reporter and Yale graduate Shravan Bhat explained succinctly in a column: "In the newspaper business, you have to sell stories and to sell stories, you have to sell a narrative. It seems they feel that a narrative of dreariness and outrage is what will sell. In a country of 1.3 billion people, every rape story has the potential to make The New York Times. Every communal scuffle can make The Guardian… What if the roles were reversed? I like to imagine an India in the not-too-distant future, where Indian foreign correspondents in Chicago file weekly stories on tragic gun-crime to blood-thirsty newsrooms in Bombay. Or freelance journalists stream Indian audiences a steady flow of ghastly stories about priests abusing children."
Narrative reinforces the stereotypes
As Bhat contends, the image of India in the West seems to be of a dysfunctional democracy, and the reportage by Western media only reinforces those stereotypes – while Indians blithely follow F.R.I.E.N.D.S as the barometer of American life. "I wonder how Americans would feel if they knew the dominant narrative being beamed to India was that of America collapsing under populist right-wing bigotry, gun crime and degenerate drug crises. What India sees instead is gleaming Manhattan and sci-fi San Francisco," he said.
Rise of Hinduphobia
One contributing factor to this narrative is the rapid advent of Modi and the BJP to dominate the Indian national political scene, and the resultant Islamophobic paranoia that the Western press was encouraged to whip up freely. It's another matter that Modi has been feted by almost all Islamic nations – from Saudi Arabia and the UAE to Palestine and Afghanistan – for his personal diplomatic outreach to strengthen India's relations with the Muslim world. He has been awarded the highest civilian honors of Saudi Arabia, the UAE and Bahrain – but then opinion is cheap and facts are expensive.
Instead, what the world has seen is a systematic rise of Hinduphobia all around. US political leader Tulsi Gabbard once responded to a tweet describing the experience of an American who was faced with hate speech from her Uber driver for being a Hindu – and the result was that Western media immediately pounced on Gabbard for her rejoinder.
Toxic mix of racism and envy
Combine this atmosphere with a toxic mix of racism, envy and clandestine geopolitics – and it becomes clear why foreign media loves the frequent bouts of bashing India and its Prime Minister.
In 2020, India with its GDP of $3.202 trillion, has overtaken the UK and France to emerge as the world's fifth largest economy. By purchasing power parity (PPP), Indian GDP at $12.363 trillion is already four times Britain's PPP GDP of $3.131 trillion. The rapid rise of India's stature on the global stage has brought about – in the true spirit of Newton's third law – an equally opposite (and vicious) gathering of sinister international forces in a desperate bid to discredit the Indian success story.
The result is journalism that is at once jaundiced and elitist – and such practices run the risk of being relegated to the dustbins of history.