Why India has the edge in race to produce indigenous vaccine
As three separate trials play out in the next few weeks and months, the success of a home-grown Covid-19 vaccine will make access easy and affordable in India and around the world.
Indian scientists are racing to produce an indigenous coronavirus vaccine, and Prime Minister Narendra Modi brought the proud development to the forefront during his Independence Day speech on Saturday – announcing that the country has three Covid-19 vaccines under trial and will ensure that a vaccine reaches every citizen.
Once a vaccine is approved, "the road map for its production and distribution among Indians is also ready," Prime Minister Modi said.
Have you read?
Vaccine pact with Wockhardt new shot in the arm for UK-India ties
Why India leads the race to manufacture a COVID-19 vaccine
India is a world leader in producing vaccines
While unlisted Indian vaccine maker Bharat Biotech International Ltd has received regulatory approval to start human clinical trials for its experimental shot from the Indian Council for Medical Research (ICMR) – India's apex medical research body – this vaccine is likely to be ready for Stage 2 human trials in September. Zydus Cadila and Serum Institute of India also have vaccines under trial.
The development of both Bharat Biotech and Zydus Cadila vaccines have followed encouraging data from the first part of the Phase-I/II Covaxin trial from Bharat Biotech and positive safety results from the Phase I/II trial of ZyCoV-D from Zydus Cadila. Serum Institute of India (SII) has meanwhile received the Drugs Controller General of India (DCGI) nod to conduct the Phase II/III trial of AstraZeneca and the University of Oxford's COVID-19 vaccine Covishield at 17 Indian hospitals.
We are pleased to announce that we are collaborating with the @SerumInstIndia and the @GatesFoundation to accelerate manufacturing and delivery of up to 100 million doses of future #COVID19 vaccines for low- and middle-income countries in 2021: https://t.co/ogIp5dWTNy

— Gavi, the Vaccine Alliance (@gavi) August 7, 2020
Leadership in global vaccine manufacturing
"India is well-known for its leadership role in global vaccine manufacturing capacity, but now it is crucial for the country to develop a cost-effective indigenous vaccine to fight against the deadly virus. While the global companies are already leading the Covid-19 vaccine development race, Indian companies are trying their best to be successful," said Bhavani Nelavelly, Pharma Analyst at GlobalData.
While the country is making rapid progress in the development of indigenous Covid-19 vaccines, with a surge in the number of coronavirus cases, their success will make access easy and affordable for Indians. According to GlobalData's Pharma Intelligence Center, there are 13 Indian organisations (including the University of Hyderabad and the Indian Institute of Technology Guwahati) working on the Covid-19 vaccine development.
The top five companies in the global race to develop a Covid-19 vaccine are Moderna, AstraZeneca and Pfizer along with Sinovac and Sinopharm from China. Except for AstraZeneca, none of the others have initiated trials in India, which is important for a vaccine approval in the country.
Journey towards self-reliance
But as succinctly summed up by Prime Minister Modi, an eventual vaccine produced in India is most likely to come from its home-grown companies, reflecting the country's journey towards self-reliance or Atmanirbhar amid the health pandemic and its resultant economic crisis.
"Today in India, not one, or two but three vaccines are in the stage of testing. As soon as there is a green signal from scientists, the country is prepared to produce it in large numbers," Prime Minister Modi said, recalling that when the coronavirus pandemic broke out, there was only one testing lab in India – a number that has now grown to 1,400.
While India, like any other country battling the virus, might be beset with hundreds of thousands of social and economic problems, there were millions of solutions to each problem. "Amid the Covid-19 pandemic, 1.3 billion Indians took the resolve to be self-reliant and 'Aatmanirbhar Bharat'  is on the mind of every Indian. This dream is turning into a pledge.  Aatmanirbhar Bharat has become a mantra for the 1.3 billion Indians today," Prime Minister Modi said, addressing the nation on 74th Independence Day from ramparts of Red Fort.
You might also like to read: India critical to global COVID-19 vaccine mission
India's healthcare sector has much to offer Africa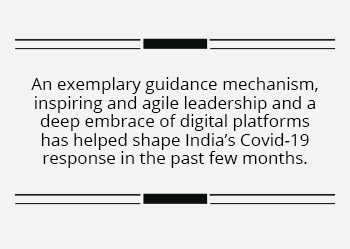 Indeed, while India used to import N-95 masks, PPE kits and ventilators a few months ago, it is now not only producing them indigenously but also distributing it to help to other countries around the world.
An exemplary guidance mechanism, inspiring and agile leadership and a deep embrace of digital platforms has helped shape India's Covid-19 response in the past few months – thereby turning a crippling challenge into an opportunity of a lifetime.
For instance, a team that was swiftly assembled comprising top virologists, medical experts and administrators from the country – called the Expert Group on Vaccine Administration for Covid-19 – has already dived in to the procurement mechanisms for the vaccine, along with guiding principles for prioritisation of population groups for vaccination.
Creating a digital infrastructure
The expert group deliberated on "conceptualisation and implementation mechanisms for creation of a digital infrastructure for inventory management and delivery mechanism of the vaccine, including tracking of vaccination process with particular focus on last mile delivery," the Indian Health Ministry said. "The group delved on the procurement mechanisms for Covid-19 vaccine, including indigenous manufacturing, along with guiding principles for prioritization of population groups for vaccination," it said.
Vigorous debates on delivery platforms, cold chain and associated infrastructure for the manufacturing and roll out of vaccines have paved the way for new strategies and follow-up action on all possible post-pandemic scenarios to ensure equitable and transparent delivery. Sensitive issues such as vaccine safety and surveillance have been given the top priority not only to protect India's intellectual property but also to ensure full transparency to the community.
And even though it races to produce an indigenous vaccine, India has not forsaken its friends and neighbours: there have been threadbare discussions to support to its key neighbors and development partner countries for Covid-19 vaccines. "The expert group discussed how India will leverage domestic vaccine manufacturing capacity for early delivery of vaccines not only in India but also in low and middle income countries," the health ministry said.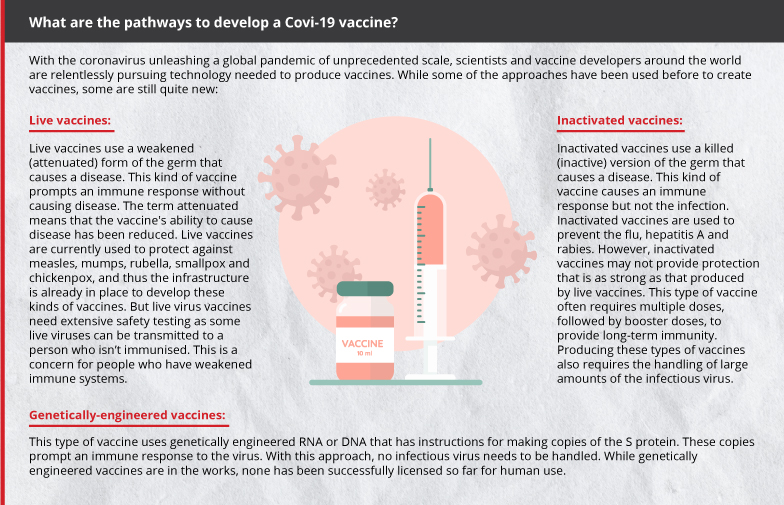 WHO's appeal to countries
The massive efforts underway to develop a vaccine in India have also found an echo with the World Health Organisation (WHO) – which has urged countries to invest billions of dollars in searching for Covid-19 vaccines and treatments and called it a snip compared to the vast economic cost of the coronavirus crisis.
Citing the International Monetary Fund's predictions of the pandemic wiping out $12 trillion over two years, the WHO urged countries to spend on shared solutions. "It's the best economic stimulus the world can invest in," WHO chief Tedros Adhanom Ghebreyesus told a virtual press conference.
While the WHO insisted it was a smarter bet than the trillions of dollars being thrown at handling the consequences of the global pandemic, India has already shown the world how cost-effective solutions can be developed for debilitating conditions such as polio and AIDS.