Where Made in Mexico meets Make in India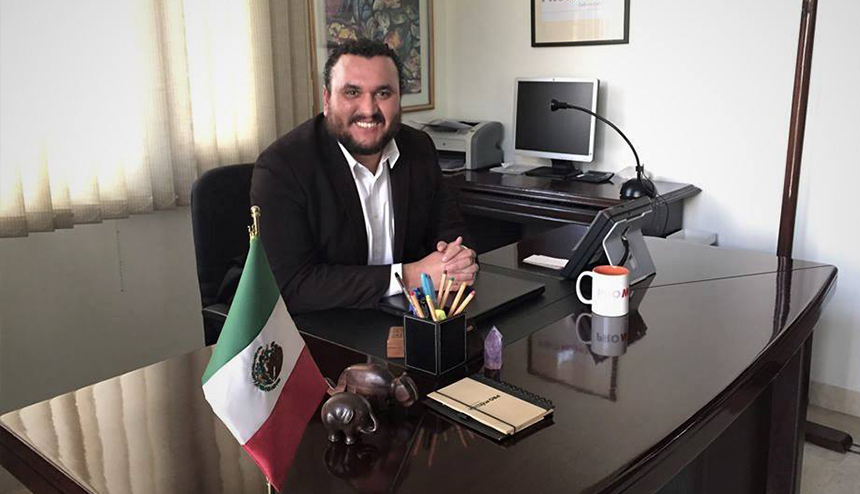 Rodrigo Blanco Zamora is the Director of ProMéxico India, Mexico's investment promotion agency. In this interview, he lays out the attractiveness of the South American region to Indian investments and how the India-Mexico strategic partnership is a win-win for both emerging economies.
What are some of the defining features of the "strategic partnership" between India and Mexico?
Definitely India and Mexico share a multitude of social factors, such as food habits, dress styles and artistic forms, as a result of our early encounters that date back to the colonial period of the 16th century through the Manila Galleon Pacific trade route. Those early contacts have carried us to years of friendship and cooperation between the two nations that have grown steadily. Although, we have barely scratched the surface of the relationship between our two countries, we must work together in order to unlock our combined potential.
As emerging economies, both countries have unique strategic capabilities that will allow us to take advantage of the current economic climate.
As the "Made in Mexico" and "Make in India" initiatives show, our countries have faced similar situations and challenges, and thus have a lot of experiences that we can share with each other.
What are the kind of Indian investments being attracted by the country?
Foreign investment is one of the main steps to enter the global market and, in recent times, India has taken the necessary steps to make its presence felt worldwide. In Mexico, the accumulated investment of India is estimated at $3 billion, through the 70 Indian companies (approx.) established in Mexican territory, which has been followed up by ProMéxico from the start of their investment projects, until they settle in our country, and through their development afterwards.
The sectors with the best performance for Indian investments in Mexico are IT, pharmaceuticals and automotive. Most of the Indian companies find their home in the West North-Central region of the country, mainly of the automotive industry due to the incentives that the region offers and strategic location for the sector; 65 per cent of total investments during 2017 corresponded to this sector. Up today, Mexico is the second destination of Indian FDI in Latin America.
Are there areas you would highlight where Indian companies can focus their future expansion plans?
Growth and expansion are key goals for most business owners and entrepreneurs, and certainly, some of the most common areas to look forward are expand into new territories and target new customer markets.  In this sense, Mexico is a strategic ally in the expansion plans of the world's leading multinationals, because offers many competitive advantages, not least macroeconomic stability, a growing domestic market, legal certainty, a strategic geographic location, a skilled workforce and experience in medium- and high-technology manufacturing, which, together, constitute a unique, highly competitive platform for international trade and investment, confirming that Mexico is synonymous with opportunity.
What are some of the policy attractions of investing in your region?
The Mexican economy has opened itself up to foreign investments in the fields of telecommunications, public utilities and petroleum, in which government owned companies started reducing their predominant position. The country is also planning a major expansion of infrastructure, including airport infrastructure, which could also attract foreign investors.
The current evolution of political and financial reforms initiated in 2014 by the current government and the network of free trade agreements granting preferential access to 46 international markets, soon to increase considering the implementation of the CPTPP [Comprehensive and Progressive Agreement for Trans-Pacific Partnership] by the end of this year, has greatly improved the economic situation in Mexico and has made of the country one of the emerging economies most open to foreign direct investment.
Manufacturing, which is supported by exports, attracts almost 45 per cent of Mexico's total FDI. These exports are aided by several programs of the Ministry of Economy, free trade agreements (USMCA, for instance the main target for investors) and the geographic positioning of Mexico (its proximity to North American countries and Latin America). As well, since 2014, the Mexican government has also been planning to create new industrial centers, which could encourage FDI. Additionally, since 2014, the Mexican government has also been planning to create new industrial centers (located in the southern states of Guerrero, Oaxaca and Chiapas), which could encourage FDI.
All these efforts from the Mexican government conveys into the positive recognition that Mexico has received for the ease of doing business though different global rakings in recent years and is perceived in the Mexican current economy.  Mexico is the eight most attractive destinations for FDI in 2017, according to a PwC CEO Survey.
How has the energy partnership of the two countries developed over recent years?
The trade of oil and gas between India and Mexico is already a strong trade relation, India is the third-largest consumer of Mexico's crude oil.
In 2015, Dharmendra Pradhan, the Indian Minister for Petroleum and Natural Gas, made an official visit to Mexico, and in this year, the Deputy Secretary of Energy for Hydrocarbons of Mexico, Aldo Flores-Quiroga, visited India twice. Also recently, Mexico supported India's bid to become a member of the Nuclear Suppliers Group in a more emphatic gesture of support and collaboration to the Indian energy cause, and, both countries have an MoU on cooperation in the field of New and Renewable Energy, signed in 2008.
I believe that, these actions taken by the two countries are demonstrative of the determination to improve trade in this sector.
Is the goal set for a reciprocal trade and investment relationship on track?
Steps are been given, such as the signature of a memorandum of understanding on cooperation in SMEs (2006), which could had been a indicative clue for the path of the two countries who saw a high point in diplomatic relations in 2007 with the agreement of the Privileged Partnership, a Double Taxation Avoidance Agreement and, in the same year as well, the Agreement for the Promotion and Reciprocal Protection of Investment "APPRI", an instrument that contribute to increase the diversification of investment flows between both countries.
Since that year, there has been a substantial increase in bilateral trade between the two countries, with a current figure of $8.5 billion in bilateral trade that is expected to reach $10 billion by the end of this year.
We are willing to keep nourishing our bilateral trade, and for that reason both governments have recently started the negotiation for grant phytosanitary protocols for agricultural products that will give mutual market access.
In the last five years, ProMéxico has provided assistance globally for 820 FDI projects valued at more than $70 billion, and provided assistance to over 3,200 export projects to different countries valued at $13.35 USD billion . Also, in the last decade we have supported the internationalisation of over 200 Mexican companies in many countries, with an estimated economic impact of $7 billion.
It is important to highlight that India has been in an integral part of this positive results; has become part of Mexico's ten largest trading partners, and that our country is the main commercial partner to India from Latin America and the second most important in all the American continent, ahead of Canada and Brazil, and we look forward to keep working to depth in our relationship to reach our maximum potential.