What's helping grow India's insurance market?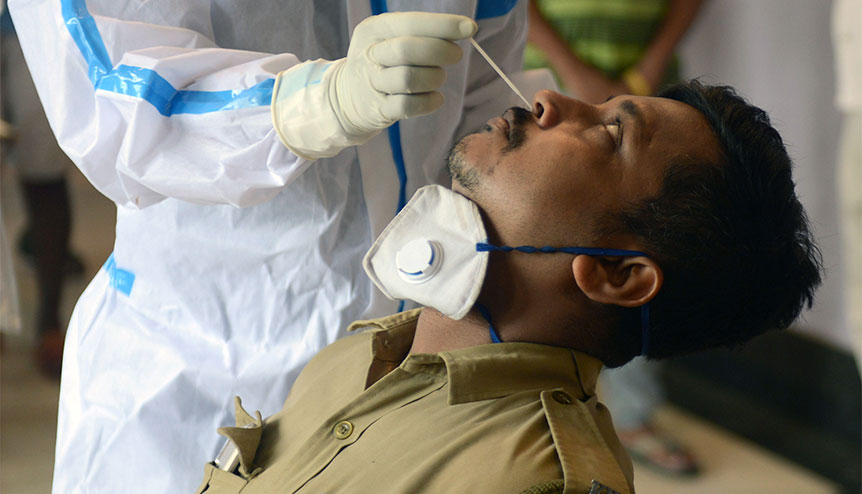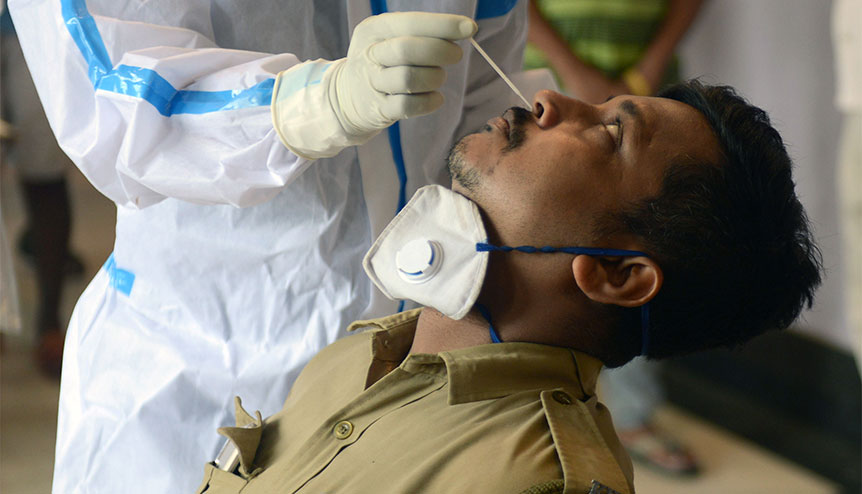 Despite the devastating impact of COVID-19, health insurance in India is projected to grow by 10% this year, thanks to an increase in consumer awareness and more widespread health coverage initiated by the Modi government for the more vulnerable segments of society.
While much of the global insurance industry has been in a fix ever since the coronavirus outbreak turned from a health pandemic to an economic catastrophe, there's some bright spark for insurers in India.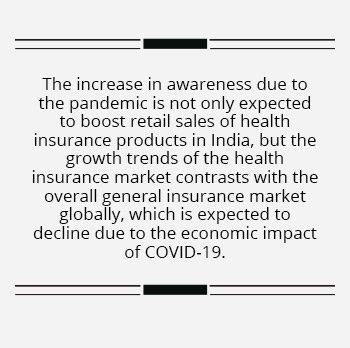 Despite the impact of Covid-19, health insurance in India is projected to grow by 10% this year, mainly due to a surge in consumer demand for better protection against the virus in particular and long-term well-being in general.
The increase in awareness due to the pandemic is not only expected to boost retail sales of health insurance products in India, but the growth trends of the health insurance market contrasts with the overall general insurance market globally, which is expected to decline due to the economic impact of COVID-19.
The outbreak has already heavily affected the global insurance sector: the global insurance index decreased by 22.6% between December 31, 2019, and April 9 this year, and this impact will likely last until Q4 2020, according to data obtained by McKinsey. In India, share prices in the insurance sector dropped by 25.9% during the same period.
Resilient sector
But the health insurance sector in the country has proven to be resilient to the virus. "The coronavirus pandemic has driven demand for health insurance, in an otherwise under-penetrated insurance market. With the growing number of coronavirus cases in India, people have understood the importance of owning a health insurance product," said Jeneshree Sahoo, insurance analyst at GlobalData.
India's insurance regulator has also played a key role in bucking the global trend and stimulating demand during a pandemic-induced recession, as has the Indian government.
As hundreds of thousands of Covid-19 patients filled India's hospitals and cities enforced stringent lockdowns, the Indian regulator actively encouraged insurers to launch short-term COVID-19 products primarily aimed at the vulnerable segments of the population – which are now seeing a huge spike in demand from consumers.
For instance, Star health, ICICI Lombard, and Edelweiss General Insurance are offering low-cost health insurance policies covering COVID-19 diagnosis and treatment cost. The recent regulatory stipulations on product standardisation are also expected to help the health insurance industry.
Earlier in July, insurers were mandated to offer standard indemnity policies that directly benefit the vulnerable customer segments such as healthcare workers and first responders.
Traditional backbone
The developments are a far cry from the days of India's independence in 1947, since when the government sector has been the traditional backbone of the healthcare ecosystem, including healthcare delivery and insurance. Until very recently, the concept of "insurance" in India was primarily associated with life insurance – the most popular form of insurance in India – primarily due to two reasons.
First, with a low-life expectancy (37 years in 1951) and a tight-knit family structure, people primarily sought financial security through insurance.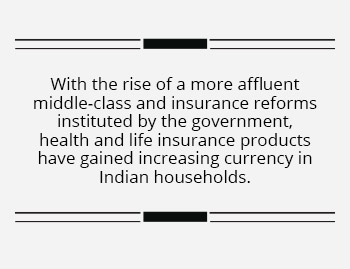 Second, life insurance has traditionally been positioned as a tax-planning tool for salaried Indians looking to save money on their annual deductions.
The above factors have been further aggravated by the fact that India has traditionally been an underinsured country, with private health insurance schemes covering only 18% of the population in urban areas and hardly over 14% in rural areas.
But with the rise of a more affluent middle-class and insurance reforms instituted by the government, health and life insurance products have gained increasing currency in Indian households.
Opening up to global players
The Modi government has also been instrumental in enabling the growth of the industry as well as opening it up to global players.
While FDI in the insurance sector remains capped at 49% under the automatic route, the policy was amended earlier this year to allow 100% FDI for insurance intermediaries – which includes insurance brooking, insurance companies, third party administrators, surveyors and loss assessors. The decision to ease FDI norms has not only enabled foreign brokerage companies to buy stakes in Indian companies, but has also brought global best practices to the country, covering new insurance products and selling strategy. As a result, the right insurance policy is now being sold to the right client.
The launch of Ayushman Bharat has also helped bridge the insurance gap, especially in semi-urban and rural areas, by covering the poor and vulnerable through widespread networks.
Despite all the above efforts, thanks to its billion-plus population, most of India continues to be underinsured when it comes to health.
Growing sales numbers
All the above factors are expected to support the health insurance market in India – which is projected to grow by 10% to be valued at nearly $8 billion in 2020. The positive growth in health insurance sales can also be confirmed with sales number reported by Policybazaar, India's leading online insurance marketplace, which quoted a 30% jump in health policies sales for March 2020 compared to the first two months of the year.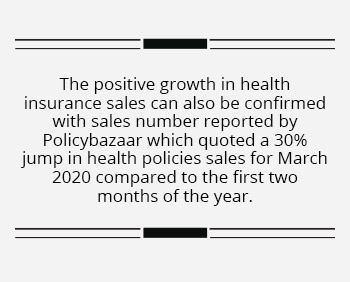 "The pandemic has led to a short-term increase in demand for health insurance in India. The ensuing insurers' initiatives to launch need-based products, growing consumer awareness, and the use of tech-based distribution solutions is expected to continue the growth trend over the forecast period," said Sahoo of GlobalData.
When Prime Minister Modi addressed the India Global Week a couple of weeks back, one his clarion calls was that it has never been such a good time to invest in India.
He highlighted the fact that India has attracted foreign investment of more than $20 billion between April and July this year even as the pandemic raged – yet again reaching a record high in FDI. Foreign investment inflows to India in 2019-20 stood at $74 billion, which is an increase of 20 per cent over the previous year.
Even as the number of coronavirus cases continues to grow in India, the pandemic thus also provides an opportunity for insurance companies to innovate and serve the evolving needs of the Indian population, as well as for global players to zero in on India as an insurance investment destination.