Weaving Indian heritage and culture into hospitality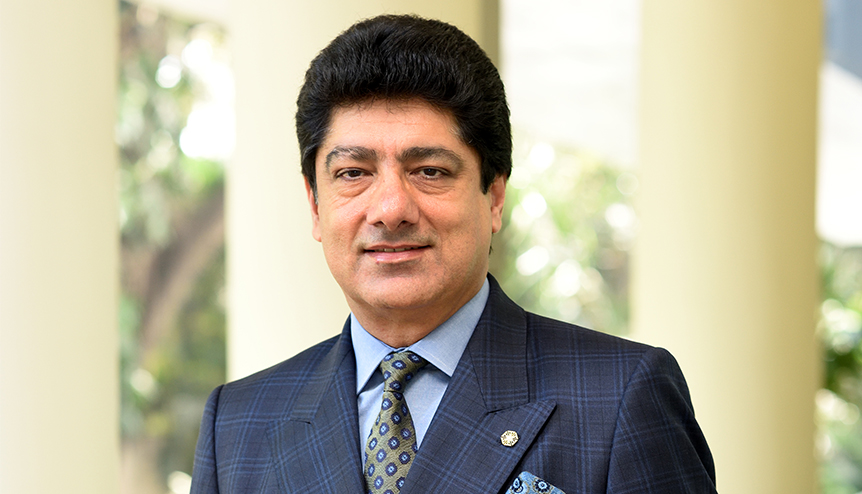 Puneet Chhatwal, Managing Director and CEO of Indian Hotels Company Limited (IHCL), talks 'India Global Business' through the Indian hospitality major's latest tie-up with the Hayre Group to set up a new Vivanta Hotel in London. He also delves into wider global plans for the company behind the iconic Taj brand of hotels.
What is at the heart of IHCL's tie-up with the Hayre Group?
IHCL was the first Indian hospitality company to foray into the United Kingdom with the iconic St. James' Court hotel in 1982.  Today, we are proud to partner with Hayre Group Limited in bringing the first Vivanta branded hotel to London. The signing of the agreement between IHCL and Hayre Group further reiterates our growth strategy of adding hotels in key locations globally.
Please give some details of the Vivanta planned for London by 2021.
The Vivanta brand caters to the Upscale segment of business and leisure travelers. The new Vivanta hotel is a Greenfield project slated to open in 2021. It is conveniently located across from Terminals 1, 2 and 3 at Heathrow Airport and we are looking at a high percentage of business and transient travelers. The hotel will have approximately 108 spacious rooms, an all-day-diner, a bar and lounge, gym as well as banqueting facilities.
We are also opening the fourth outpost of our award-winning restaurant, Bombay Brasserie; given the kind of success the restaurant has had across locations coupled with the fact that the Heathrow area lacks a good Indian style restaurant. This would help attract diners who appreciate Indian cuisine.
What are IHCL's other global expansion plans?
Internationally, we aim to target the locations that have significant customer crossover and where our brands have great visibility and acceptance. Cities with presence of a large Indian diaspora who are ambassadors of our brand would be key entry points for us to venture into newer geographies. We are excited about our expansion in the MENA region, with two hotels due to open in Dubai and our first foray into the Holy City of Makkah, Saudi Arabia apart from introducing the Vivanta brand at London Heathrow.
Within the Indian subcontinent, we are passionate about opening up lesser-known areas to the international luxury traveller. We have just reopened one of South Asia's oldest historical icons – Taj Connemara after a year-long renovation. We are also looking forward to showcasing the natural beauty of Rishikesh with Taj Rishikesh Resort & Spa opening this winter.
Today we have 170 hotels, which includes 25 under development across four continents, 12 countries and 80 locations.
What sets the Taj and Vivanta brands apart in the hospitality sector?
The reason why guests choose Taj and Vivanta Hotels is due to the ability to weave Indian heritage and culture into the services and offerings in the most iconic assets around key markets whether in India or New York, San Francisco, London, Cape Town, Maldives, Dubai and many more such destinations.
We have summed this up as 'Tajness', which is our soul and it has several elements to it. It is the way we have inculcated the Indian form of hospitality to welcome our guests, it is also about our efforts in the community, the values we stand for, and the way we treat all our stakeholders. Vivanta, on the other hand, is an upscale brand with primarily domestic presence but the UK is the first market where we have ventured to establish international presence. It is young, bold, driven by design and focusses on the essentials.
What is the group doing to stay ahead of the digital revolution curve within the industry?
As our customer profile changes 'glocally', optimising digital is becoming an imperative need. At IHCL, the traveler experience begins with the company's digital touchpoints and we diligently worked towards ramping up our online presence and ensuring a strong social media footprint. This includes our website, the new tajhotels.com, which is now available in four additional languages—German, French, Simplified Chinese and Spanish, besides a new mobile app, allowing guests to make bookings and reservations through it.
We also have a strong presence across key social media platforms to actively engage with the digitally evolved consumer. We recently developed Taj.Live, our social media and digital command centre, to monitor and analyse global trends, relevant conversations and brand reputation across online platforms.
Would you say Indian hospitality has made a significant global mark or there is still some way to go?
IHCL has a strong international presence across some of the world's most significant tourism markets including London, New York, Boston, Cape Town, San Francisco and Maldives. We have received numerous global awards and accolades which bear testimony to the fact that Indian hospitality has been making a significant mark in the global space.
For instance, as per the KPMG Global Customer Experience Excellence Report, IHCL has been chosen as India's leading brand by consumers and has been recognized as one of the 'Top 20 Hotel Brands in the World' by Travel + Leisure. Our flagship hotel, The Taj Mahal Palace, Mumbai ranked at the top spot globally according to an evaluation by TrustYou, the world's largest guest feedback aggregator. These awards and accolades are encouraging but the journey to become the world's best hospitality company is ongoing.