Weary of China, ASEAN looks at India for leadership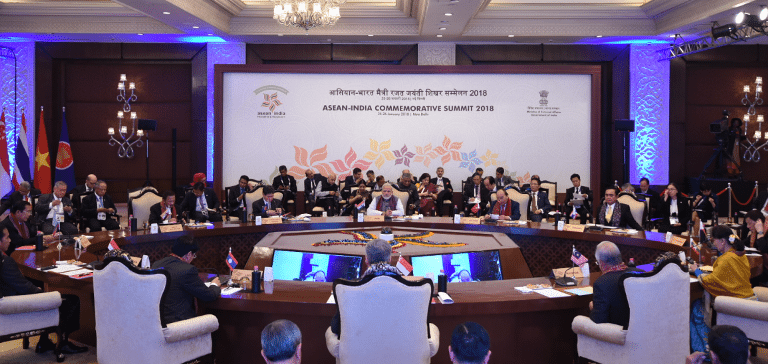 ASEAN is heavily dependent on China for trade but distrust between the two in South China Sea offers an opening for India to enhance its stature in the region.

Every year, as India celebrates the birth of its Republic in the last week of January, the world watches as the largest democracy shows its mettle as a social, political, cultural and military superpower. This year however, was a particularly power packed show not because the tableaus of various states of the country were any more colorful, the ammunition on display more fearsome, the bands that played the tunes louder or the weather more benign. It was the chief guests that made it special, as instead of just one head of the state gracing the occasion as is the norm, this time there were 10 – the heads of the states of the Association of South East Asian Nations (ASEAN).
In an increasingly globalised world, the role of the block of these 10 Asian economies in the Indian subcontinent cannot be under-estimated. As a standalone entity, ASEAN would be the sixth-largest economy in the world. If India has to become a major power in the region, ASEAN will have to be its inevitable partner. On almost all parameters, at least six of these 10 countries – Indonesia, Thailand, Malaysia, Philippines, Singapore and Vietnam, that forms the bedrock of ASEAN, are tipped to grow robustly in future. The Asian Development Outlook 2017 has projected that Southeast Asia is expected to achieve 5 per cent growth in 2017-18. The Asian Development Bank (ADB) also estimates that ASEAN Five – Indonesia, Malaysia, Thailand, Philippines and Vietnam – will witness remarkable growth in their export trade.
It is no coincidence that strengthening ties with the ASEAN bloc of nations is central to the Narendra Modi government's Act East policy. At the same time, the Prime Minister has become more vocal against protectionism and as exemplified at Davos, barely a few days before the Republic Day celebrations in India, he has almost emerged as the new champion of globalisation.
"More countries are becoming self-centred. As protectionism is rising, the sheen of globalisation is fading away. These protectionist powers intend to not just move away from globalisation, but to also reverse the course of the world economy," he said at the World Economic Summit at Davos. "The signing of new bilateral and multilateral trade agreements appears to have come to a standstill. There has been a dip in cross-border economic investments and the growth global supply chains has also come to a standstill."
Modi's comments assume special significance against the backdrop of the ASEAN Regional Comprehensive Economic Partnership (RCEP) – a mega regional trade pact being negotiated for well over five years and which includes Asian economic powers like India, China, New Zealand, Australia, Japan and South Korea. Arriving at a consensus of a block of nations as varied as this will be no easy task but should this fructify, it would be a free trade agreement to rival the Trans Pacific Partnership.
As of today, there is a need for India to make its presence felt in the ASEAN region. In external trade, ASEAN's major trade partners are China, the European Union and US while India does not even figure in the top 10 in the principal sources of FDI inflows in the region. ASEAN offers a collective market of $2.6 trillion and over 622 million people. More importantly, the latest joust with ASEAN comes in the backdrop of the prickly issue of China and the sovereignty of South China Sea – a region where an estimated $5 trillion worth of global trade passes every year.
The ASEAN leaders have increasingly been found wanting on what stand to take on China. While it wants to resist China's imperialist ambitions that threatens to destabilise the region, it cannot ignore its economic might – bilateral trade between China and ASEAN was $514.8 billion in 2017. Indo-ASEAN trade in contrast was a mere $70 billion in 2016-17. Yet, the fact that ASEAN feels more comfortable trading and collaborating with India can be borne by the repeated calls for strengthening ties between the two. Some of these comments go beyond just pure economics.
"Our early interactions were driven by trade and commerce… both sides also share deep cultural links," said Lee Hsien Loong, Prime Minister, Singapore, the current chair at ASEAN. "India makes a major contribution to regional affairs, helping to keep the regional architecture open, balanced and inclusive."
Modi also made a thinly veiled jab at China for the impasse over the South China Sea.
"India shares ASEAN's vision for peace and prosperity through a rules-based order for the oceans and seas, respect for international law. Notably, Unclos (United Nations Convention on the Law of the Sea) is critical for this," he said. "We remain committed to work with ASEAN to enhance practical cooperation in our shared maritime domain."
The time maybe ripe for India match these words with action and, as Loong mentioned, the RCEP provides just that kind of opportunity. With the enlarged geographic spread, the benefits would be even more far reaching. It would complement India's existing free trade agreements with both the ASEAN states and some of the member nations, strengthening its position as world's fastest growing economy. Further it would allow India to expand its trading association with countries like Australia and New Zealand, with which it has no formal trading partnership due to its absence in the APEC and Transatlantic Trade and Investment Partnership.
It will also facilitate India's integration into sophisticated regional production networks that harmonises trade-related rules, investment and competition regimes of India with those of other countries in the group. These also go hand in hand with some of the structural tax reforms undertaken by the Modi administration like the unified Goods and Services Tax (GST).
"The Regional Comprehensive Economic Partnership (RCEP) trade represents a historic opportunity to establish the world's largest trade bloc, which will enable businesses to harness the region's true potential. It could potentially transform the entire East Asian region into a single market," said Loong. "It also fits India's Act East policy and will increase Make in India exports to the region while boosting India's strategic position in our regional architecture."
Though a highly optimistic deadline of end of this year has been set for completion of RCEP, the going may not be however, that easy. China's presence in the block means RCEP would be akin to India signing a free trade agreement with China, which could potentially flood the Indian market with Chinese products.
Already, India has taken many steps in the past to prevent dumping of commodities especially steel from China and intelligence agencies have repeatedly sounded out the threat to internal security from Chinese goods like smartphones or online shopping which have servers across the border. Further, the reluctance of ASEAN nations to open up their services sector – an area where India stands to gain – is also a potential stumbling block. Beyond what is said in joint statements or from the dais of common platforms, there is much complexity and ambivalence beneath.
"I am a little bit ambivalent about RCEP, as it will involve a lot of opening up to China. We have a natural complementarity vis-à-vis Europe. We export labour-intensive goods to Europe and they export capital-intensive goods to us. In case of the ASEAN and China, it's not the same thing. So what's the advantage for us (in RCEP)? I am not saying it's bad or it's wrong, but I am saying we need to think more carefully about that," said Arvind Subramanian, chief economic advisor. "There is also the geostrategic dimension we need to take into account. So that's a more difficult and richer discussion that the government needs to have. If other nations are not going to open up services and if it's all about opening up manufacturing, then it's a different dynamics."
The challenges may be daunting on paper, but with the champion of globalisation as the head of the state, they are far from insurmountable.