Vietnam is critical to balance of power in Asia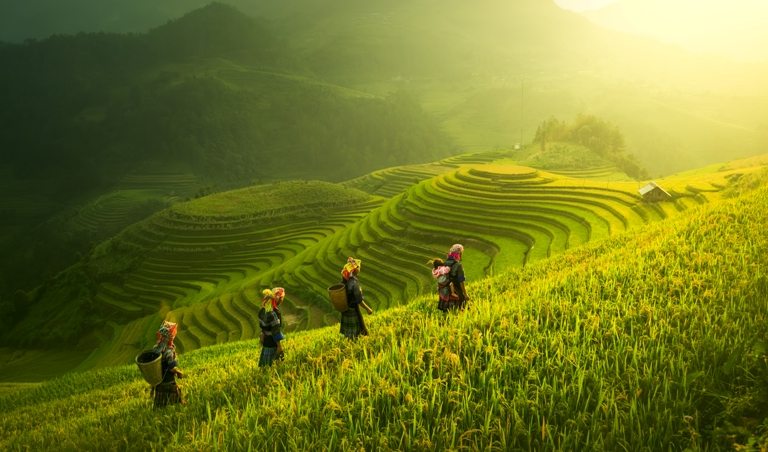 Given the ambivalence of some ASEAN countries to China's rise and Beijing's hardnosed strategy of using its financial heft to buy influence across Asia, it is important for democracies like India and Japan to foster cooperation with Vietnam.

It is not very often that New Delhi hosts the Prime Minister and the President of the same country within a span of five weeks. But that's exactly what Indian Prime Minister Narendra Modi did, inviting Vietnamese Prime Minister Nguyen Xuan Phuc as one of 10 chief guests – all heads of ASEAN governments – for the Republic Day parade on January 26 and then playing host to that country's President, Tran Dai Quang, in the first week of March.
The officially denied reason for this bonhomie is a shared apprehension of China's ambitions in east and south Asia.
"Specific Southeast Asian states are now seeking to diversify their strategic partnerships, beyond a binary choice between Beijing and Washington," leading US think tank, Council on Foreign Relations, said in a note recently, adding that a key element of that strategy is to work with India "as a more forceful counterweight to China and hedge against a declining United States."
Hanoi, for example, is increasingly looking at New Delhi as a partner on a range of issues, from its dispute with China over the South China Sea to oil exploration, defence cooperation and closer economic ties. India, too, has belatedly entered the game that Great Powers play and made Vietnam the fulcrum of its Act East Policy to expand its economic and geo-strategic footprint across East and South East Asia.
It is a well calibrated diplomatic game and a war of nerves that India has, uncharacteristically, chosen to participate in, but it is quite in line with the bold new foreign policy paradigm set by Modi. For example, in their meeting in March Modi and Quang agreed to further cooperation in defence and joint exploration efforts in the disputed waters, drawing prompt criticism from China.
Energy security
Closer ties with Vietnam are important for securing India's energy needs. Hanoi has allotted ONGC, India's public sector oil explorer, two oil blocks in the South China Sea, though China opposes these awards, claiming, without any rationale, that the oil reserves fall within its own territory.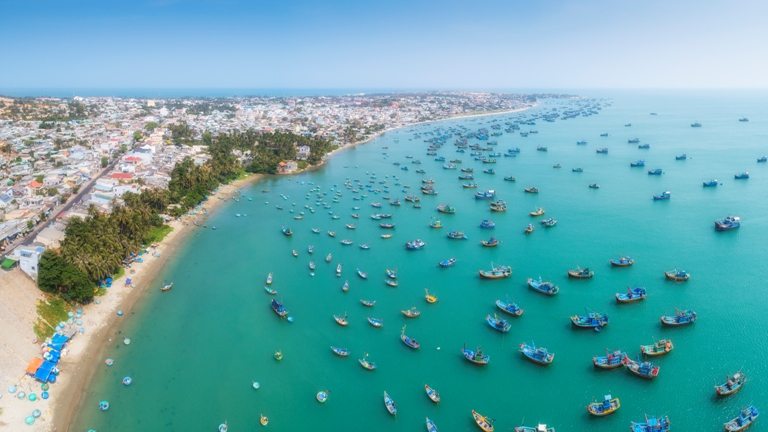 ONGC Videsh, the overseas arm of ONGC, has stopped work on one block because of poor prospects of finding oil but had received an extension of one year for the other. India has said more than once that ONGC's exploration efforts are a commercial operation and have nothing to do with China's bilateral dispute with Vietnam but oil exploration in the South China Sea by any country other than China invariably raises Beijing's hackles.
The two countries will look for a trilateral partnership in the oil and gas sector, Modi announced after his meeting with the Vietnamese President.
"We highly value projects, including the cooperation in joint oil and gas exploration in the continental shelf of Vietnam," Quang said.
Freedom of navigation
To broad-base bilateral ties and deepen the relationship, the two countries also agreed to cooperate with each other on nuclear energy, trade and agriculture and work together to ensure a free and open Indo-Pacific.
"We will jointly work for an open, independent and prosperous Indo-Pacific region where sovereignty and international laws are respected and where differences are resolved through talks," Modi said, adding that India believes in freedom of navigation and over flights in the region.
Growing trade relations
Meanwhile, bilateral trade between India and Vietnam has been growing in tandem with the strategic relationship.
According to official data, bilateral trade during January-October 2015 was $4.28 billion. This included $2.5 billion of exports from India and $2.07 billion imports into that country. However, by another method of calculation, the total value of trade between the two countries was more than $9.2 billion in 2014-15.
During the visit of Nguyen Phu Trong to India in November 2013, the two sides agreed to expand this figure to $15 billion by 2020.
Solid economic base
The strategic partnership, obviously aimed at preventing any other Asian power from emerging as a regional hegemon, has a strong economic component as well.
The Modi Cabinet had earlier approved a $80-million project development fund to facilitate and increase the entry and presence of Indian companies in the CLMV sub-group within Asean, which have preferential access pacts with China, European Union and the US and so, can act as gateways for India Inc into these markets. As the acronym suggests, the four countries are Cambodia, Laos, Myanmar and Vietnam, with the last playing a disproportionately large role within this group for India.
Indian companies eye new frontier
At a time when Indian companies are struggling with sluggish consumption at home and rising competition abroad, markets like Vietnam offer hope.
Indian companies are executing projects worth almost a billion dollars in Vietnam in the oil and gas, minerals, sugar, agro-chemicals, IT and agricultural processing sectors.
Taking advantage of the close ties between the two countries many leading Indian business houses such as the Tatas, Reliance Industries, Aditya Birla Group, ONGC Videsh, Tech Mahindra, Godrej, NIIT and Ranbaxy, among several others, have set up operations in Vietnam.
Vietnam is a former centrally planned economy that is transitioning to a market economy. And agriculture remains the dominant vocation in that country. So, Indian companies are ideally suited to become partners in Vietnam's progress.
Gaps that need attention
Experts have said this important geo-economic relationship will lead to the creation of more synergies if the two sides paid more attention to participation in the global value chain, in which about 60 per cent of all global trade is in intermediate goods. This is an area in which both India and Vietnam are punching well below their potential. If India's industrial conglomerates leverage Vietnam's raw material supplies and the preferential access that its membership of ASEAN gives in many markets, it would be highly beneficial for both countries especially in sectors such as apparel, footwear, electronic goods and petrochemicals.
Then, there is inadequate cooperation between the services sectors of the two countries. Like India, the services sector in Vietnam is the largest component of the economy, accounting for about 42 per cent of its economy. Vietnam's services exports are at about $13 billion compared to India's services exports of more than $160 billion. Given this make-up of the economy, there exists massive potential for India to contribute to the expansion of Vietnam's services sector, especially education, information technology, communications, financial services, logistics, tourism and audio visual services.
There is also huge scope for cooperation between the small and medium businesses of the two countries as SMEs are the backbone of any economy and the main employment generator in most countries. The quest to integrate into the global supply chain should ideally be driven by the SME sectors of the two countries.
Entry point into ASEAN
The Tiger economies of South East Asia, who provide the main ballast to the ASEAN grouping, are industrially far ahead of other member states such as Vietnam. This presents Indian companies an opportunity to build beachheads in Vietnam and use these to expand their presence in the more advanced countries within this group.
Closer defence ties
The most important component in bilateral ties between India and Vietnam is, however, strategic in nature. In an attempt to counter the Chinese strategy of boxing India into a corner, New Delhi is steadily cranking up military and strategic ties with Beijing's neighbours.
For example, India is negotiating the sale of Akash surface to air missiles to Vietnam. This follows Modi's recent offer of a $500 million line of credit to buy Made in India defence platforms.
The Indian premier will, thus, kill two birds with one stone – by selling missiles to China's neighbour he will send out a message to Beijing that India is no pushover; at the same time, he gets to dramatically showcase the success of his flagship Make in India initiative.
Earlier, India had given Vietnam another $100 million line of credit to buy naval patrol boats from Larsen & Toubro. Besides, and much to China's chagrin, India is training Vietnamese pilots to operate the Sukhoi 30 fighter planes, which China also has, as well as Kilo-class submarines. Both these platforms are of Russian origin.
Brahmos for Vietnam
Vietnam is said to be keen on acquiring the Brahmos supersonic cruise missile to bolster its defences against China. There is no doubt that the induction of this missile, the fastest cruise missile in the world, will significantly beef up its defence capabilities.
But Brahmos is a joint venture between India and Russia and New Delhi needs Moscow's nod before it can sell it to a third country. Given that Russia is almost reduced to the role of China's junior partner, such an approval is unlikely to materialise.
Akash as a substitute
Hanoi wants to buy Akash missiles from India and also wants an agreement for transfer of technology and local production in that country. India, on the other hand, wants a more graded approach, starting with off the shelf sales of the missile.
Talks are also on for the sale of Varunastra anti-submarine torpedoes to the country that former Defence Minister Manohar Parrikar had described as a "close friend".
Comprehensive strategic partnership
The tight clinch between New Delhi and Hanoi comes in the backdrop of the two countries elevating their "strategic partnership", which they established in 2007, to a "comprehensive strategic partnership" during Modi's visit to that country last year.
Business as a sub-set of geo-politics
The rapid scale-up in economic ties notwithstanding, analysts acknowledge that these have to be built on the bedrock of the geo-political interests that bind the two nations.
China is clearly rattled by this new found closeness between Hanoi and New Delhi. 'The Global Times' newspaper, which the Chinese government often uses to disseminate views it cannot officially express, has questioned this relationship several times, most recently when India announced it would set up a satellite tracking and imaging centre in southern Vietnam.
This will be a civilian facility and will have scientific, agricultural and environmental applications but it can also be used for tracking Chinese military moves.
Important cog in the Asian wheel
With the US now seen as an unreliable and unpredictable ally by many Asian countries, the balance of power within Asia – with Japan, India, Australia and the US as net security providers – is poised delicately. While China is using its massive financial heft to push its neo-colonial Belt and Road Initiative, which are driving small countries into a debt trap, a lot will depend on how countries like India and Japan handle countries like Vietnam, the Arab monarchies of the Middle East and some of the larger ASEAN countries.
Vietnam has a long history of hostility with China and is the only Asian country to give it a bloody nose militarily in the last half a century. That is what makes it such an important player in the new Great Game that is unfolding in the Asian theatre.