Vidya Balan as 'Shakuntala Devi – Human Computer' set for global premiere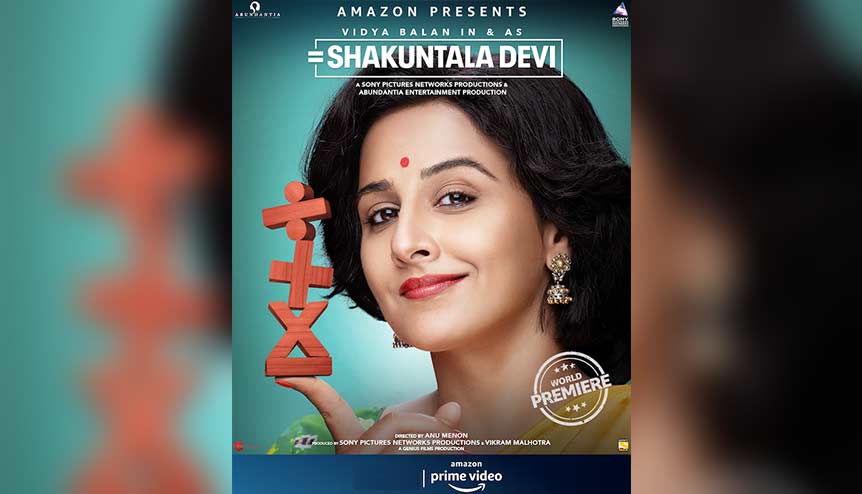 The global premiere of the much-awaited Hindi film, 'Shakuntala Devi – Human Computer', has been scheduled for the end of this month.
The film is a biopic on one of India's lesser-celebrated female mathematicians, who made a name for herself globally as a "math genius" and whose great instant calculation skills even find a mention in the 'Guinness Book of World Records'. The role on screen is essayed by one of Indian cinema's most versatile female leading ladies and National Award-winning actor, Vidya Balan, and its release on July 31 is now confirmed on the streaming service Amazon Prime. 
Endearing story
Directed by Anu Menon and produced by Sony Pictures Networks Productions and Abundantia Entertainment, the biographical drama also stars Sanya Malhotra ('Dangal'), who will be seen playing the role of Shakuntala Devi's daughter with whom the genius enjoyed a complicated but extraordinary relationship, alongside Jisshu Sengupta and Amit Sadh. 
Amazon Prime members in more than 200 countries and territories worldwide will have access to the endearing story of the woman known the world over as a "human computer".
Menon, who has also co-written the screenplay, said: "I have always been fascinated by Shakuntala Devi and truly felt that hers is an incredible story that had to be told. She was an extraordinary woman, who lived ahead of her times and on her own terms, unapologetically.
"From Vidya Balan to the rest of the cast and crew, and my producers – Vikram and Sony Pictures Networks Productions, I am so glad that all the elements have come together for us to put our best foot forward. I'm delighted that everyone will finally get to witness it on the big screen."
Unparalleled achievements
Shakuntala Devi took the world by storm with her talent of making incredibly swift calculations from a very young age and despite no formal education, she went on to make a name for herself as a genius. 
Sneha Rajani, Studio Head, Sony Pictures Networks Productions, said: "On very few occasions, you get an opportunity to tell a story of an individual who has had a journey that has inspired the entire world. The achievements of Shakuntala Devi are unparalleled globally.
"She was exceptionally gifted and everyone was in awe of her, including myself. I have had the honour of meeting her thrice. Vikram and his team are great to work with and Vidya is someone I wanted to work with forever!"
Vikram Malhotra, Producer, Abundantia Entertainment, adds: "Shakuntala Devi is, even now, one-of-a-kind and I'm certain that this unique story, especially with the amazing Vidya Balan in the lead, will connect with audiences across generations."