Vasudhaiva Kutumbakam: The world is India's family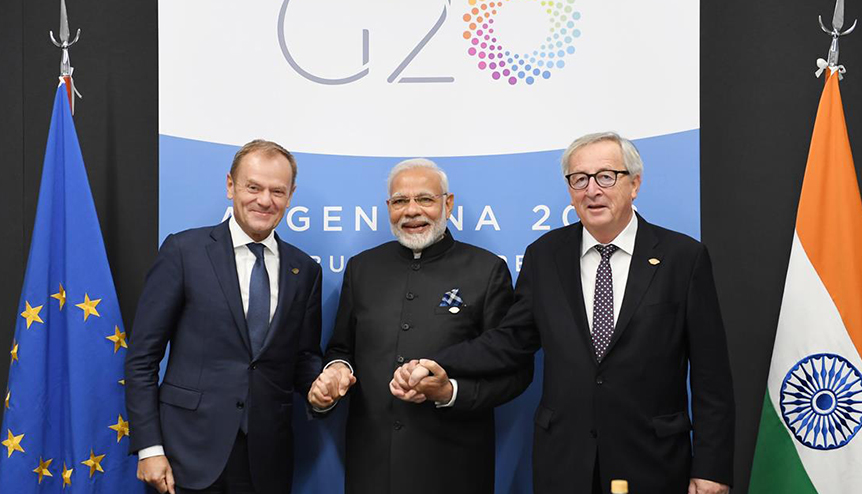 The year 2018 will go down in history as a seminal year in India's foreign policy establishment. The Modi government's proactive engagement with the UK, the US, the EU, China, the Middle East and Africa have brought India to the centre-stage of global diplomacy and will shape the contours of India's progress in the years ahead.
The Narendra Modi government, which came to power in 2014, has brought about a paradigm shift in India's foreign policy. The diffident, almost reactive impulse has been replaced with a very proactive and robust engagement with the world at large.
In 2018, the Modi government took several major and minor steps to engage with key partner countries. Here, we bring you a round-up of India's relationships and key developments during the year.
The UK: Old partners, new beginnings and some potholes on the way
Brexit is, understandably, hogging all the headlines in the UK and headlines about Britain across the world but the most expensive divorce in history has once again underlined the urgent need for Her Majesty's Government to actively pursue bilateral and multilateral trade deals to make up for the anticipated loss of duty-free access to the common market in Europe.
But hopes of an early conclusion to talks on a free trade agreement with India have been belied. Any such complex trade negotiation involves delicate give and take on a wide range of issues. But one major reason why the talks have not got anywhere is the UK government's hard line stance on the issuing work and student visas to Indian nationals.
After all, no Indian government can be seen to be making concessions to Britain on trade without a reciprocal easing of entry restrictions for Indian professionals and students. The new immigration policy announcement by Theresa May's government this week promises to focus more on skills than quotas may benefit Indian talent, and subject to the fine print, could help soothe this perennial thorn in UK-India relations.
Defence and legacy manufacturing are two sectors that promised much but flattered to deceive. Britain's position as the Indian industry's  preferred beachhead for entry into the European market and London's status as one of the world's leading financial centres are also facing potentially existential crises thanks to Britain's fractious exit from the EU.
Then, Indian companies such as Tata, AV Birla, Essar and Infosys, among hundreds others are watching the Brexit drama unfold with some concern as the outcome will directly impact their investments in and access to the European Union. The effect Brexit has on the City of London's fortunes will also shape the decisions of Indian companies when they set out to raise funds abroad as London remains their favoured location for such programmes.
But the UK-India Tech Partnership, which was launched earlier this year, proved to sceptics that both countries actually want to take bilateral ties forward despite the understandable distraction of Brexit.
Experts and analysts expect this initiative to meet with greater success than earlier ones because, unlike in the past, this partnership will be driven by the private sector in the two countries. In other words, financial viability and potential for mutual profit will take this partnership forward.
However, the lack of any great personal chemistry between British Prime Minister Theresa May and Modi – in sharp contrast to his easy and close rapport with her predecessor David Cameron, is a cause of concern.
Then, May is battling for political survival and in India, Modi faces a General Election in five-to-six months. This means the political heft needed to push this relationship to the next level may not be available in the foreseeable future, despite the presence of the 1.5-million strong Indian diaspora, which has contributed significantly to this country's social, political and cultural life, in the UK.
The US: Poised for growth despite irritants
It used to be said of Indo-US relations that for every forward step it took, circumstances and geopolitics conspired to take it two steps back. That has changed. Now, for every two steps forward, US President Donald Trump ensures that it takes one step backward.
This bilateral relationship, arguably the most important for India and quite possibly an era-defining one for the US, has seen ties reach highs in some areas like geopolitical alignment and dip to new lows in the equally important arena of economics.
Bilateral trade continued to grow apace and is expected to close 2018 at a record $140 billion, despite the US President's high-pitched and somewhat heavy-fisted attempts to balance the skew that is tilted towards India.
On visas for Indian professionals, the picture is less rosy. New rules put in place by the Trump administration, especially on minimum qualifications and wages, has made it tougher for many Indians to qualify for work visas such as H1B. Almost three out of every four H1B visa holders are Indians.
And a blanket revocation of work permits for spouses of H1B visa holders, though on hold following loud protests from powerful US industry bodies, promises to queer the pitch further, both for Indian professionals and bilateral ties.
But geopolitics is one sphere where the two countries have a near total convergence of interests, be it terrorism, the rise of China, the Indo-Pacific and military cooperation and defence trade.
In a major, but mostly unheralded success for Modi's foreign policy thrust, the US, for the first time, named Pakistan as a source of terrorism and withheld several hundred million dollars in aid. Modi also succeeded in getting waivers from sanctions on buying arms from Russia and importing oil from Iran as well as India's involvement in the development of the Chabahar port in Iran.
In another positive, Modi seems to have developed a personal rapport with Trump, though how far this will help smoothen the rough edges that keep appearing on the fabric of this relationship is unclear, given the US President's cultivated unpredictability. However, most foreign policy wonks feel this is one long-term relationship that can be turned it into one of the defining partnerships of this century.
China: Economic engagement amidst geopolitical divergence
India's economic ties with China are headed in a very different direction from its diplomatic and geopolitical equations with the world's second-largest economy.
In 2017, bilateral trade between the two countries crossed $84 billion, an all-time record, despite diplomatic muscle flexing on Doklam, Beijing's hard line stance on admitting India into the Nuclear Suppliers' Group (NSG) and the Chinese veto on designating Mumbai terror mastermind Hafiz Saeed a global terrorist by the United Nations.
So how should one categorise this relationship at the end of 2018? Friends would be incorrect and enemies would be an exaggeration. Using social media speak, it will be fair to call it complicated.
On trade and business, Chinese companies such as Xiaomi, Oppo and Vivo dominate India's red hot market for mobile phones; Lenovo is the market leader in laptops and Chinese solar panels power about 80 per cent of India's 26GW solar power capacity. A concern is China's growing cyber activities targeted at India, which includes a hitherto unchecked flurry of Chinese investments in India's burgeoning social media space.
Of the total trade figure, Indian exports to China, despite growing 40 per cent over the previous year, totalled a little more than $16 billion, leaving a  gaping trade deficit of $51 billion.
Despite several attempts by the Indian government, China has not relented on allowing imports of Indian IT services and pharmaceuticals, two items in which India enjoys a competitive advantage. Exports by Indian companies in these two sectors could reduce the trade gap but Beijing, despite making occasional conciliatory statements, has shown a definite reluctance to meet India half-way on these.
Meanwhile, China has continued its string of pearls policy of encircling India by leveraging its massive Belt and Road Initiative (BRI) to entrap countries in India's neighbourhood, such as Nepal, Bangladesh, Sri Lanka, Myanmar and the Maldives, in sovereign debt traps and then seeking to entice these nations into its own sphere of influence.
Fortunately for India, the Modi government's proactive diplomacy and generous financial backing has enabled Sri Lanka and the Maldives to loosen China's vice-like grip on their destinies in the last couple of months of 2018 but these are early days yet and many more such proxy tussles, amidst vigorous economic engagement, will undoubtedly unfold in the years to come.
The EU: Writing a new chapter
Historically, the Indian government and most Indians have viewed Europe through the prism of the United Kingdom. When India did engage with countries in the Continent, such as France and Germany, it was at a bilateral level.
The European Union (EU) and the bureaucracy at Brussels, which often lectured India in hectoring tones on human rights and other issues, thus, ensured that it almost completely cut itself off from the Indian growth story, which its members Britain, France and Germany were partners in.
But there was evidence, towards the end of 2018, that EU may be coming to terms with India's rise and recognising the need to form a new and mutually beneficial relationship with the world's fastest-growing large economy.
A strategy document released recently by the European Commission recognised India as the fastest-growing large economy in the world that "has acquired an important geopolitical role" with which it wanted to engage on a range of issues such as a rules-based global order, sustainable development and trade & investment.
This strategy document shows that the EU top brass has belatedly recognised that its holier-than-thou approach has rubbed the Modi government the wrong way and its only tangible result has been to deny its members a piece of the India growth story that three of its largest member-states (and several other countries) have become an integral part of – at great profit to both sides.
Except for issuing a bland statement welcoming the new strategy, the Indian government has not reacted to this development but one thing is clear – the days of benign neglect seem to be over. What form the increased engagement takes will become clear in the coming months, especially is Brexit actually happens.
ASEAN: A belated focus on India's backyard
The narrative is turning for the better in India – on the economy and elsewhere. The Indian foreign policy establishment has traditionally been more concerned about relations with the big powers than small countries in the immediate neighbourhood. In the early Nineties, the P.V. Narasimha Rao government did try to change this with its Look East Policy, but it was only after 2014 when Narendra Modi became Prime Minister that India actually began to Act East, which, incidentally, is the name of the new policy to engage with India's neighbours to the east of its borders, namely the 10-nation ASEAN [Association of Southeast Nations] bloc and South Korea.
This year, for the first time in history, Modi invited all 10 Heads of State or Heads of Government of the ASEAN nations as chief guests at India's annual Republic Day function. It was an unprecedented gathering in New Delhi, where the leaders of Brunei, Cambodia, Indonesia, Laos, Malaysia, Myanmar, Philippines, Singapore, Thailand and Vietnam witnessed the annual Indian show of its military might and cultural diversity.
India's Ministry of External Affairs (MEA) announced that India and the ASEAN were marking 25 years of dialogue partnership, 15 years of summit-level interaction, and five years of strategic partnership.  A wide range of activities culminated in a summit with the theme of "Shared Values, Common Destiny".
This robust and dynamic action-oriented engagement with ASEAN and also with Japan and the rest of the Indo-Pacific has a thinly disguised and officially denied goal: create a balance of power with an increasingly aggressive and expansionist China, which has claimed, without any basis in international law, sovereignty over all of South China Sea, as well as dominance in the Indian Ocean Region.
Among ASEAN countries, Vietnam and Singapore have long been urging India to play a more assertive role in the region even as four of the 10 ASEAN members – Vietnam, Brunei, Malaysia and the Philippines – are directly affected by China's unsubstantiated claims over their territorial waters.
It is in this context that New Delhi has upgraded its relationship with ASEAN to a strategic partnership and has, in recent years, sought to deepen its defence and strategic relationship with Vietnam by exploring a deeper military engagement including the sale of weapons.
The economic engagement is still a work in progress. Indian companies such as Tata, AV Birla Group, L&T, Infosys and others have invested in facilities across ASEAN, and especially in Cambodia, Laos, Myanmar and Vietnam. Singapore has emerged as a preferred Asian gateway for Indian companies raising money abroad and  as a beachhead for foreign expansion.
Australia, Africa and the Middle East: New frontiers for Indian foreign policy
There are an estimated 700,000 Indians working or studying in Australia and several large Indian corporate houses like the Tatas, the Adanis and the Aditya Birla Group, among many others, have large investments there but most Indians still don't know much about Australia beyond the identities of its cricketers.
But Prime Minister Modi's Act East Policy has, in recent years, increased bilateral official contact between New Delhi and Canberra and this is bound to result in increased visibility of this relationship in future.
Reciprocating Modi's push for deeper engagement with Australia, its government has set a target of elevating India among the top three export markets for Australia.
The goals are quite stiff. A new strategy unveiled by the Australian government this year calls for it to increase its exports to India by a factor of almost three – from $12.5 billion in 2017 to $33 billion – and Australian FDI into India by 10 times – from $7.6 billion to almost $75 billion – over the next two decades to bring about what it rightly calls a "transformational expansion of the relationship".
This strategy has identified 10 states – Maharashtra, Gujarat, Karnataka, Tamil Nadu, Andhra Pradesh, Telangana, West Bengal, Punjab, the National Capital Region of Delhi and Uttar Pradesh – and 10 sectors of education, which the report calls a flagship sector, agribusiness, resources and tourism, which it has dubbed as lead sectors and energy, health, financial services, infrastructure, sport, science and innovation in which these investments and cooperation will mainly be focused.
Then, the Quad security architecture comprising the US, Japan, Australia and India held its first meeting earlier this year. This emerging security grouping of four democracies, many experts feel, could be the first baby steps towards eventually forming a NATO-like alliance in Asia.
The message is clear: Australia now recognises the transformation in the Indian economy under Prime Minister Modi and wants to tap into this opportunity to be part of what promises to be one of most exciting growth stories of this century.
This report complements Modi's Act East Policy perfectly by setting the economic relationship within a broader framework that includes geo-political convergence and cooperation and closer people-to-people ties.
Here, it will be apt to recap how Modi has made Indian expats in the UK, the US and elsewhere a key pillar of his foreign policy regime. He has eloquently called the 1.5-million Indian diaspora in the UK, which has contributed richly to its public, business and academic life and emerged as an integral part of a vibrant and diverse British society, as a "Living Bridge" connecting the two countries.
Given the cultural similarities, with both India and Australia being part of the Commonwealth culture, there is a very high probability of closer people-to-people ties helping cement the strategic and economic relationship.
Africa and the Middle East also figured prominently in Modi's outreach to the world. As 'India Global Business' has highlighted previously, Modi has proposed a partnership model of development to the 54 African nations as opposed to the more exploitative resource extraction and land purchase model followed by rival Asian powers. This has been enthusiastically welcomed by every African leader. Though the desire by some less scrupulous African leaders for immediate dollars than sustainable growth may keep the balance in China's favour for some time to come.
In the Middle East, too, Modi's foreign policy thrust is showing very positive results. This region, which is home to over three million Indian expatriates, also accounts for more than 75 per cent of India's oil imports. Several Indian companies, such as Tatas, Larsen & Toubro, Mahindra and others have a large presence there.
Increased economic and diplomatic engagement with the Middle East under Modi is beginning to bear fruit. Last month, the UAE extradited Christian Michel, a British national wanted in India on bribery allegations, the first time that a Middle Eastern nation has taken such an action with a citizen of a Western country. This for India is a huge step forward, and a personal vindication for Modi's diplomatic overdrive.