Under Modi, India's ties with Israel, Palestine no longer a zero-sum game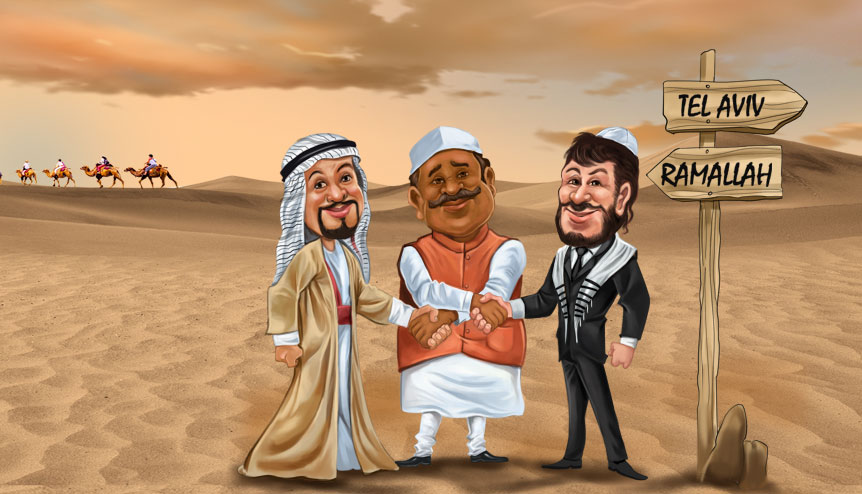 Editorial
The India-Israel relationship need to play up their potential of collaboration across the sectors such as agri tech and water conservation.
There is much more to the India-Israel strategic partnership than just the security and strategic relationship, although these tend to get drowned out by the Indian media's obsession with stories on arms purchases. And there's much more to New Delhi's ties with Palestine than merely keeping the Arab bloc happy. Now that Indian Prime Minister Narendra Modi's deft diplomacy with Saudi Arabia and the United Arab Emirates (UAE) has laid to rest the old bogey of the Arab world being upset with the government for befriending Israel, the time is ripe to develop both these millennia-old relationships without treating them as a zero sum game.
Over the last 28 years and especially since Modi came to power in 2014, India has forged strong economic and strategic ties with Israel without sacrificing the country's age-old bonds with Palestine. If Israel is a major source of weaponry and farm technology, Palestine offers India a large market and an important entry point to reach 350 million consumers of the Arab world.
Then, India's bilateral trade with Israel is at about $6 billion per annum and with Palestine a fraction of this. There is considerable scope to ramp up these figures to a more substantial number. Greater flow of tourists should also be encouraged by facilitating more avenues for people to people connect actively to leverage the positive opinion that citizens of each country have of the other.
Given the warmth in the respective bilateral ties, all these and more should be doable over the short to medium term.