UK university partnership helps build homes in Gujarat to counter flood risk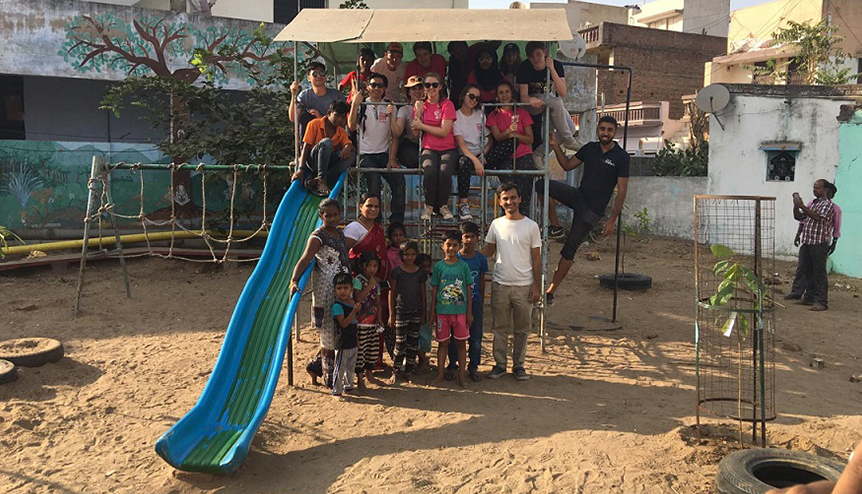 The Global Indian effect was at work when De Montfort University in Leicester's Square Mile India project celebrated new homes for communities near Ahmedabad.
A partnership between a UK university and property consultancy celebrated the creation of new homes in Gujarat through fundraising and staff and student participation.
De Montfort University in Leicester (DMU) tied up with local construction and infrastructure consultancy Pick Everard for its Square Mile India project to provide 50 new homes for the "Loving Community", on the outskirts of Ahmedabad. The community is populated by more than 430 residents, 40 of which are former leprosy sufferers.
"Working with the 'Loving Community' has not only been transformational for the families involved but also our architecture students," said Mark Charlton, associate head of public engagement at the university, to mark a year since the project began.
"The homes are funded through support from Pick Everard and contributions from DMU staff and students, as well as the local community in Leicester and we are thrilled with the positive impact that this collaboration has brought to the 'Loving Community'," he said.
Due to poor infrastructure and local topography, the community is prone to flooding during the Monsoon period and many people have to leave their homes as they become uninhabitable. Since February last year, DMU's School of Architecture has been working in collaboration with architect Anand Sonecha to develop designs to raise the homes above flood level. Construction began in April 2018, with the cost of the works being met by fundraising.
Each house costs approximately £5,000 and the designs include the potential to be enhanced further when funding is available to families, the university said.
"An architect's job is to design buildings and create the physical environment in which people live. But the most successful architecture goes beyond building four walls – it changes people's lives, and this project reflects that," said Nish Tailor, an architectural assistant at Pick Everard, who has been helping the students project-manage the building work.
"The 'Loving Community' residents had to fend for themselves after being outcast by society more than 40 years ago. Despite no longer being contagious due to the disease being treated, the stigma surrounding leprosy is so strong that they are still not welcome in their native villages," Tailor said.
The homes are funded through support from Pick Everard and contributions from DMU staff and students, as well as the local community in Leicester – a city with a significant Gujarati-origin population.
Paul Rothera, national director at Pick Everard, said: "The development of the new houses has been tremendous. There are no shortcuts in the construction and the quality is superb."
Among the first residents to benefit were widow Narshama Bhan and daughter Akshera, who are relieved that the new homes will not flood, have light and space and even their own courtyard area, the university said.
Speaking through an interpreter, Narshama said: "Before I was so fed up and tired and every monsoon it was a very bad and unhealthy situation for all of us.
"I never had a thought, or even a dream that I would be living in such a nice home. I thank the Lord that finally I have a nice home."
DMU Vice-Chancellor, Professor Dominic Shellard, originally conceived the idea to draw on the skills and experience of students and academics on the architecture course to address a very local Monsoon related issue.
He said: "Because the community is situated in the bed of an old river, the Monsoon waters in May and June rise up through the floor of their dwellings. This means the people living there have to move out and sleep on the floors of a community centre for several months.
"I felt that trying to provide a solution to enable the community to remain in their homes through the Monsoon season was exactly the kind of project that DMU and Square Mile India should embrace."
The DMU Square Mile India has been created to give an overseas dimension to DMU Square Mile, which has been using the skills of students and staff to help the community in Leicester since 2011. The Indian project began in the slums of Ramapir No Tekro in Ahmedabad, which is home to 160,000 people who live in the same size area as the 7,000 living in Leicester's Square Mile.
Health programmes such as carrying out eyesight and hearing tests are and work on schemes to improve water supplies and drainage by engineering students are some of the activities undertaken.
Students and staff from the university regularly travel to India to work with children from some of the area's poorest communities. Flood-risk homes are being rebuilt, children are getting an education that would otherwise be denied them, people are getting tests that improve their hearing and youngsters are getting dance and drama lessons, claims the university.
The cost of work in India has been met by fundraising carried out by DMU students, staff and friends of the university, with activities being held on campus, including a sponsored abseil. People can also donate to the Square Mile India Fund to provide essentials such as books, school equipment, access to medicine, and sports and games equipment for young people.
Most recently, the UK's Enterprise Rent-A-Car Foundation donated £2,000 to DMU Square Mile India after hearing of its work in Gujarat.
Amy White, Deputy Head of Public Engagement at DMU, said: "We are extremely grateful to Enterprise Rent-A-Car for its support of DMU Square Mile India. This contribution will be used to support our work in Gujarat which we know is already making a difference to so many people."