UK-India partnership could do with a health check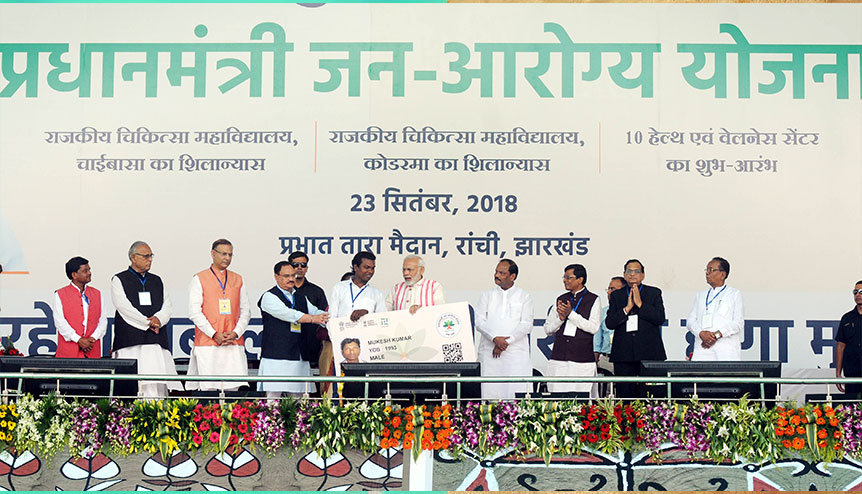 Healthcare has often been described as an important aspect of the UK-India partnership, with the vision of Modicare finding a natural connect with the UK's state-funded National Health Service (NHS). As the UK opens up this sector with a new NHS Visa and an ambitious healthtech drive, it is time to renew and review this bond fit for a post-Brexit world.
Highlights:
Over 5,000 diagnostic centres in India are being planned using NHS expertise, equipment and suppliers as part of an enhanced UK-India healthcare partnership.
A vibrant health tech focus in many states across India and in the UK offers many opportunities for more region to region collaborations.
The NHS Visa was one of the first major announcements made by Boris Johnson as he took charge at Downing Street last year.
When the Indian Prime Minister Narendra Modi unveiled his ambitious Ayushman Bharat programme, the world's largest government-funded national health insurance scheme to transform the health and quality of life of over 500 million people, the UK's state-funded National Health Service (NHS) was seen as an obvious reference point.
"I am proud that our NHS will be used as an example of gold standard healthcare in India – it is only right that our world-leading knowledge and expertise is shared across the globe," said Jeremy Hunt, the UK Health Secretary at the time in 2018.
Since then the programme, dubbed "Modicare", has played a central role in healthcare-related discussions between the two countries, with plans to develop up to 5,000 diagnostic centres in India using NHS expertise, equipment and suppliers as part of an enhanced UK-India healthcare partnership.
Indo UK Institute of Health (IUIH)
The collaboration kick-started with a project to build 11 "medicities" in India, run by the Indo-UK Institute of Health (IUIH) in partnership with leading UK hospitals with a vision for "affordable, available and accountable" healthcare in India.
"The IUIH facilities will have expertise both in operations and research from their collaboration with the NHS, partnerships with leading UK healthcare industry companies and UK partners in research, education, manufacturing and healthcare delivery," explains Dr Ajay Rajan Gupta, IUIH MD and Group CEO.
Each Medicity will eventually comprise a 1,000 bed multi-speciality NHS Trust branded hospital, a 200-seat nursing college, a 150-seat medical college, a paramedic college, a post-graduate training academy, a medical device manufacturing unit, a research and development unit. The aim is to create integrated world-class healthcare facilities that build on the best practices in the UK and India across quality healthcare delivery, education and training, medical manufacturing and research and development. However, the project must now get a much-needed push to accelerate the pace of progress.
Market opportunity
According to official government estimates, India's healthcare market is growing at a rate of 22.9 per cent per year and is expected to rank among the top three healthcare markets globally in terms of incremental growth soon. India plans to increase public health spending to 2.5 per cent of the country's GDP by 2025, resulting in predicted growth of the value of its market to £280 billion
Therefore, the opportunities for greater win-win collaborations are immense, especially in the field of tech and innovation. The NHS, under the charge of UK Health Secretary Matt Hancock, is on its very own digital revolution mission and experts believe that is where the Indian partnership fits in perfectly.
"Both countries are looking for ways to use telemedicine to help support patients without high cost face-to-face clinical interactions. In India in particular, this has the potential to transform the way healthcare is delivered to the two-thirds of the population living in rural areas," says Sir Malcolm Grant, Former Chair of NHS England.
With a vibrant health tech focus in many states across India, including Telangana, Kerala and Gujarat, this is an area where a lot more region to region collaborations is also expected. In the UK, cities such as Manchester and Birmingham are working towards clinching some of those attractive new pacts. Indeed, Birmingham will be playing host to a mega India-UK Healthcare Conference on 10-11 February, during which key stakeholders from both countries are expected to highlight the progress made so far and also strike some new alliances.
While the Indian MedTech sector is growing at 10-15 per cent annually, over 75 per cent of medical devices and the majority of diagnostic imaging systems are still imported into the country. Technologies from the UK are highly sought after and with the broader UK-India partnership based on Make in India principles, this is an area where both countries are keen to push for greater collaboration.
Post-Brexit scenario
Meanwhile, the UK's exit from the EU opens up a whole new scenario for this particular sector. A new NHS Visa was one of the first major announcements made by Boris Johnson as he took charge at Downing Street last year.
Under the new "NHS People Plan", qualified doctors, nurses and allied health professionals with a job offer from the NHS, and who have been trained to a recognised standard, will be offered fast-track entry, reduced visa fees and dedicated support to come to the UK.
The move is aimed at addressing a massive workforce shortage within the NHS, with doctors and nurses from India traditionally seen as a reliable resource. The new visa has been widely welcomed as a win-win solution for both countries, with Indian doctors getting access to world-class training facilities in the UK and Britain being able to address its own workforce demands.
"These measures are part of our plan for an Australian-style points-based immigration system that allows us to control numbers while remaining open to vital professions like doctors and nurses," said UK Home Secretary Priti Patel, in charge of implementing the new post-Brexit visa regime.
Outlook for the future
After 72 years, the NHS has had its own upheavals and continues to battle with what has often been described as an investment blackhole. But with Boris Johnson's election pledge to raise its funding by 3.4 per cent a year and to protect in law a £20.5 billion increase in annual NHS spending by 2023-24, the need for closer cooperation in the field with partners like India is a no-brainer.
On the Indian side, as the government delivers on the ambitious Modicare vision to bring in half a billion people within a public health insurance scheme, the UK offers a great blueprint as well as an opportunity to learn from its many struggles.
It is therefore the right time for a health check on the UK-India partnership in this field.