UK calls time on China's 'bullying behaviour' with India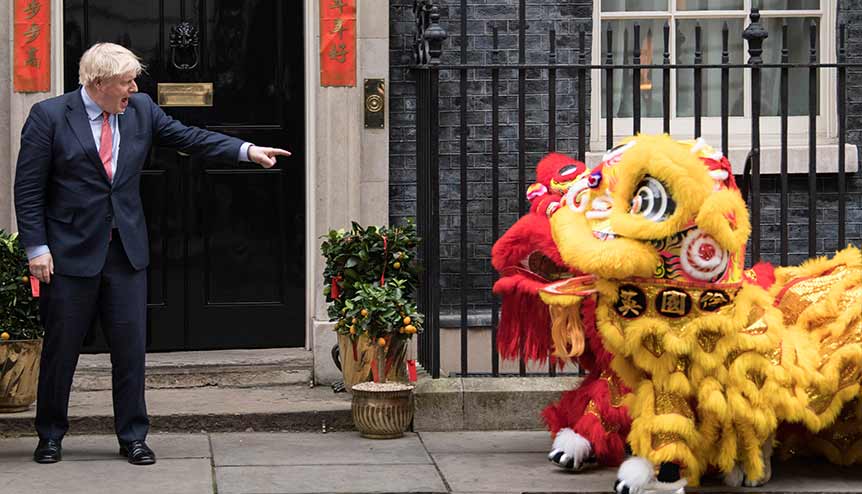 There is mounting pressure within the UK for the government to focus on enhancing the 'special relationship' with India and reducing the country's dependence on China.
UK lawmakers recently raised concerns in Parliament over China's "bullying behaviour" in the border dispute with India and the "delayed declaration" of Covid-19 and urged an internal review into the UK's dependence on China with a view to reducing collaboration with the country.
Conservative Party MP Ian Duncan Smith raised the issue as part of an urgent question in the House of Commons this week on the "mistreatment" by the Chinese government of the Uyghur minority in Xinjiang province.
"Given the Chinese government's appalling record on human rights, their attack on freedoms in Hong Kong, their bullying behaviour in border disputes from the South China seas to India, their blatant breaching of the rules-based order governing the free market and their delayed declaration on Covid-19, will the Government now initiate an internal review of the UK's dependence on China, with a view to significantly reducing that dependence," questioned Smith.
Related stories: India's strength QUAD-ruples against China
Social distancing from China bringing India and the US closer?
Business response
UK Minister for Asia Nigel Adams responded to say that the UK government has been regularly raising its concerns with China over various areas of concern.
"On a full government review, our approach to China remains clear-eyed and is rooted in our values and interests. It has always been the case that when we have concerns we raise them, and that where we need to intervene we will," he said.
Opposition Labour Party MP Stephen Kinnock also pressed the minister over the "increasingly belligerent" behaviour of China towards its own people and neighbouring countries.
"Does the Minister recognise that the CCP's [Chinese Communist Party] actions in Xinjiang reflect a wider pattern of behaviour of increasingly authoritarian policies at home and aggressive expansionism abroad, including in Hong Kong, Ladakh and the South China sea," he questioned.
Adams responded to say that the UK had been "very active" on these issues and has played a leading role in raising all concerns bilaterally and at the United Nations and also called on UK companies active in the Xinjiang province to carry out due diligence over the treatment of minorities.
"All British companies involved in the region must consider carrying out proper due diligence to ensure that human rights violations have not been taking place in their supply chains," he said.
Hong Kong
This reference to reassess global supply chains comes at a critical juncture in China's relations vis-à-vis the rest of the world. The strains were already obvious to see, only further heightened with the passage of the new National Security Law, seen as a body blow to rights and freedom and in direct conflict with Hong Kong Basic Law.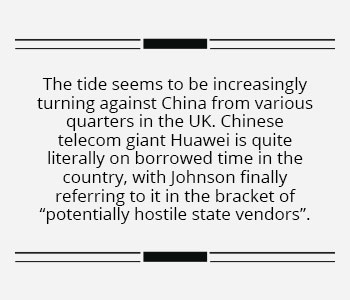 "The enactment and the imposition of this National Security Law constitutes a clear and serious breach of the Sino-British Joint Declaration. It violates Hong Kong's high degree of autonomy and is in direct conflict with Hong Kong Basic Law," Johnson declared angrily in the House of Commons in the wake of the legislation.
"The Law also threatens the freedoms and rights protected by the Joint Declaration. We made clear that if China continued down this path, we would introduce a new route for those with British National (Overseas) status to enter the UK, granting them limited leave to remain with the ability to live and work in the UK and thereafter to apply for citizenship. And, that is precisely what we will do now," he said.
China retaliated to this UK move of offering a haven to nearly 3 million citizens from what was its former colony as an act of interference and has threatened repercussions.
China dependence
But the tide seems to be increasingly turning against China from various quarters in the UK. Chinese telecom giant Huawei is quite literally on borrowed time in the country, with Johnson finally referring to it in the bracket of "potentially hostile state vendors".
Brexiteers who had lobbied for Britain's exit from the European Union (EU) to push for a closer relationship in the Indo-Pacific region have redoubled their pressure on the British government to ensure there is no dependence on China in the new post-Brexit order.
"As the UK reclaims its sovereignty from Brussels, it must ensure that it does not allow itself to become overly dependent on any other nations, or bloc of nations, including – and perhaps especially – China," notes a new report 'Moving Beyond Europe' by the Foundation for Independence.
The pro-Brexit think tank wants the government to be far more proactive on its relations with India, which it fears are lagging far behind potential.
"Endeavour to create a 'special relationship' between the United Kingdom and India. The current relationship is falling far short of its potential and would benefit from a renewed focus on certain natural areas of convergence," it notes, suggesting more immediate economic strides instead of delaying matters until a full-fledged UK-India free trade agreement can be clinched.
And, as China seems to be firmly set on a belligerent path, these voices are likely to only intensify.