Trump's hardball pushes India closer to Russia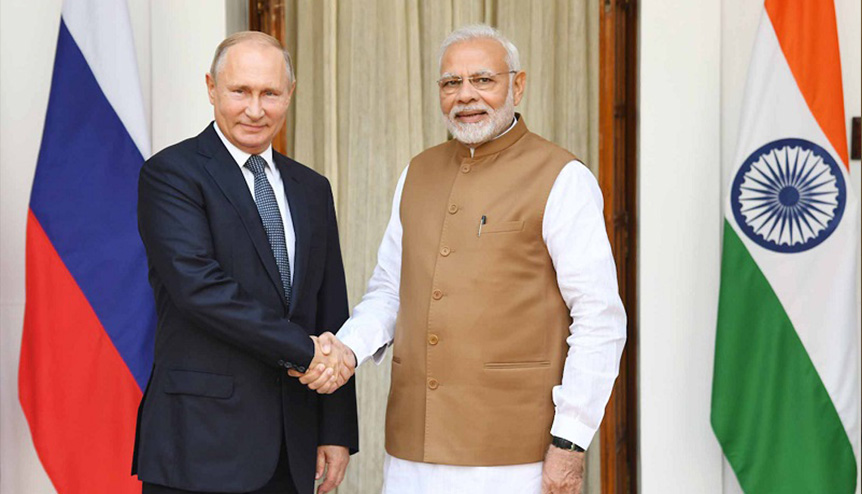 A low-key defence deal struck during President Vladimir Putin's recent visit to India is unlikely to have gone unnoticed in the US.
The conclusion of the $5.43-billion deal to purchase five regiments of Russia's S400 Triumf long-range air defence system was by far the most significant announcement of the summit meeting in early October between Indian Prime Minister Narendra Modi and Russian President Vladimir Putin in New Delhi. Yet the confirmation of the deal itself through a single brief sentence buried in the 45th paragraph of the official joint statement, almost like an after-thought, was conspicuously low key.
This defence deal is the largest in size undertaken by the Modi government after the Rafale deal, yet the two heads of the state did not refer to the deal at all during their press engagements. Curiously, it did not even feature in the official list of agreements signed between the two sides either.
Spotlight
The lack of spotlight on a deal of this importance was deliberate from a diplomatic stand point. Even as the purchase of the S400 missiles was important for India, what was also important was for it to not ruffle the already frayed feathers in President Trump's administration in the US. Only last year, the US introduced a special legislation Countering American Adversaries Through Sanctions Act (CAATSA) that seeks to dissuade neutral parties from doing business with its direct adversaries. It is a rather crude form of a popular diplomatic weapon where you seek to hurt your rivals economically by isolating them from their major trade partners.
CAATSA came into the news recently when it was enforced for the first time ever against a Chinese entity, the Equipment Development Department (EDD) of China's Central Military Commission (CMC), in response to China's purchase of Su-35 aircraft and the S400 system. India's purchase of the latter, barely two weeks after the sanctions against EDD also makes it vulnerable, so the smart thing was to keep it low key.
US reaction
Even then, the US did take note though its relations with India are far more favourable than with China, so it can be expected to ponder a bit more and even grant a waiver to the Indian government.
"The (CAATSA presidential) waiver is narrow, intended to wean countries off Russian equipment and allow for things such as spare parts for previously-purchased equipment," a White House National Security Council spokesperson said after the news of the contract became public.
A US embassy spokesperson in New Delhi added that while the CAATSA was aimed at Russia, it was not intended to damage the military capabilities of its "allies and partners".
The only person who could grant a waiver to India, President Trump himself has kept the suspense going on this topic.
"India is going to find out, aren't they?" he said earlier this month. "You'll see. Sooner than you think."
Thorny issues
CAATSA and the purchase of the S400 missiles, however, is just one in a long list of thorny issues that have gnawed the otherwise rock-solid Indo-US relations, especially since Trump came to power. India has regularly featured in the US President's speeches when he speaks against globalisation and in favour of protectionist trade policies blaming India along with China as two of the nations that have benefitted out of US government's generosity on lower tariff for imports. For example, he has repeatedly raised the issue of higher duties in India for import of motorcycles that adversely impact the fortunes of American brands like Harley Davidson.
More recently the issue of sanctions on Iran that seeks to freeze trade ties of the US with any country that continues to transact with the Middle Eastern country beyond November 4, has also festered. India imports 80 percent of its crude oil requirement and Iran is its third largest supplier of crude. With the international prices of crude on an upswing and the Indian currency at an all-time low, India has been lobbying for a waiver on this count as well. To no avail, so far.
"Certainly when we hear about things such as purchasing oil or purchasing of the S-400 systems, it's not helpful. The United States government just reviews that very carefully," said Heather Nauert, spokesperson for the United States Department of State.
India's choices
The hawkish stance from the US has left India with little choice. As an emerging economy, its requirement of energy cannot be curbed and to find an alternative to a country that accounts for a sizeable percentage of your crude oil requirement is no easy task. Further, as one of the biggest sufferer of global terrorism and surrounded by hostile countries on at least two sides, India also needs to continuously bolster its military prowess.
In this case, Russia has been a long standing major contributor and still contributes 60 percent of all military equipment needs of India. The US, even after a decade of bonhomie only accounts for around 13 per cent. Russia is also a traditional ally. There are some economic and geopolitical concerns that Russia and India share and the inconsistencies that have cropped up in the US foreign policy is only helping in pushing the two countries closer.
"India and Russia share a common understanding of multilateralism and global governance. Even as the concept of globalisation has come under strain and protectionism has gained currency, the importance of multilateralism in the current global architecture cannot be undermined. Infact, the most potent example of this is BRICS where India and Russia are both involved," says Professor Anuradha M. Chenoy, former Dean, School of International Studies at the Jawahar Lal Nehru University (JNU).
India-Russia bonhomie
In the backdrop of the S400 deal there is a lot of visible bonhomie between India and Russia. The run up to President Putin's visit had seen an intensification of the bilateral dialogue between Russian and Indian officials. Indian Minister of Commerce and Industry, and Civil Aviation Suresh Prabhu led the Indian delegation at the Eastern Economic Forum (EEF) in Vladivostok from September 11-13 while External Affairs Minister Sushma Swaraj visited Moscow on September 13-14 where she met her Russian counterpart Sergey Lavrov and co-chaired with Deputy Prime Minister Yury Borisov the India-Russia Intergovernmental Commission on Technical and Economic Cooperation. There has been a show of defiance and some not so subtle digs at the US as well.
"CAATSA will not be a pressure [point] between India and Russia defence deals … We hope in the next two-three months, without any interference in the negotiation process, we could close the deals on frigates as well as Kalashnikov assault rifles," said Nikolay Kudashev, Russia's envoy to New Delhi. "There could be other deals also. Just give the military some time."
Kudashev was referring to the other Indian contracts in the pipeline with Russia. These include a $2 billion buy of four Krivak III-class frigates, a US$1.5 billion deal to build 200 Kamov-226T light helicopters in India and a billion-dollar contract for some half a million AK-103 rifles for the Indian Army. All of these risk sanctions under CAATSA but unlike the purchase of oil from Iran where Indian private sector oil firms are already curtailing supplies, there is more sure-footedness on these.
"Russia is the only country that has offered India a critical transfer of technology. If any other country decides to replicate that, it would be a game-changer," says Himani Pant, junior fellow at Observer Research Foundation. "Russia has always been the main arms supplier for India. During the period of 2008–12, 79 per cent of India's total arms imports were from Russia. On the basis of that foundation there has been an improvement in bilateral trade as well. There was a 22 per cent growth in the period of 2016-17. While the numbers might be small compared to other countries, it nonetheless showed an effort to pick up trade relations."
Conclusion
That is not to say everything is perfect with Indo-Russian ties either. Russia has been ambiguous on China and a neutral party both on South China Sea as well as Indian Ocean. At the same time, Russia has grown softer on Pakistan, increasing its defence supplies to India's main rival while its interests in Afghanistan have been out of sync with India's.
"There are a few areas of divergence as well. Russia has generally kept a quiet or diplomatic stance on the South China Sea issue, while India prefers a stronger position due to its relation with Vietnam. At the same time India needs to give clarification on the militarisation of the Indian Ocean," Chenoy agrees.
On paper as two of world's largest democracies, India's interests remain more aligned with the US. But in a fragile world of differing realities with no permanent friends or enemies, India would do well to not put all its eggs in one basket.