Tier two cities in India are revving up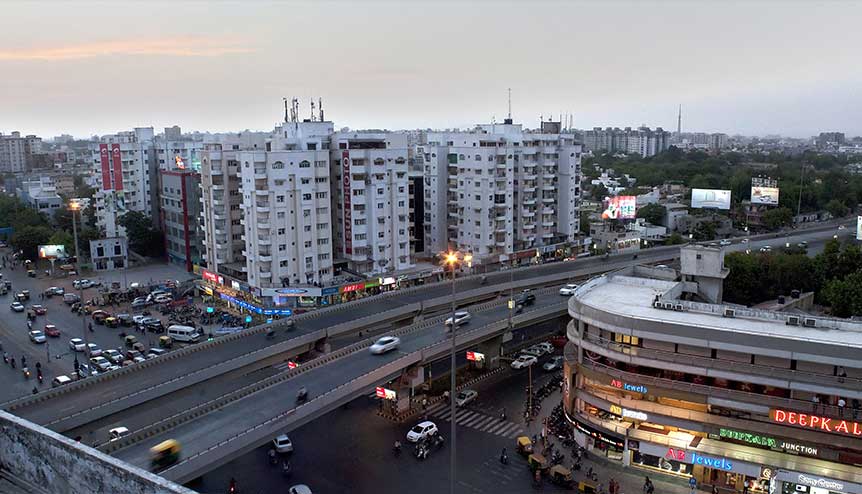 In this extract from book, 'Midnight's Grandchildren: How Young Indians are disrupting the world's largest economy' Mark Hannant outlines how Indian millennials are disrupting old traditions to pursue global aspirations.
Rakshit eloped with his college girlfriend because her father wouldn't tolerate their 'love marriage'. They are both from the northern state of Gujarat. He's Hindu and a Patel. She's a Shah from the Jain community. While his parents had a love marriage and were willing to accept his choice, her parents were not and expected her to fall in line with their choice of bridegroom. To sidestep those expectations requires bravery.
Rimpal's father wouldn't budge so the young lovers left their respective homes and moved to Vadodara. Rakshit previously worked for ICICI Bank. His father was also a bank employee, his grandfather a farmer. Over the years since independence, the family has been part of the mass migration from rural to urban India. By eloping, 27-year old Rakshit had to give up his job with ICICI. He's now a relationship manager for Creditmate, a fintech company.
The stakes are high for Rakshit and Rimpal. By turning their backs on tradition and embracing modernity, they've cut themselves off from the safety net of family support.
McKinsey reckoned that almost 40 per cent of global growth in the fifteen years from 2011 would come from 400 cities in emerging markets. They were described as 'middleweight' cities. Populations vary from a little under one million people to more than two million. Vadodara is one of them.  Along with other Indian conurbations, such as Pune, Nagpur, Bhubaneswar, Lucknow and Ahmedabad, they are often described as Tier 2 cities. I think of them as two-wheeler cities. Travel on their roads and you'll find yourself swept along in a swarm of scooters and motorcycles. It's mayhem. India overtook China to become the world's largest market by volume of two-wheeler vehicles in 2017 with 18 million new vehicles bought in that year. In total, there are estimated to be more than 200 million two-wheelers on India's roads.
These cities are exhilarating, sometimes overwhelming, places with huge young populations with rapidly rising incomes. Rents and property prices are low so the proportion of incomes that are disposable is relatively high. They are magnets for young aspiring men and women from their surrounding towns and villages.
To understand the growth potential of India and its mass market millennials one has to get under the skin of Vadodara and similar cities.
I joined Creditmate co-founder Jonathan Bill and Bimal Bhatt, national dealer manager, on the 12009 Shatabdi Express. On reclining seats in a spacious and pristine air-conditioned carriage we were served chai and omelette. Dawn broke as we speed past the corrugated slums and glass skyscrapers of Mumbai's northern suburbs. Well-shod businesspeople sat comfortably alongside wedding-bound families, headed along the almost 500km route to Ahmedabad. Some got off at Surat or Baruch, briefcases in hand. Four-and-a-bit hours after departure we disembarked at Vadodara where porters in red shirts lugged wedding-goers' suitcases to waiting Toyota Innovas and yellow shirted station cleaners kept the platforms in impeccable order.
Dodging the unruly hordes of two wheelers we made our way through dusty back streets to meet a new customer whose credit application was being approved that morning.
In new crimson All Stars and an Adidas T-shirt, Jignesh 'Jay', a 20-year old student was having his loan approved on the basis of his father's earnings from his job as a chef. Jay signed his papers on the Formica table of a Café Coffee Day.
With the loan, Jay would soon be the owner of a two-year old 150cc Yamaha R15, a sports bike that would outdo and impress his college mates. He wanted it in red. He has a strong enough grasp of English to fill out the loan application forms. In the second year of a three-year degree he already had a small photography side hustle. The owner of two Canon cameras, he and his friends do good business photographing couples before their weddings. Early morning and at sunset at coastal sites and heritage buildings across India you see couples posing for the camera. Since wedding related expenditure gets societal sanction, he's tapping a rich seam of revenue.
The fact that there's parental approval of the loan and that his social standing is tied to his ownership of the bike, and by extension his continued ability to service the loan, means Creditmate is confident there will be no default.
Impatient to get going, floppy quiff bouncing and the prospect of a shiny new babe magnet within his imminent grasp, Jay is the Indian millennial aspiration personified. The Economist may be dubious about the scale of India's middle class but the reality on the ground is that, whether documented or not, in bike dealerships and coffee shops in emerging cities across India there are millions of Jays eager to saddle up and rev the throttle.
The above is an edited extract from the book 'Midnight's Grandchildren: How Young Indians are disrupting the world's largest economy' by Mark Hannant, published by Routledge (2019) in the UK and India.