The world gets ready for 50 million Indian tourists by 2022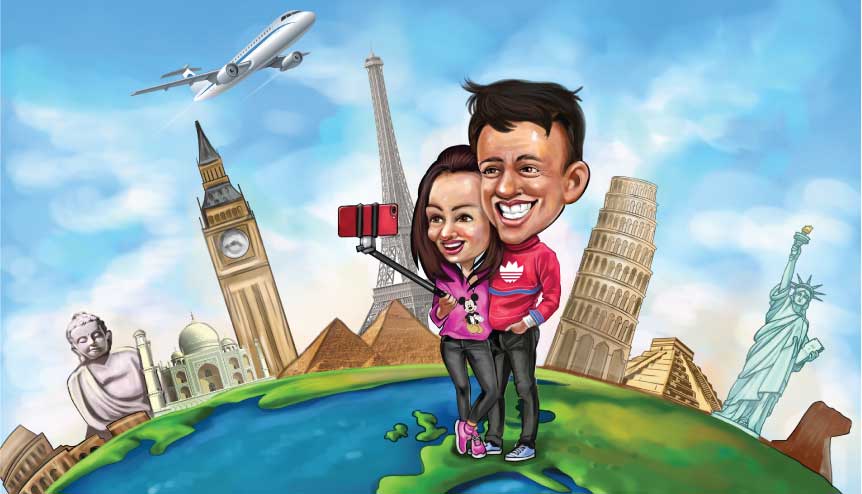 Life is a journey – and more Indians are increasingly hitching a ride to visit places around the world as diverse as Boston and Bali to London and Larnaca. But with Indian travellers among the world's highest spenders per visit made abroad, and a rich history of cross-cultural pollination wherever Indians visit, nobody is complaining.
There are sound economic reasons for questioning the gloomy predictions about a contraction of the Indian economy this year, which could be overstated.
"Serendipity is our tour guide, assisted by caprice."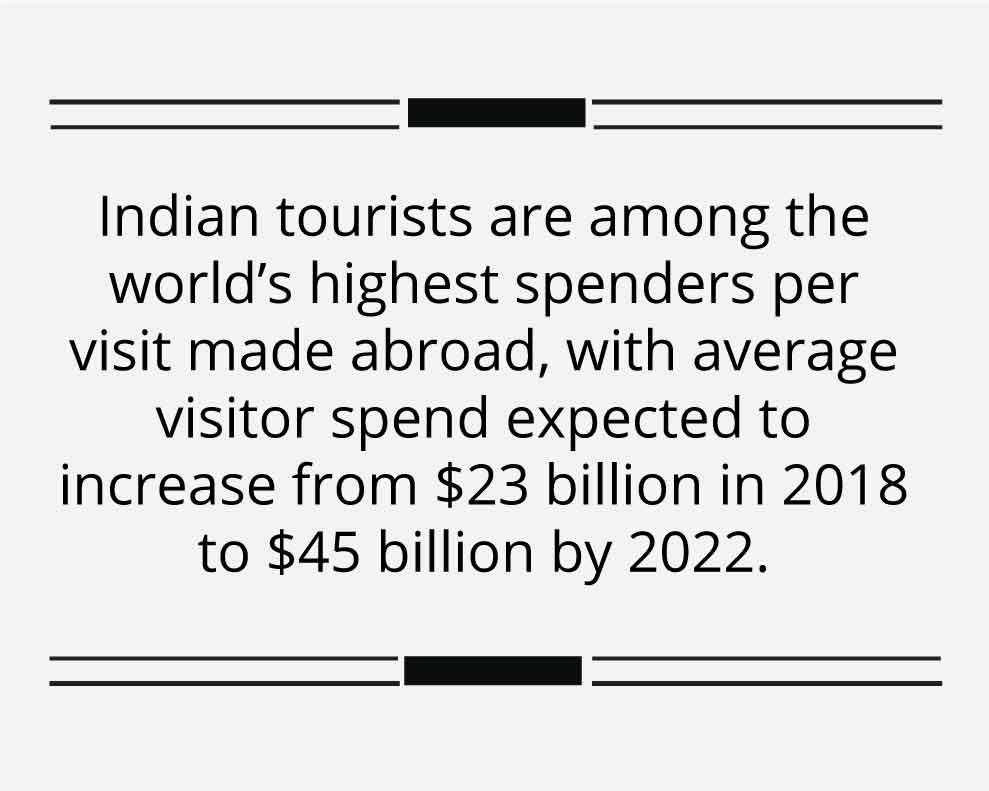 That would be Pico Iyer from his travelogue "Video Night in Kathmandu," but the same motto seems to inspire quite a number of Indians every year as they fly out of national pastures into global tourist hotspots.
In fact that number would be more than 23 million, to be precise – and about to jump to 50 million by 2022.
And the coronavirus pandemic has amply demonstrated the power and reach of the Indian tourist – with India's Vande Bharat mission also being deployed to bring back Indians stuck in far-flung corners of the earth while holidaying.  
But why are such a staggering number of Indian travelling abroad every year, and what does it mean for both India and the most popular countries hosting them?
The sheer scope, size and strategic importance of the outbound tourism sector in India gets clear when we consider the following:
In 2000, less than 5 million Indians were heading out of the country, but around 23 million Indians travelled out of the country in 2019.

According to the UN World Tourism Organisation (WTO), this number will dramatically increase by 122 per cent to 50 million Indian tourists by 2022. Even if we discount a part of this due to the unprecedented travel calamity brought about by Covid-19, this is still a humongous number.

Indian tourists are among the world's highest spenders per visit made abroad, with average visitor spend expected to increase from $23 billion in 2018 to $45 billion by 2022.

If you thought 50 million is one giant of a number – think again! As of 2020, the Indian government has issued 75 million active passports in India – meaning there would still be around 50 per cent people with passports who would be yet to travel even in 2022.

The Indian passport has consistently gained in power and currently ranks 59 on the global index – meaning that Indians can travel to 59 countries without a visa or an easy visa-on-arrival. Apart from that, Indian passport holders with a valid US or UK visa can also enter more than 15 countries such as the UAE, Philippines and Columbia without any additional visa.

The rush of Indian tourists to the Gulf Cooperation Council (GCC) states alone over the next 5 years will create an extra 11 million room nights, according to data by the Centre for Asia Pacific Aviation (CAPA).

With visa barriers melting away, Indians in tier-2 cities gaining more exposure to international destinations thanks to rapidly growing internet penetration, and disposable income increasing considerably for family units (at least in the pre-Covid era), the average Indian tourist today is more than ready to explore the world.
And as the figures above demonstrate, a saturation point for fulfilling the demands of Indian tourists is several decades away – given the sheer size of the segment.

Namaste London
While they seem to have adopted the motto of an Aatmanirbhar (self-reliant) quest long before Indian Prime Minister Narendra Modi advocated it, not all Indian tourists are guided by serendipity or caprice.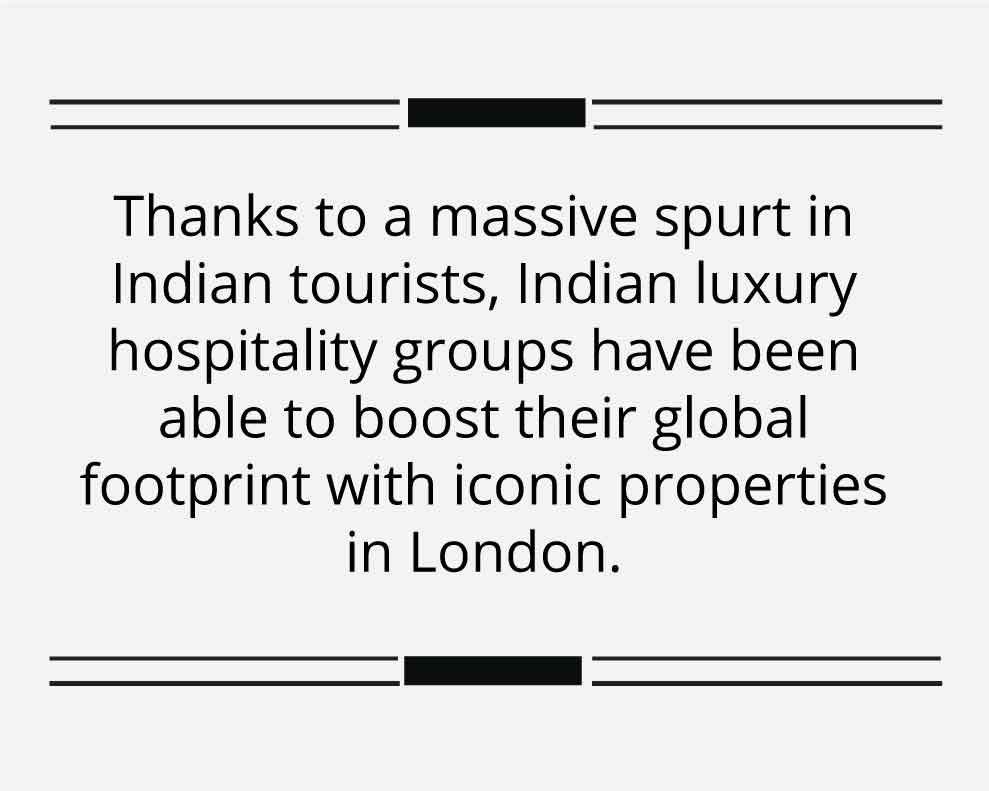 London and New York are cases in point.
Thanks to massive spurt in Indian tourists, Indian luxury hospitality groups such as the Tata-owned Indian Hotels (which runs the Taj Group), the Oberoi group of hotels and Bharat Hotels (which runs the Lalit group of hotels) were able to boost their global footprint with iconic properties such as the Pierre and the Plaza in New York and Grosvenor House in London.
Indeed, while there's been a lot of focus on the cash-rich Chinese tourist conquering the world, it's the rapid rise of the Indian tourist abroad that has caught everyone by pleasant surprise.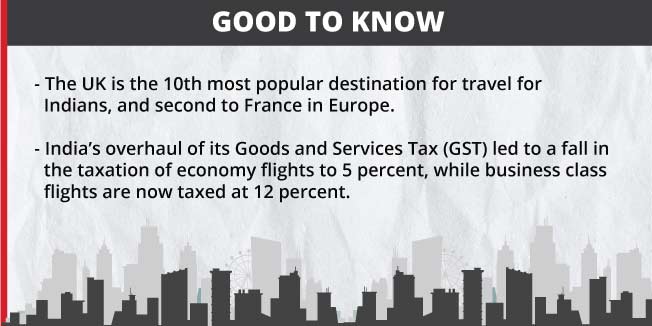 According to the New West End Company, an agency that represents the central London shopping and theatre district, spending by Indian tourists in London's West End rose by 38 per cent year-on-year in 2017-18, with Indian visitors ranked third for international spending one of the British capital's premier lifestyle destinations.
In the same year, British tourism authority VisitBritain said in a report on Indian tourism to the UK that over the past decade, the value of the international Indian tourist market had grown by 150 per cent, rising from $6.2 billion in 2005 to more than $17 billion in 2017-18. It also found that the average spending by Indian tourists in the UK was 74 per cent higher than the all-market average.
Last year, a report released by the UK's Office for National Statistics found that more than half a million Indians had visited the UK in a year since July 2018, an 11 per cent jump over the previous 12 months.
The numbers are not only great news for the countries hosting such tourists and the hospitality sector, but have also contributed immensely in advancing India's soft power through these global ambassadors – often achieving what hard diplomacy has been unable to create in decades of efforts.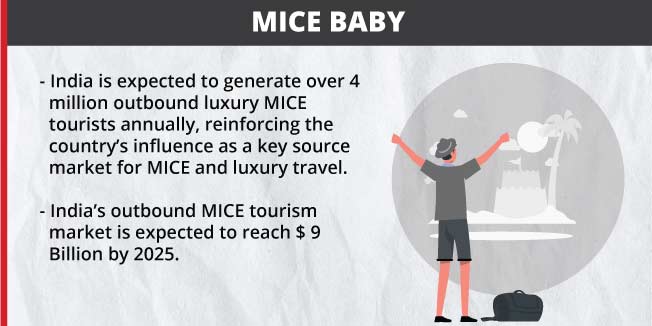 Calling the swift growth in tourists "fantastic news" for the UK-India relationship, the British High Commissioner to India Dominic Asquith said: "It looks like the number of Indian fans who travelled to the UK for the Cricket World Cup in England and Wales was even greater than we imagined… It also shows that the UK continues to be a welcoming place for Indians to work, study and vacation. The more Indians visit, the stronger the living bridge becomes between our two countries. I look forward to working with our partners in India to ensure this impressive record continues. I hope to see even more visitors from India in the future," he said in a statement.
Buoyed by the lucrative potential offered by visiting Indian tourists, the mayors of United Kingdom's three largest cities – London, Manchester and Birmingham – formed an alliance in 2018 to jointly promote English tourism in India and two other world's fastest growing markets: China and the Gulf states.
The partnership has seen the three cities collaborate on tourism for the first time, focusing on increasing the number of visitors arriving in one city and then travelling across the different regions. The project, called "Experience England," is backed by London mayor Sadiq Khan, Greater Manchester mayor Andy Burnham, and West Midlands mayor Andy Street, and aims to make it easy for tourists from India to visit the three cities and then go on to explore the English countryside and villages.
"London is home to the 10 most popular tourist attractions in the UK and we're proud to welcome millions of visitors every year. But it's important that they have the chance to see what's on offer in other parts of the country too and I'm committed to working with other cities and regions to use the capital's reputation to drive tourism across the nation," Khan said during the inauguration of the initiative.
The opportunities arising out of this influx has a massive cascading effect – which will only get more amplified in post-Brexit UK as it finds its way out of a regressive recession brought about by the coronavirus disease.  
Lucrative opportunity for countries
According to United Nations WTO estimates, Indians spend on average four times as much as the average Japanese or Chinese tourist – which equals about $1,200 per trip compared to $700 for the average American and $500 for the average Briton. On average, Indian tourists travel for 12-15 days and spend a disproportionately large amount of money on the purchase of branded luxury goods.
If the spends on the foreign travel segment was in any way measured as part of a national economy, then Indian tourists would be a massive part of India's GDP – managing to spend even more than total foreign direct investments in the Indian hospitality sector. In the process, they help contribute billions of dollars to local economies and sustain foreign jobs in a wide range of sectors such as food and beverages, hospitality, telecom, airlines and luxury brands – underscoring their strategic significance in the post-Covid global economy where tourism in general will take years to get back to the pre-pandemic normal.
Who is the average Indian traveller?
So how does one describe the average Indian traveller gearing up for a foreign trip?
The short answer: you can't.
Because there's no typical stereotypical Indian traveler any more, nor are there any stereotypical destinations.
Gone are the days of the trip abroad being reserved for students or working professionals. Among the 23 million Indians going abroad, India Tourism discovered that more than 25 per cent were going on a holiday. In fact as the number of outbound travellers from India increases, the leisure segment among them is increasing a mouth-watering 25 per cent year-on-year.
So you have the young band of travelers – college chums struck by wanderlust; the typical family with kids out on their annual leave; the really big so-called joint family; the lone traveler in search of metropolitan nirvana; the young honeymooners looking for an exotic experience, the adventurer looking to conquer the next mountain, the busy executive on a wine tour and so on. You have acronyms such as DINK (double income no kids) and FIT (free independent traveler).
Similarly, travellers today are spoilt for choice when it comes to choosing a destination: whether the evergreen UK, USA, Switzerland or Australia, sizzling Singapore or red hot Dubai, France, Malaysia, Turkey, Finland, Russia… From Bali and Borneo to Boston and Bishkek, there's hardly a place on earth where the ubiquitous Indian tourist hasn't set foot yet. (Reliable sources have told us that the first Indian tea-shop was up and running on Mars to welcome tourists way before Mangalyaan started orbiting the Red Planet in 2014 – but India Inc couldn't independently confirm this news!)
Jokes apart, no matter how many category-defying types of Indian travellers there are, three things remain very certain:
India's population is a young one when compared to highly populated countries such as China.

In 2013, Indians took an international trip once in 21 months. Today, the same families holiday at least once in a year.

The massive demand has spurred low-cost Indian carriers to increase their international market share from 14.5 per cent in 2012 to 23 per cent in 2017-18, with relatively faster expansion in tier-2 cities such as Amritsar, Lucknow and Jaipur.

Of course, several policies adopted by the Indian Prime Minister Narendra Modi's digital India initiatives have helped boost the number of Indian tourists travelling abroad. The number of internet users in India has grown by 8 per cent every year from 432 million in 2016, according to market research firm IMRB International, with an overall internet penetration rate of 31 per cent . This heightened exposure to the internet has given the average Indian more chance to see the world around her or him and get inspired to travel. Add to that a huge increase in the number of low cost airlines and you have more Indians becoming frequent flyers!
Where do they like to visit?
A large portion of Indian tourists still prefer Europe and the USA. The former accounts for 20 per cent of travellers from India's outbound traffic, with favourite countries including the UK, France, Italy, Germany and Switzerland. Europe has a special charm and appeals to the backpackers, honeymooners and families in equal measure. Whether it's a curry hot spot or the Akshardham temple in London, the iconic Bollywood restaurant on top of Jungfraujoch or the mini-Chennai of Zurich fragrant with the smell of jasmine – every nook and corner in Europe has a comfort zone for Indians where travelers can feel at home, should they be inclined that way!
Sometimes it takes a bit of nudge from Bollywood to send a swarm of tourists to a new favourite spot (remember Zindagi Na Milegi Dobara and Spain?).
Australia and Singapore also remain among perennial favourite destinations. Australia Tourism recently revealed that the top five Aussie attractions that Indian travellers look for are Australian beaches, iconic landmarks, wildlife, food & wine and the Great Barrier Reef. Not surprising, since nearly 300,000 Indians visit Australia every year on average – and the numbers are growing by 15 per cent annually. Melbourne, Adelaide and Perth remain in the list of Top 10 world's most liveable cities, and the Great Barrier Reef is a huge draw for its amazing colours and underwater diversity. Indians also rated Australia's food and wine as the best in the world – yet another reason why the country remains a hot spot.
Mix of mundane and sublime
It's a well-established fact that Indian tourists take their unique way of travelling and idiosyncrasies wherever they go – in many cases carrying their own food, packing the odd hotel toiletry, rushing to buy chocolates for the neighbourhood back home or invariably whining about a whole lot of money spent on the trip! But the happy influx of Indian tourists nearly everywhere around the globe has also served to enrich the cultural experience for not only the tourists themselves but also for the host countries – a cross-pollination of global minds if you will.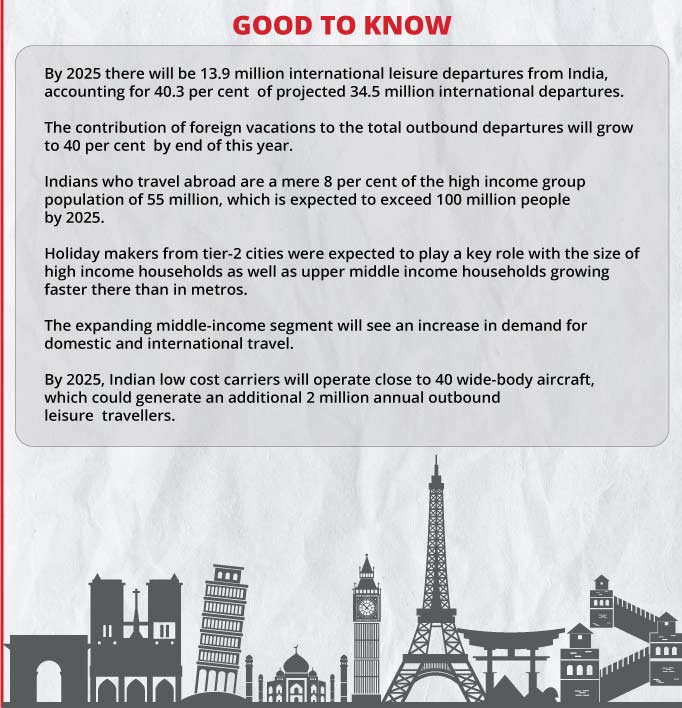 It's this mix of the mundane and the sublime that makes Indian travellers such a coveted lot. As more Indians gear up in the coming months to rediscover the realms of a wide open world and countries prepare to welcome them, it's an apt reminder that life, after all, is all about the journey. In the words of the late legendary chef Anthony Bourdain: "Travel isn't always pretty. It isn't always comfortable. Sometimes it hurts, it even breaks your heart. But that's okay. The journey changes you; it should change you. It leaves marks on your memory, on your consciousness, on your heart, and on your body. You take something with you. Hopefully, you leave something good behind."