The gift that keeps on giving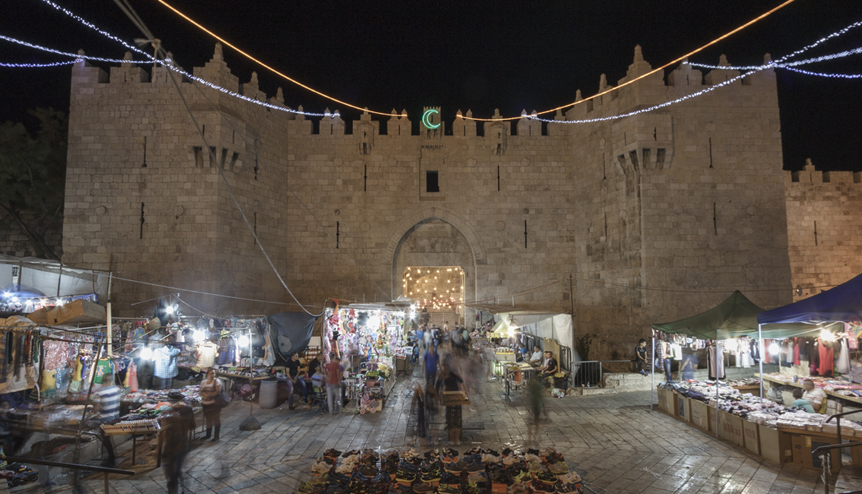 Indian businesses can benefit from Palestine's untapped market given, the goodwill and respect it enjoys with the local authorities and people.
Highlights:
Untapped potential of the Palestine market and its key geographic location offer Indian businesses many opportunities for trade.
Tourism is an important sector and it is estimated that about 3.45 million people visit Palestine every year, opening up further opportunities for business.
The Palestine-India Techno-Park, currently under construction, will serve as an IT hub in Palestine with complete IT facilities.
Palestine is a country rich in history and culture. Situated at the junction of the trade route between Africa, Europe and the Middle East, Palestine enjoys a unique mixture of languages, cultures and faiths. It is also home to some of the most significant religious sites in the world, has a long-standing history and the land itself is very significant to the three major monotheistic religions.
Palestine has a relatively virgin and fertile economic environment that offers tremendous opportunities, and in spite of the various challenges, life continues to advance. The Palestinian market offers opportunities especially for Indian goods for various reasons including the cost-effective quality of goods from India and India's goodwill and respectful reputation it receives from the local population. In other words, Palestine is an untapped market which till now has not been thoroughly explored by Indian companies and products.
With a population of nearly 5 million Palestinians in West Bank and Gaza strip, the Palestinian market spends approximately $4 billion annually on imports. Moreover, Palestine maintains various trade agreements that open the door to regional markets, in addition to the agreements that privilege Palestinian products in the Arab world, which paves the path to a market of 350 million consumers.
Tourism is an important source of income and it is estimated that about 3.45 million people visit the Holy Land each year, which opens the gates to a growing market that is always looking for innovative services and local products.
Palestine is historically a land of successful merchants and entrepreneurs, which today has been boosted by international-level universities (such as the Universities of Birzeit, Al Quds, Al Najah, and Bethlehem) that graduate thousands annually and essentially contribute to the improvement of lives and careers of young people locally and internationally.
Since trade between India and Palestine is channelised through Israel, complete trade statistics are not available. As the case with many other markets, currently, the Palestinian market is dominated by Chinese and Turkish products. Turkish goods are relatively costlier, but favourable due to the quality of Chinese goods and its perception by Palestinian consumers. However, the "Made in India" brand enjoys wide popularity in Palestine, and therefore, Indian products have the potential to penetrate and comfortably make space in the unexplored market of Palestine.
Being in the midst of the national building process and a growing nation, the construction sector is currently booming with tremendous activities. This increasing scope requires supplies of construction material, hardware equipment and other peripherals. In this field, Palestinian importers procure ceramics, vitrified tiles and sanitary ware from Morbi in Gujarat, granite stone from Karnataka and marble from Rajasthan.
As for the pharmaceutical sector in Palestine, almost eight out of every 10 generic medicines and vaccines are imported from India. There is also great interest and opportunities for Indian processed foods sector like coffee, cashew nuts, sugar, sweet biscuits, milk powder and Basmati rice, in addition to the vast scope for Indian auto spare parts, engineering goods, textile, plastic products and packing materials in the Palestinian market.
In February 2018, Hon'ble Prime Minister Shri Narendra Modi became the first-ever Prime Minister of India to visit Palestine. During the visit, Prime Minister Modi announced six developmental projects with a grant of $42.3 million. Since 2014, India announced many developmental projects for Palestine, including a $12 million Government of India funded Techno-park with a built-up area of 100,000 sq. ft, as part of India's broader framework of capacity building in Palestine.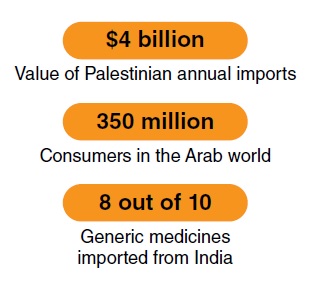 The Palestine-India Techno-Park (PITP) is in an advanced stage of construction and likely to be completed later this year. The PITP became a member of the International Association of Science Parks and Areas of Innovation (IASP), a global network of science and technology parks. The Techno Park is meant to create a national business environment and culture "that will enable knowledge-based and creative enterprises as well as technology clusters to successfully operate locally, regionally and globally".
Located next to the Birzeit University's academic campus, its objectives include establishing an environment that is accessible to industry, supporting the process of commercialisation and industrialisation, supporting entrepreneurship and bridging the knowledge gap between the private sector and academia. Once  completed, it will serve as an IT hub in Palestine with complete IT facilities offering a one-stop solution to all IT-related service requirements, providing state-of-the-art technology, hosting IT companies and foreign companies benefiting from local business, universities and other institutions.
Indian IT companies should consider establishing branch offices in PITP and benefit from talented, bilingual, highly qualified, and hardworking local workforce. The Government of Palestine, adamantly keen to invite foreign investments, has brought into effect laws and regulations to encourage foreign and regional investment in Palestine. These laws allow, among other things, initiation of businesses without paying any tax for five to 10 years, depending on the capital of investment. Indian IT companies can use the PITP as a gateway to neighbouring Arab markets since Palestinian exports are fully exempt from tax and customs duty in all Arab countries.
The Representative Office of India is actively promoting Indo-Palestinian business exchange and is committed to creating and establishing a greater space for Indian companies in the untapped Palestinian market.
Sunil Kumar is the Representative of India to Palestine, Ramallah.