The approach to foreign trade policy needs to change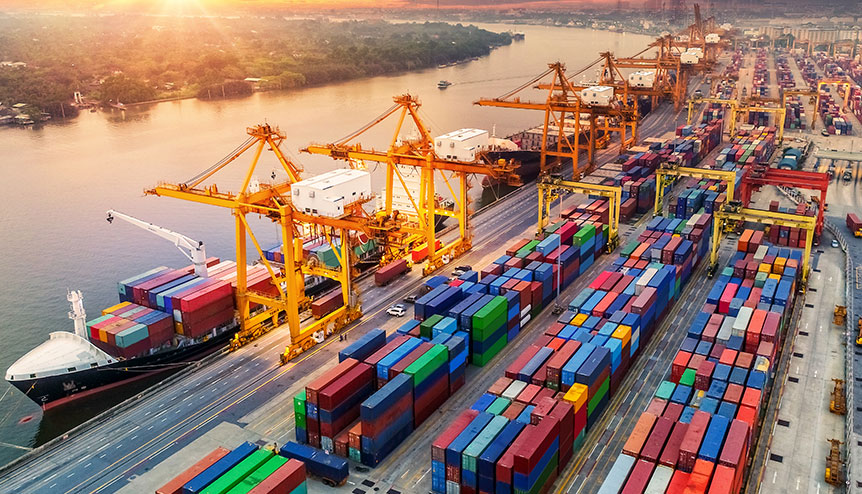 The High Level Advisory Group recommends several different avenues ranging from engaging the WTO to more sector-specific approaches to boost India's share and importance in the global merchandise and services trade.
This report on India's trade prospects and policies is a constructive plea to policymakers of what needs to be done, what is necessary (and possibly sufficient) to accelerate India's export growth, and thereby accelerate GDP growth towards a potential of 8+ per annum over the next 11 years.
Macro Determinants of Export Performance
What are the prime causes for India's poor performance in trade when compared to other countries? In HLAG's deliberations with government officials, industry, and academics, the following causes were mentioned, and in order of importance:
An old, unsuited and un-reformed mind-set
Extreme regulatory controls
Labour laws in need of urgent reform
High effective corporate tax rates
High cost of capital
None of the above five determinants have really changed in the last twenty years, yet India's performance has appreciably worsened. This is likely because the world has become a lot more competitive and inherited comparative advantage is no longer in the nature of low-hanging fruit. Countries around the world have recognised this reality and have engaged in lowering taxes and regulatory controls. India has been slow to adapt. This needs to be recognised; and recognition of the underlying causes will help us to improve.
India and WTO
India should use WTO as part of its overall strategic vision on growth and interaction with the international economy. The following recommendations were made for the same:
There should be a balance between issue specific approach and coalition building.
We need to domestically prepare for the ongoing changes in the international trade regimes occurring through FTAs, irrespective of whether we are directly participating in the negotiations.
India should consider pluri-lateral initiatives on a case by case basis, taking account of the relevant objectives, and the conditions and flexibilities that will allow the process to move forward.
As for e-commerce, India should participate, but more for information gathering and raising concerns. The second option is to not participate but prepare for changes that are going to arise in the regulatory operational context due to FTAs and pluri-laterals, and to stay connected with these markets and developments.
Investment Facilitation – India should examine the possibility of participation if this can lead to an agreement which affirms what is domestically being done and such participation also helps India seek additional objectives in other areas of interest in WTO.
Trilateral Initiative to Address China's Economic Policies – India should actively participate and engage in the discussion/negotiation on subsidies, and on state-owned enterprises. Regarding Intellectual Property Rights, India should keep a watchful eye on developments.
India and FTAs
A perception has grown in India that Regional Trade Agreements (or FTAs) have not benefitted India and trade partners have grown at our cost. This needs to be tackled urgently. Several actions are required to pursue gains from FTAs:
In order to expand markets, selection of appropriate trade partners is of critical value. Long term economic interest should drive the selection of a trade partner.
Market access negotiations need to go deeper than simple tariff negotiations. Aspiration to board regional value chains should determine the development of rest of the ecosystems between the trade partners.
A comprehensive yet selective and inclusive approach aiming India's interest in the long-term is required.
While negotiating market access for goods in FTAs, India should focus on both tariffs and nontariff barriers in the partner countries.
There is a need to establish an institutional mechanism for seeking inputs from stakeholders prior to finalising an FTA, as well as informing the industry well in time about any steps that they would like to take during the period of transition with the aim of minimising their adjustment costs. Further, the Government needs to undertake comprehensive outreach programs for explaining the opportunities for exports, particularly to MSMEs, in the markets of FTA countries.
The medium and small sector should be the focus of such advocacy program.
The US-China Trade War: Impact on India and its policy choices
Doubling of exports in six to seven years is a challenging target. This raises the question of whether there are unexplored strategic opportunities in the current global trade situation, including in the looming US-China trade war, which can help India either achieve these targets or at least ensure that there are no significant reversals on the path to achieving them.
India needs to give high priority to undertaking quantitative, rigorous, computational, model-based research on strategic trade policy, including studying the impact of participation in plurilateral trade agreements.
A knee-jerk approach on tariffs may not be the soundest one to pursue without greater examination if India faces greater tariffs. It would not be sensible for India to raise tariffs in a US-China trade war. In fact, reducing own tariffs would be a wiser step.
Exports – Sectoral Reality and Suggested Policy for Services Exports
Education Services: Education services hold immense potential, provided the Government is able to address the critical issue of quality and improving regulatory transparency. While amongst the developing countries India is a major hub of foreign students, further policy support could make India the global hub of education service providers.
Health Services: The healthcare sector is expanding rapidly in India. This sector is predominantly privatised with almost 75 to 80 per cent of hospitals being managed by the private sector. This sector is expected to grow at a CAGR of 15 per cent and will reach around $280 billion by 2020. India must consider significantly simplifying the process of applying for a medical visa, if it is to realise its potential as a Medical Value Travel (MVT) hub. Creating a Medical Tourism Campaign, within the Make in India Campaign, will help actively promote India's image as an MVT hub.
Tourism Services: India seriously lags behind other developing countries of similar or lower tourism potential in foreign tourist arrivals. Reforms to enhance the personal security of tourists, upgradation of tourism infrastructure, lowering of tax rates to encourage investment, enhancing business operational and hospitality skills in rural areas, and improving the research base in analysing tourism data are needed.
Policy Recommendations for Financial Services: Today, technology, KYC and international co-ordination can help alleviate concerns on various issues related to tax evasion, black money and round-tripping and make it possible to implement simple and open policies for financial services. Such financial services policies are imperative to make India one of the most transparent and open financial markets in the world, improve the Ease of Doing Business, and provide an impetus to financial services exports. Some options going forward include getting an opinion of a retired Supreme Court judge or design of the Elephant Bonds Scheme outside the publicly available contents of the affidavit.
EXIM Credit and Insurance Reforms
Most countries have established Exim Banks (or Export Credit Agencies (ECAs) that play a catalytic role in promoting the country's international trade, addressing transactions at the margin that standard commercial banks cannot or will not support due to long tenor/risk perception.
In order to strengthen the Exim Bank of India to cope with the increasing needs of Indian exporters and support India's stagnant exports, and noting the best practices of similar institutions in other countries, the following recommendations are made:
The capital base of the Exim Bank needs to be enhanced.
The Bank's borrowing limit is pegged to 10 times its Net Owned Funds. The limit may be enhanced to 20x with suitable Board level safeguards, if necessary.
The prudential limits for Single Borrower and Borrower Group are prescribed by the RBI exactly as for banks, even though the Exim Bank as a niche institution must necessarily have a higher degree of concentration of exposures. The setting of such limits may be left to the Board of Exim Bank, which includes GOI and RBI Directors.
It is recommended that GOI should establish support to Exim Bank for facilitating acquisition/creation of assets of strategic importance to the country, particularly for addressing the energy security.
Merchandise Exports – In need of comprehensive reform
It is strongly believed that in view of the emerging global and domestic challenges, the approach to foreign trade policy needs to change significantly. India's gains from international trade can come in two ways. Firstly, from its strength in the traditional labour-intensive sectors, where the focus should be on employment creation and raising productivity and product and market diversification; and secondly, from its strength in Information and Communication Technology (ICT) services, focus on Research and Development, Science and Technology and human resource endowment, where the focus should be continuous skill transformation, increased investments in R&D, adoption and promotion of high technology and innovation. Therefore, any impetus to international trade should be framed around these approaches. Further, our policy focus must shift to creating a conducive ecosystem around selected value chains.
Expanding Supply of Skilled Manpower and R&D Expansion
Skilled Manpower: In some technology-intensive sectors, including biotechnology, pharmaceuticals and medical devices, the country needs to expand its talent pool. There is also a need to create stronger industry-academia linkages.
R&D: It is extremely crucial to stimulate research and development efforts for climbing up the value chain in exports. With this objective, the Government should retain the current 150 per cent tax credit on R&D and increase it to 200 per cent for long-term projects. In addition, selected outsourced R&D should to be eligible for the credit as well. Further, R&D tax benefits should be extended to Limited Liability Partnerships. Product development should also be considered as a form of R&D.
Sectoral Analysis and Recommendations
The HLAG analysed just a few sectors in detail for identifying the sector-specific constraints impeding our exports and making recommendations for overcoming them.
In order to boost India's flourishing pharmaceutical industry, the following recommendations are made:
Restructure the regulatory mechanism for the pharmaceutical industry by creating a central FDA-like institution
The Department of Pharmaceuticals (DoP) must be repurposed to support growth of the industry and may be appropriately placed under another Ministry.
India should become a member of Pharmaceutical Inspection Convention and Pharmaceutical Inspection Co-operation Scheme (PIC/S).
Increase the number of drug inspectors by allowing third party certification through NABCB accredited agencies, and bolster support to inspectors.
To further boost the industry, the following recommendations are made:
Restructure the current regulatory mechanism by creating a central FDA-like institution, empowered to oversee the biotechnology industry.
Appoint an empowered independent commission on biotech that reports directly to a high-level functionary within the Government.
Streamline RCGM and Genetic Engineering Appraisal Committee (GEAC) to expedite drug approvals.
The following recommendations are made to achieve India's export targets and boost the textile and clothing sector:
To enhance scale across the textiles and clothing value chain and promote consolidation of firms, the Government should introduce a limited-period investment allowance across the value chain.
Focus efforts to attract top 10 global textiles and clothing companies (including those from China) to set up large-scale plants in India.
In order that high costs do not hinder access to high quality machinery for Indian textiles and apparel companies, implement the Amended Technology Upgradation Fund Scheme (ATUFS). Further, the Export Promotion Capital Goods (EPCG) scheme should be converted into a general scheme for textiles and clothing as a whole, providing duty free access to the machinery.
With increasing labour costs in China and newly-imposed tariffs on Chinese imports to the US, India can seek to gain a growing share of the garments manufacturing pie by encouraging Chinese and other companies (linked to large global brands) to manufacture in India.
In order to regain our market share lost to Bangladesh and Vietnam in textiles and garments, concluding the Bilateral Trade and Investment Agreement (BTIA) with the EU is very important.
The electronics industry in India is confined to low-end value chain and value addition, which currently is as low as 5-10 per cent. In order to make India a global hub for high-end manufacturing in the sector, the following recommendations are made:
Shift from a tariff-based policy to an incentive-based policy for manufacturing of electronics.
De-link the export contingency from the incentives/subsidies being provided to the market players.
Shift of focus from volume-based manufacturing to value-based manufacturing is extremely important.
Tax Holiday for a considerable period (under Indian tax laws) to incentivize investment by domestic as well as foreign enterprises in high-end electronics.
As per industry estimates, the Indian medical devices market is presently valued at over $11 billion and is expected to grow to $50 billion by 2025. The high-tech end of the medical device value chain is currently led by multinationals with extensive service networks; whereas low end equipment and disposables are led by domestic manufacturers because of their cost-effective innovations. In order to significantly enhance high-end manufacturing in the sector, the following recommendations are made:
Create a single ministry for the regulation of medical devices, right from import and manufacture, up until pricing and sale of the products for easing the compliance burden for both domestic as well as foreign manufacturers.
Regulate medical devices by a standalone legislation that is drafted specifically addressing the nuances of the medical device industry.
Peg Indian standards to global standards.
Data Driven Approach to Exports
International trade is an important source of livelihood for nations. Hence it is important to anticipate and develop early signals and insight on various changes in the International trade which potentially can affect India's trade. Quantified decision making is a key factor in this understanding. Data to solve problems in trade is the need of the hour and would help to work out a structure or a plan defining the road ahead.
Constituting an Apex Committee for Quick Investment Decisions
Due to various macroeconomic factors such as rising costs of production in China and US-China trade war, many MNCs are looking for new investment destinations and there is strong competition for footloose FDI. To take advantage of this window of opportunity, India needs to have quick decision-making capacity for identifying the big investors it should attract and the wherewithal to provide tailored incentives to start business locally. The HLAG recommends creation of a specialised vehicle empowered to take quick decisions to identify and attract investors based on pre-defined criteria. Further, the vacant land in Special Economic Zones can be used to attract foreign investments.
The High-Level Advisory Group (HLAG) was constituted by the Minister of Commerce and Industry, Department of Commerce, Government of India, to assess the global environment and make recommendations for boosting India's share and importance in global merchandise and services trade; managing pressing bilateral trade relations; and mainstreaming new age policy making.